Pitbull Departs From Maldives
14 Jun 2015: A reliable source confirms to Maldives Finest that Pitbull has departed from Maldives yesterday. He was staying at Chevalblanc Randheli to perform on a private party of a Saudi prince, so far we have failed to identify the member of royal family. Many top celebrities were planned to visit Maldives for this party and we know very little. Jennifer Lopez is believed to be in
Velaa Private Island
which is exclusively booked by the prince and departure of Pitbull gives a clue that different celebrities are performing individually rather than a combined show. We don't know for how long the prince is staying at resort, based on celebrity count it is likely to be about a week for the pay. The holiday could either end after party or continue with relaxation, scuba diving and other heavenly activities.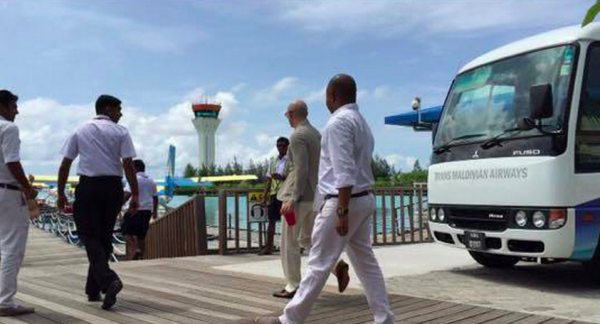 Photo: Pitbull going to board seaplane at the Trans Maldivian Airways
There is a rumour within the local community that Jennifer Lopez travelled to resort in a yacht, probably to stay out of media focus. Maldives Finest cannot confirm this but a reliable source who wishes to stay anonymous confirmed that she was planned to perform at the party.
Rihanna was also planned to visit Velaa Private Island, according to our source. So far we have no concrete proof that she arrived Maldives and most of the local community does not know movements of high profile people, they would come and go without even noticing.