John Jacob Astor Estate At St Regis Maldives Vommuli
Do you want to stay in a floating luxury estate in The Maldives? If your answer was 'Yes' then you should check out the John Jacob Astor Estate in St Regis Maldives Vommuli Resort. This private estate is the embodiment of elegance. Redefining luxury with its elegant design and unmatchable views, this private estate is highly sought after by visitors to the Maldives. Perched perfectly on the azure lagoon, a stay in this villa guarantees a vacation where you can let go of everything and give your body, mind, and soul a reSt This luxury villa comes with a butler service who will ensure that all your needs are met and that the vacation that you paid for is tailored with attention to detail and exactly how you would dream it would be.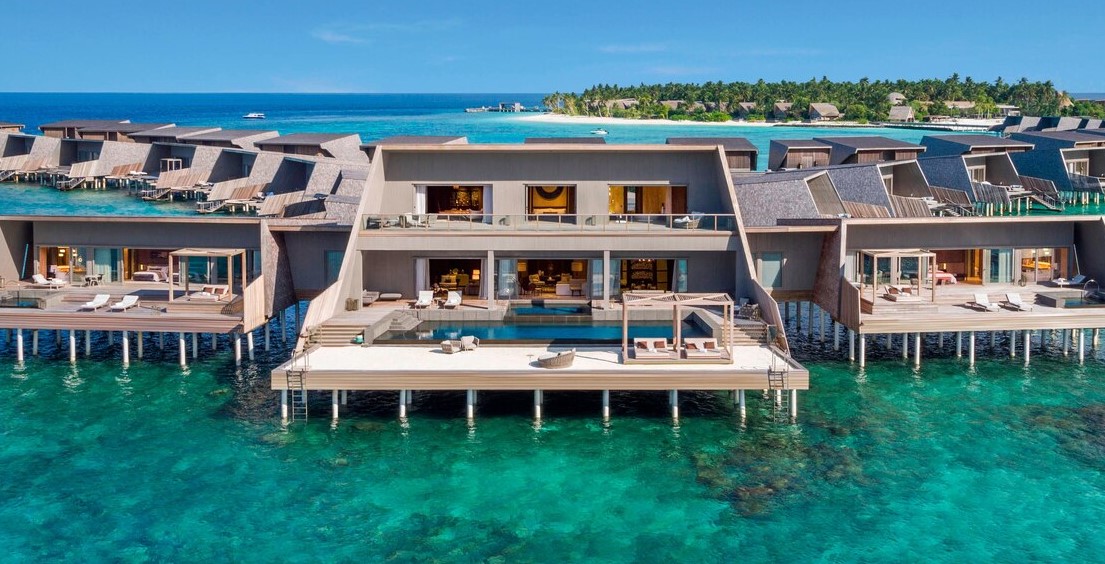 St Regis Maldives Vommuli Resort
is located in the beautiful Dhaalu atoll of the Maldives. This atoll is famous for the stunning coral reefs and exotic marine life that calls this atoll it's home. Now imagine a luxury estate that is floating above the azure lagoons of a private island. This private estate redefines luxury and comfort with its impeccable design, luxurious amenities, and panoramic views of the majestic Indian Ocean. Most visitors have commented that a week is not enough to stay on this amazing estate. It is enough evidence how much at home this private island will make you feel. Whether you come from neighboring counties or the other side of the world; the great team here will go out of their way to make you feel at home during your stay.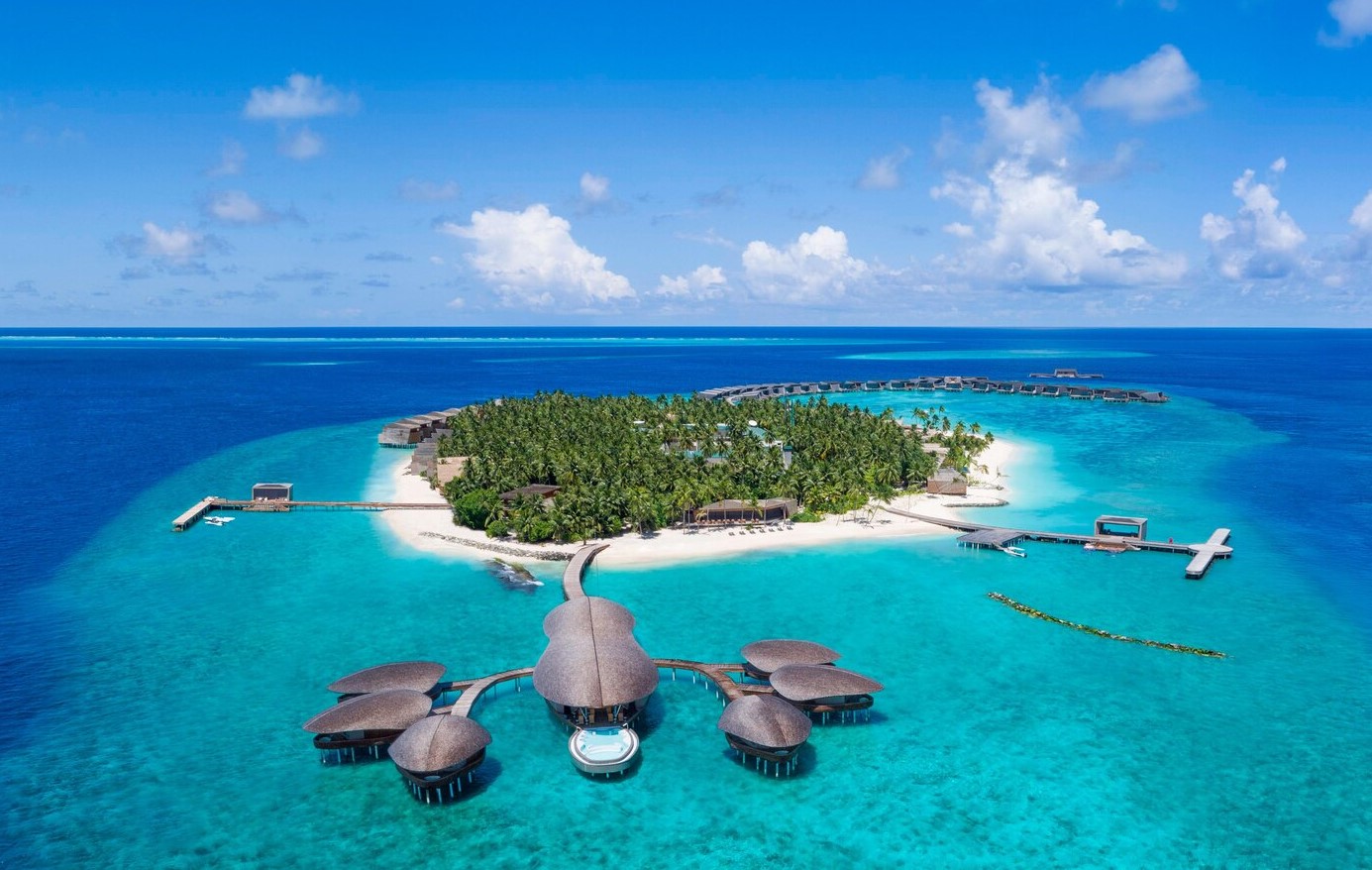 Come to experience a sense of floating on the famous azure lagoons of the Maldives on this one of a kind luxury accommodation in the Maldives. This estate is perfect for large families or a group of friends traveling together. The design of this estate with its connected rooms offers you a fun social time with family and friends and space from each other if needed. From your arrival, till the time you depart, you will not have to lift a finger as this villa comes with smartphone room controls and a butler who will dedicate his day to attend to all your needs and desires.
Each room is 1540 square meters in size and comes with full air-conditioning. The total area comes up to 16570 square meters on this luxurious estate. This gives you ample space for you to do whatever you may please with the utmost privacy. The living space is furnished with high-quality furniture such as sofas, armchairs, tables, ironing boards, and many more. Every piece of furniture has been carefully selected to match the surroundings perfectly. The ambiance in this estate is truly unmatched.
The three-bedroom John Jacob Astor Estate comes with a spacious living room with lofty ceilings and floor-to-ceiling glass doors, which let in the natural tropical sunlight. The living room is fully equipped with a 55-inch Bang & Olufsen LCD television and Bose sound system for you to enjoy the latest forms of entertainment with comfort and ease. The living area opens onto a furnished terrace with a 92-square-meter private swimming pool surrounded by a daybed, sofas and sun loungers that provided you a safe and private environment to soak up the tropical sun and take a dip in the pool that comes with uninterrupted views of the striking blue hues of the Indian Ocean. You will not be disturbed and it guarantees utmost privacy for you to enjoy whilst the priceless views of nature keep you entertained throughout the day.
The formal dining room of this estate is serviced by a show kitchen, butler pantry, and comes with a dining area that gives you a perfect setting for memorable gatherings with family or friends. The kitchen is fully equipped with a refrigerator, oven, microwave, silverware, mini-refrigerator, pots, pans, and serving dishes, dishes, and glass and a stovetop. You will be provided 24-hour room service, complimentary bottled water, coffee maker/tea service, instant hot water, and a mini-bar.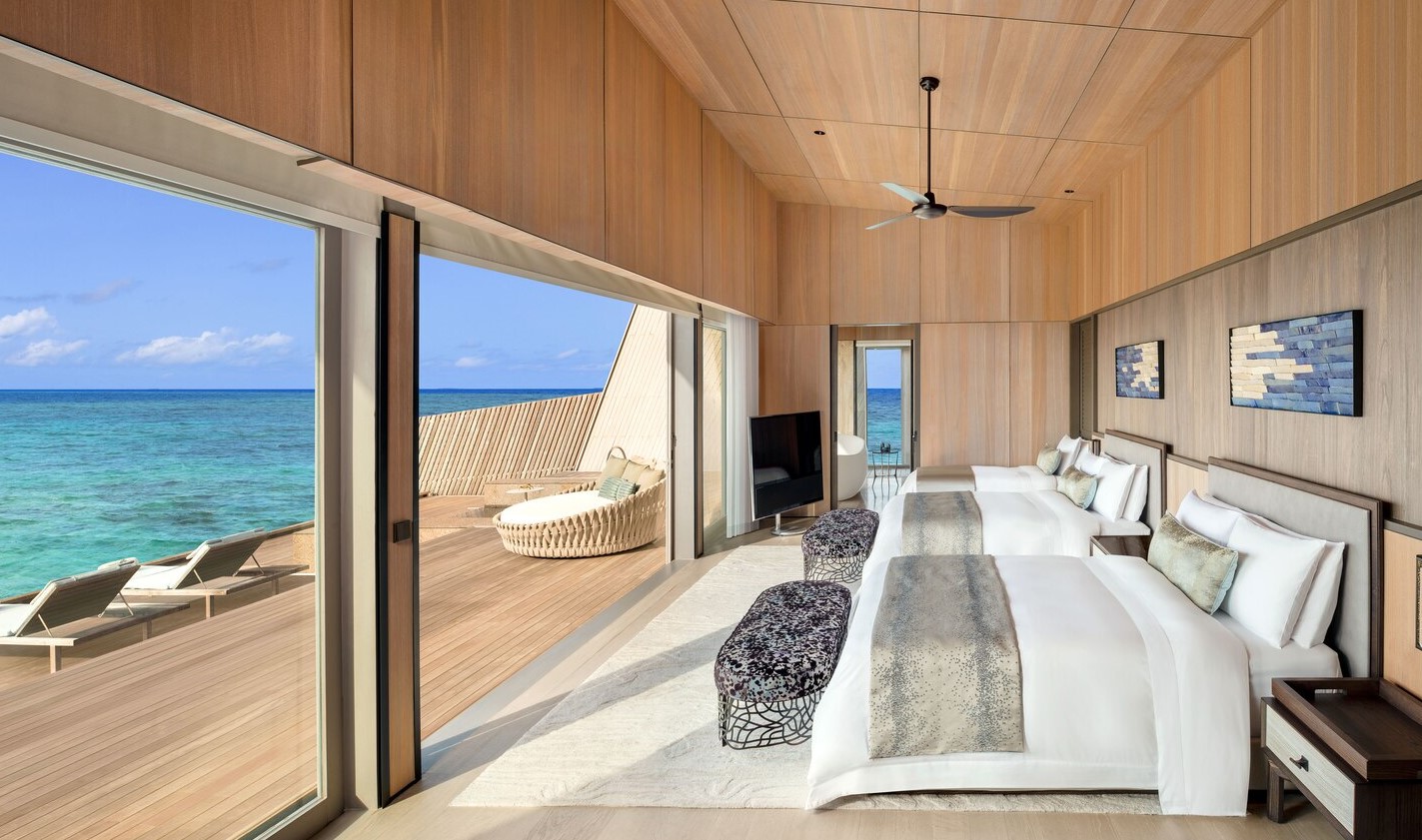 It is worthy to note that this estate also features a private home theater with an 85-inch Bang & Olufsen television and state-of-the-art surround sounds that ensures you can watch the latest movies with comfort and privacy whilst making memories for a lifetime. For your fitness goals, this estate comes with a dedicated exercise room fully equipped with cardio and weight machines so that you do not miss a fitness goal during your vacation. Drop in to pick up a few weights to give your body a startup before you go out and enjoy everything this private island has to offer.
Now for the bedrooms: the two main-floor guest bedrooms come with a king-sized bed in one and two queen-sized beds in the other. Each room comes with a refined living space with direct access to a spacious terrace with a private plunge pool and a whirlpool with uninterrupted views of the Indian Ocean. They also include indoor and outdoor showers and a private spa room. For an additional touch of luxury, each bedroom comes with walk-in closets.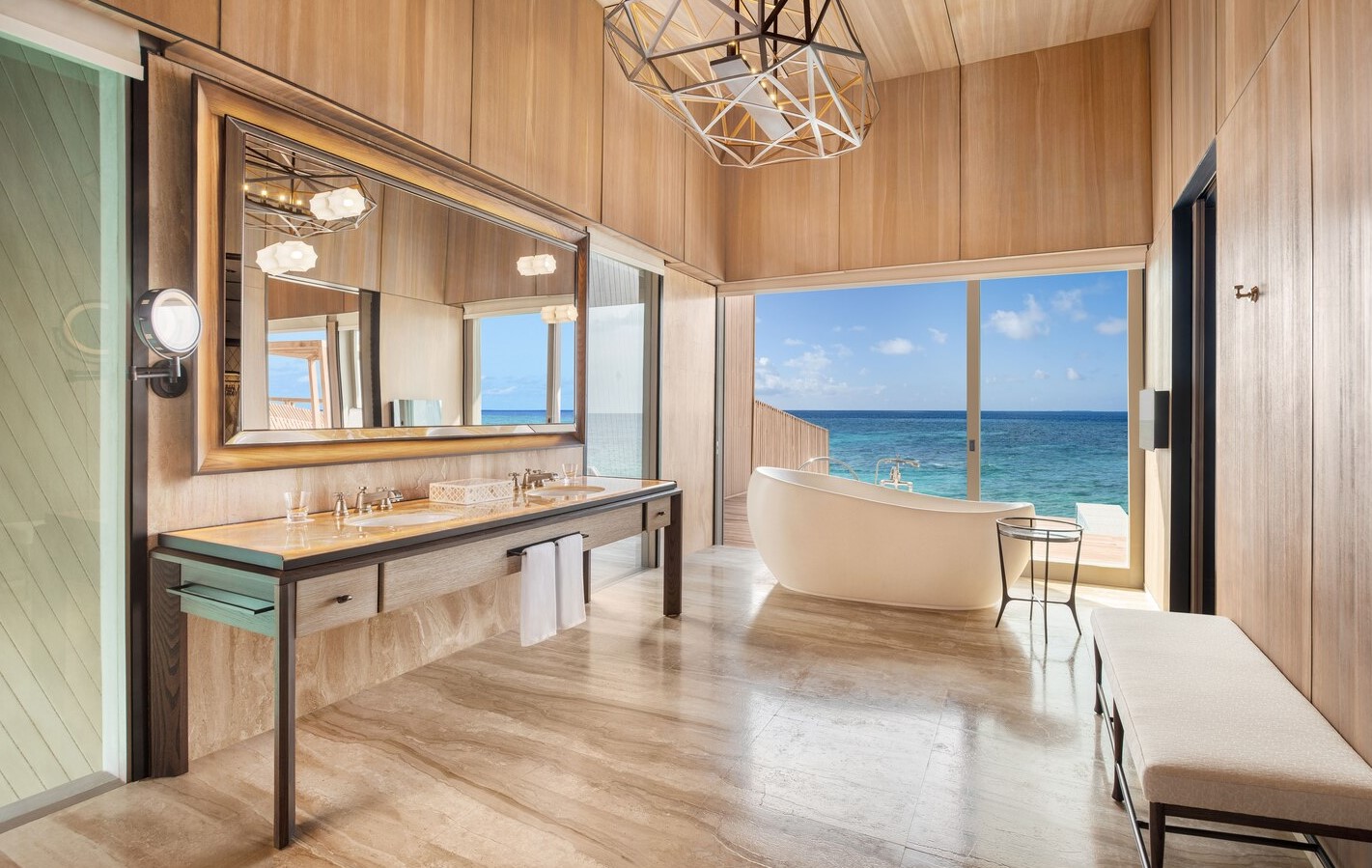 Most of the time we only focus on the room itself and it is a mistake some places make by focusing entirely on the room and giving little attention to the bathroom. This is not the case with St Regis Maldives. Their bathrooms are as luxurious as the villa itself, covered in marble, double vanities, and a 20-inch mirror with an embedded TV ensured you are well entertained whilst you take a bath in the bathtub with the Remède bath amenities. The rainforest shower is enclosed by glass doors to give you an unmatched level of pampering and relaxation.
Surely one would not want to stay in the bathroom for a long period of time during a vacation, but with the bathroom of St Regis Vommuli, they make sure even the time you spend in the bathroom is a time filled with luxury, relaxation, and ease. You might just not want to leave the bathroom with all the facilities and amenities available here. You can bath like a king or a queen and pamper yourself whether you are getting started with the day or winding down after a long day of enjoying the wide array of activities this island has to offer.
The Master Bedroom is located on the second floor, which is a luxurious haven for whoever stays in it with its dramatic seascapes from the private balcony. The living room of this floor comes with a plush sofa and armchairs, an elegant chandelier, a 55-inch LCD television, and dramatic views of the Indian Ocean. This makes it a perfect place to wind down after a fun-filled day of activities and watch a movie or relax with some music playing on a background or simply enjoy some social time with family and friends. For any work that might come up this room comes with bay window seats and a wooden writing desk that provides a comfortable working space if ever needed. Due to the floor-to-ceiling glass doors, you get uninterrupted views all around the room that continue into the exquisite bathroom that is specially designed to pamper you to the maximum level. The marble bathroom with double vanities, a 20-inch mirror with an embedded TV, and rainforest shower enclosed by glass doors ensure an unmatched level of pampering at your disposal.
This estate has a maximum capacity of 10 people and a maximum of 4 cribs. This makes it perfect for large families that are traveling with babies. The bathrooms come with separate bathtub and shower, lighted makeup mirror, robe, slippers, and hairdryers. Inside the rooms, there are 5 phones and complimentary WiFi. There are a total of 7 TVs on this estate, each with premium movie channels, cable/satellite TV, international cable/satellite TV, iPod Dock, and Netflix for whenever you want to 'Netflix & Chill'. One perk of staying in this glorious estate is that the moment you land in the Maldives you will be treated like royalty. From the ride from the arrival terminal to the seaplane terminal in a refine Bentley offered only for guests staying in Caroline Astor Estate and John Jacob Estate to riding the luxurious Azimut Flybridge 66 yacht (which you can board from your outdoor terrace itself), each and every moment you spend in the Maldives will be one for the book.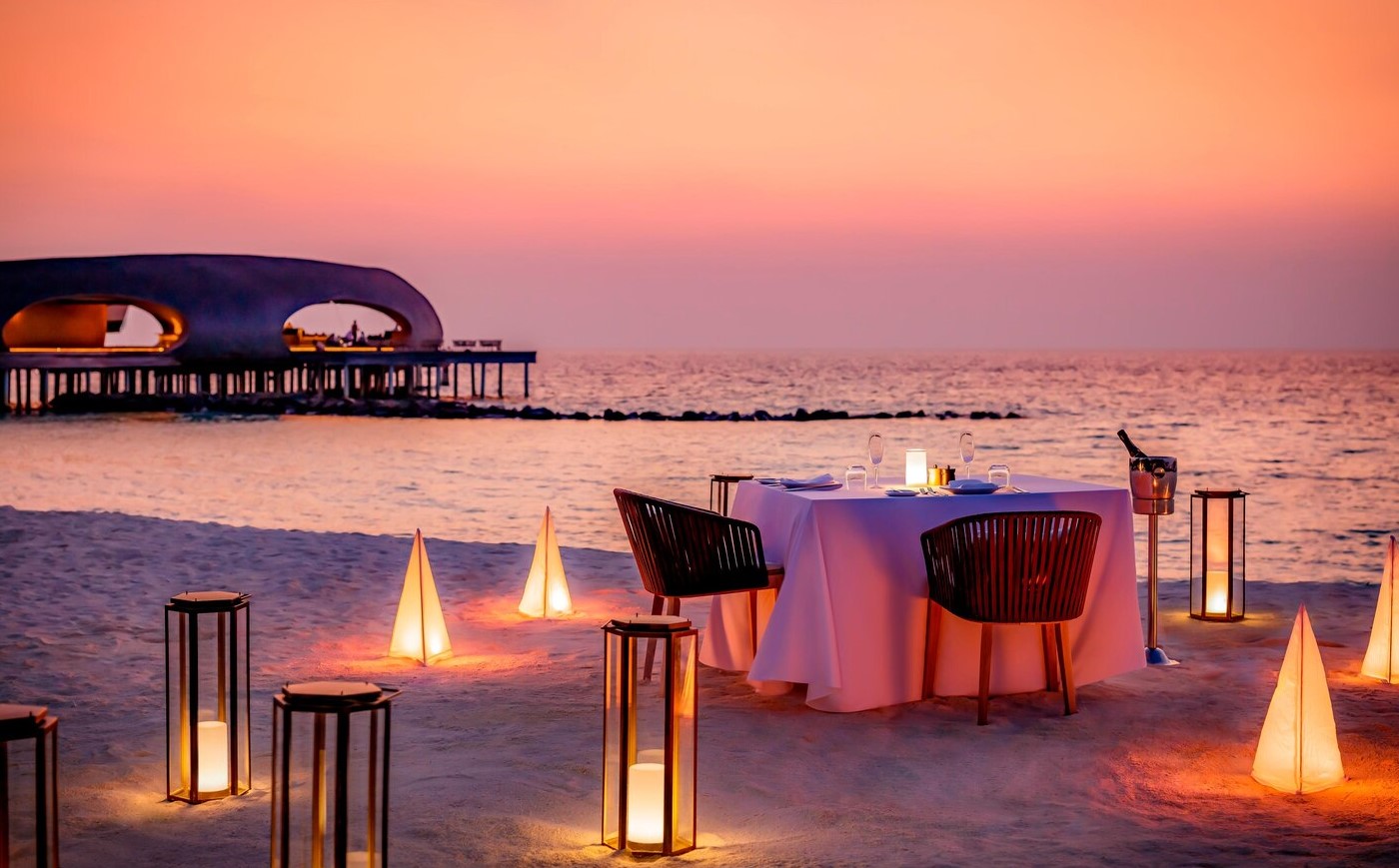 The food on this private island is also of top quality. With multiple locations to choose from that serve different cuisines, you will dine like royalty on this island. You can speak to your butler so that he can arrange all your dietary needs exactly how you would want it to be.
You can put a price on luxurious accommodation, however, the views that this estate comes with are priceless. Watch the sun splatter the ocean and sky with colors right from your terrace whilst enjoying the comfort of the furniture on it. Privacy is also another aspect of this estate that is priceless. Being on its own away from the private island, perched over the azure lagoon; this estate provided twice the privacy you can get on a private island. All your needs will be well taken care of whilst you enjoy the spacious estate all to yourself. Whether you are taking a dip in the pool, or soaking up the tropical sun on the private deck, or simply jumping into the lagoon for an afternoon swim, you can relax knowing that no one will come to disturb you.
This resort has a 4.5 star rating on trip advisor and over 361 guests reviewing it as an excellent holiday destination. The friendly and welcoming staff of this island resort speak multiple languages to connect with you on a personal level. Some of the languages spoken apart from English are; French, Russian, Spanish, Chinese, German, Hindi, Indonesian, Japanese, Korean, and Thai. So if you do not speak English you do not have to worry here. Some of the guests that have visited have recommended the evening Champagne Ritual as something not to miss during your stay. This ritual is held at the Whale Bar located on this private island. The fishing experience is also noted by most visitors as something to try out during your stay. You will be able to eat your catch prepared by highly experienced chefs on this island resort.
Apart from the luxurious stay, you can enjoy a wide range of activities. You can snorkel or dive the house reef which is accessible a few meters away from the estate. The house reef is filled with exotic marine flora and fauna which is a must-see if you are visiting the Maldives. You can give yourself a fix of adrenaline by jet-skiing or windsurfing across the blue lagoon or simply dip yourself into the crystal clear salty waters whilst taking in the warm rays of the tropical sun to get that bronze tan everybody wants to have. Each villa comes with free bicycles which you can ride around the island. It is a stress-relieving activity that most people do to ride around on a bicycle exploring this beautiful private island. You can go to the gym or spa to give your mind, body, and soul a refreshing workout or simply do some early morning yoga with the rising sun to give your body a boost of energy that is in line with the world we live in. So do not miss out on the ultimate luxury experience that this beautiful private island has to offer. Hop on a place and come to our beautiful country, where you will be well taken care of and treated like royalty the moment you step onto our welcoming land. We will make sure this is a home for you as much as it is for us. Surely the time you spend on this 'floating' estate will be like a dream come true, and most importantly worth every penny you spend. You will probably not want to go back after arriving. Come enjoy your dream vacation at John Jacob Astor Estate on St Regis Maldives Vommuli Island.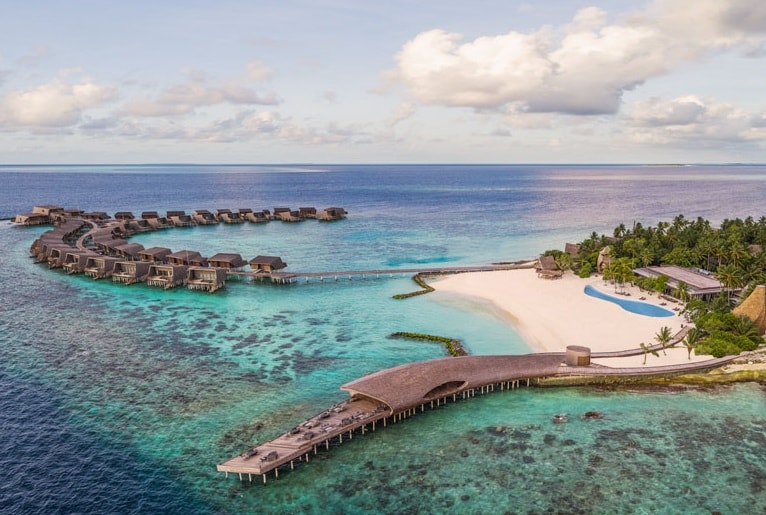 The Island
Luxury Lights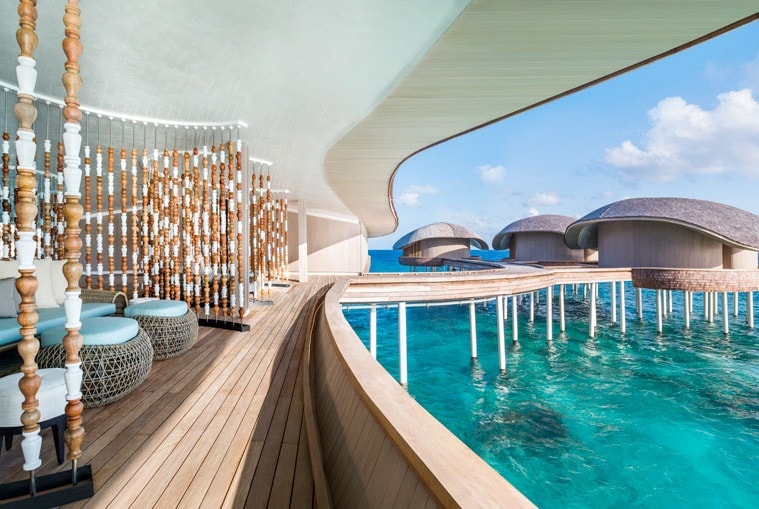 Spa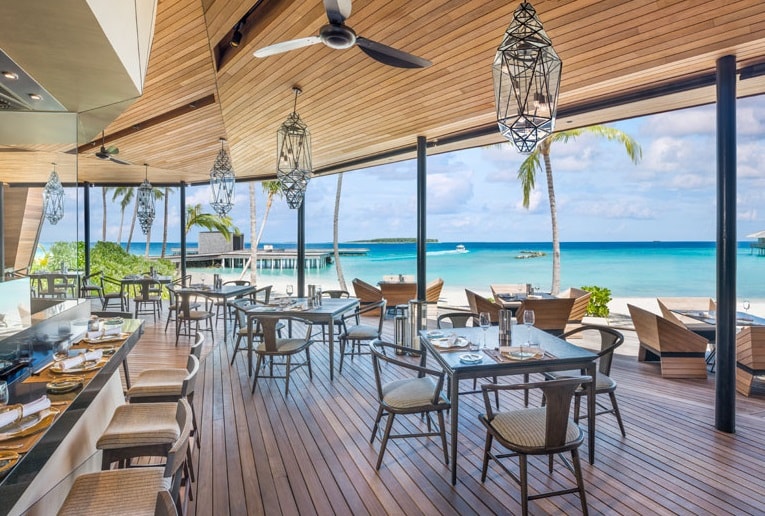 Restaurant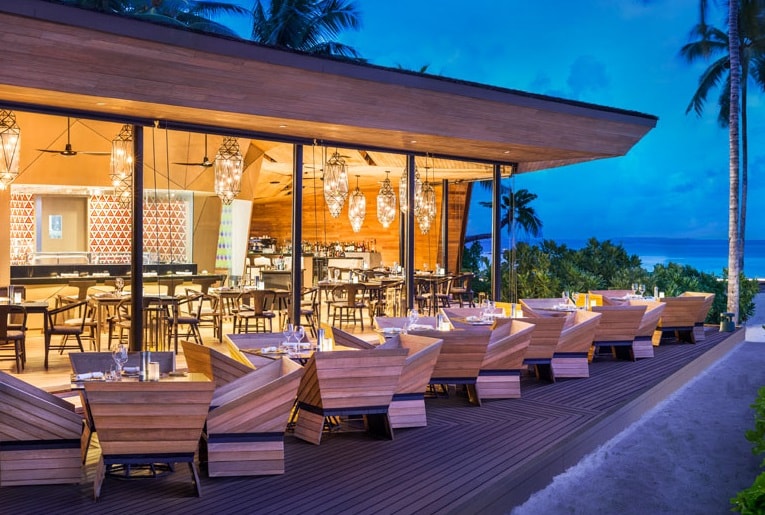 Dining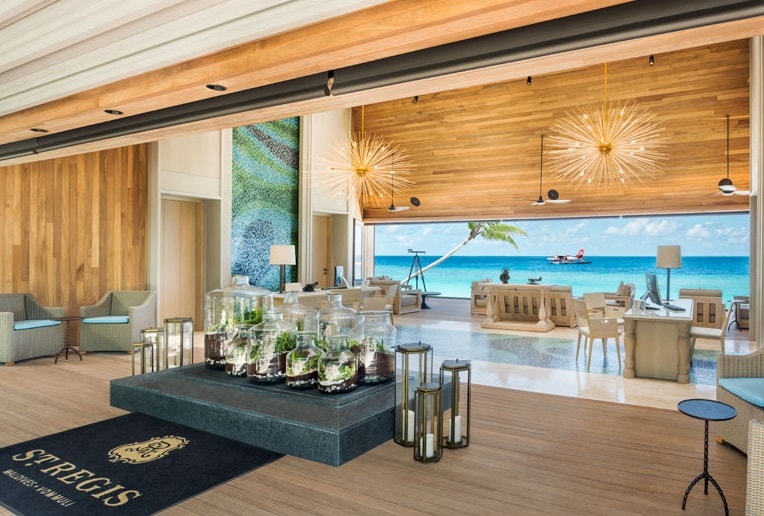 Reception
The biggest water villa in Maldives. #maldives #malediven #urlaub #reise #luxury #watervilla #private #luxuryvilla