Spend 6 Nights Aboard A Cruise In The Maldives
There are two types of cruises operated in the Maldives. Surf cruise takes surfers to different surf points. Dive cruise on the other hand follows popular dive sites. Divers don't join surf cruises and surfers don't join dive cruises. This way every cruise will have guests of that particular interest for maximum enjoyment.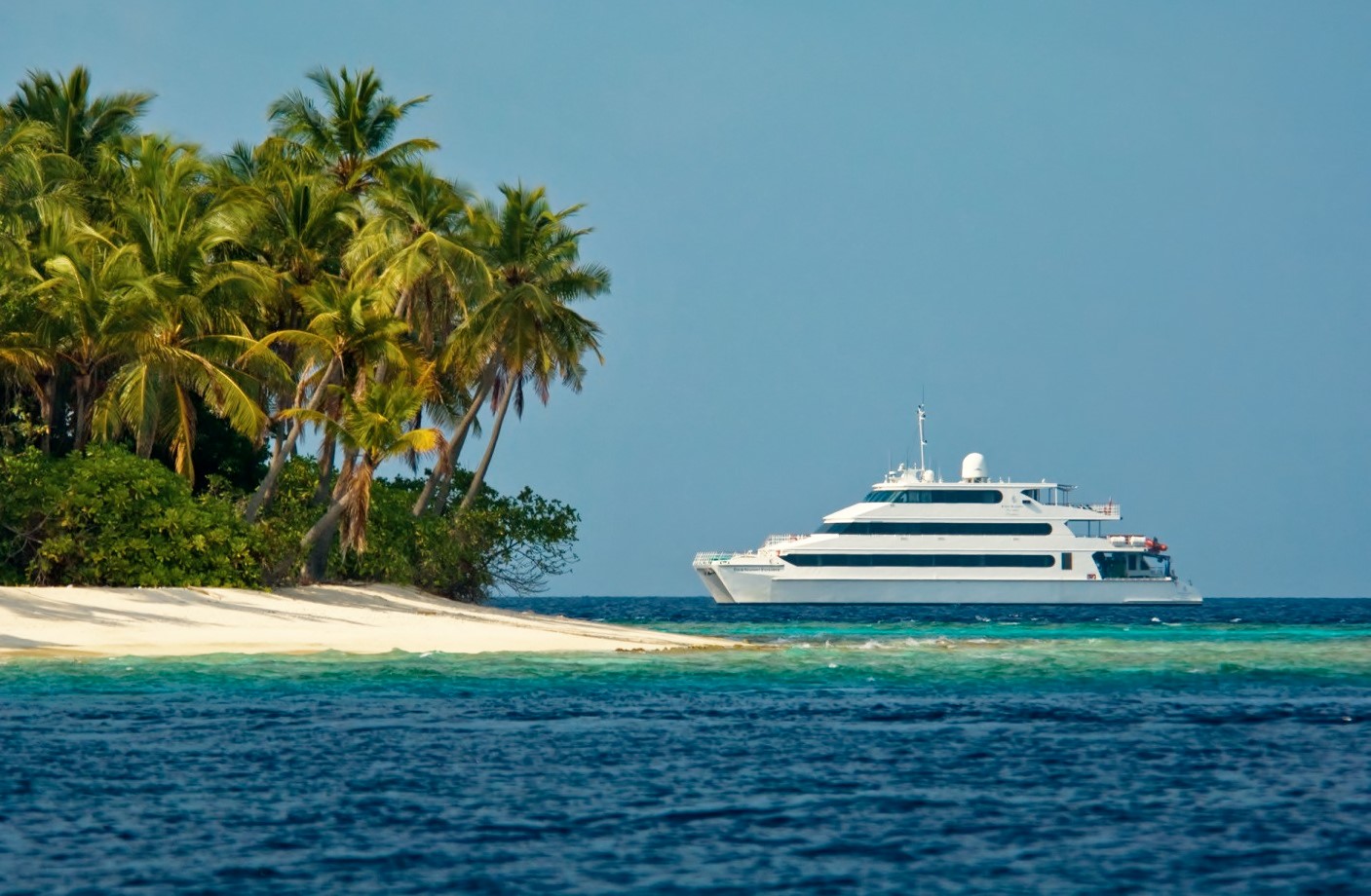 They are like addicts. If they could do what they came for they are happy. Most of the day time is usually occupied with the activity. Since the cruise takes you to different spots it keeps you excited throughout the voyage.
Surf season in the Maldives starts in April and lasts till October. Dive cruises are not seasonal and happens all year round.
There are two ways to book a cruise. The most popular is to charter a boat for a group. If you are a surfer you often have surfing friends. Surf charter is perfect for groups.
In general there are more scuba divers than surfers. Divers are often not that close knitted like surfers. Divers too do boat charters for groups. But there are also many individual divers who want to join a diving safari. Open boat dive safari means it is available for individual guests to book cabins. There is a minimum number of cabins required to commence the trip. If bookings do not reach minimum count cruise operators often offer you to join another boat of the same class. Basically they just combine bookings from several vessels which do not have enough bookings for individual trips. This policy is usually informed to guests at the time of booking. It is certainly preferable if you get the boat you booked. But, after buying flight tickets way on advance you do not want to cancel the trip. On the other hand a similar class of boat gives you the same experience, unless you are repeat guest who had previously stayed aboard a particular vessel.
Both surf and dive cruises have their itinerary for 6 nights. The cruise picks guests from airport on Saturday and takes on the voyage. By Thursday evening or Friday morning the vessel comes back to the airport to end the cruise. If you want to continue your stay you could conveniently take a guest house or city hotel in Male' or Hulhumale' for overnight.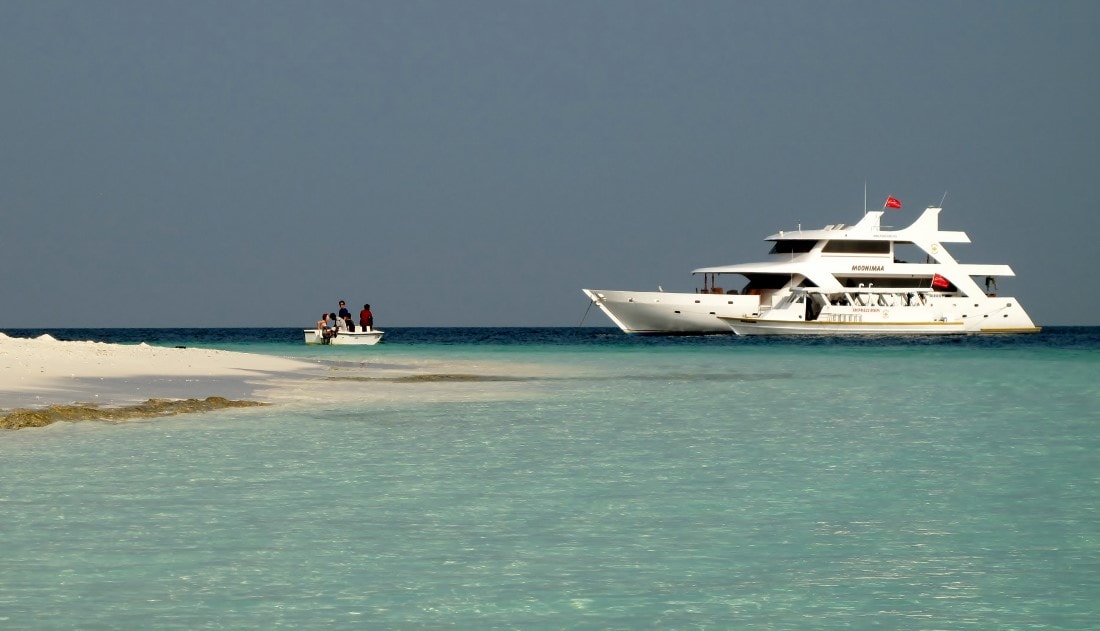 Moonimaa
is one of the popular cruise boats. With 8 cabins its interior and exterior looks very attractive. The cabins are of average size in the Maldives safari market, but the finishing and design is much more appealing. Luxurious liveboards have more spacious cabins at higher prices.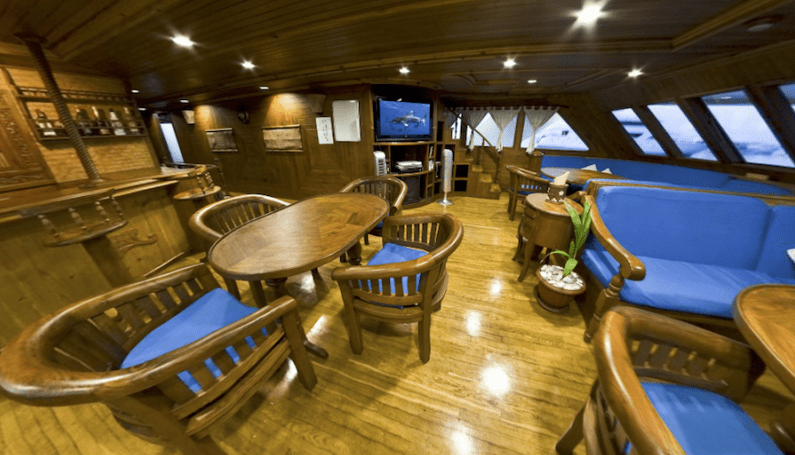 On a dive cruise you wake up at sun rise, have a coffee and jump off for early morning dive. Once back you have the breakfast and some time to relax. Few hours before noon you have the second dive of the day. After lunch the afternoon dive starts around 2:00 pm. Once back on the boat the day is almost passed and you are tired. Relaxing, enjoying the sunset or just casual chat with friends occupies rest of the day. As night falls you will expect a long dinner all together. Otherwise some get busy throwing down fishing lines at sunset time. Perhaps to get a fresh catch for dinner.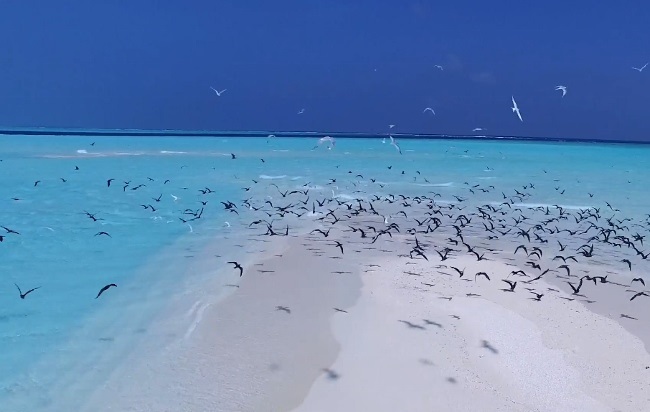 In your Maldives voyage you sometimes you come across stunning sandbanks. Cruise boats often have another support boat for diving and also a dinghy attached to main boat. When the cruise anchors at a dive site and there is a sandbank nearby you could skip your dive for an escape to the sandbank. The trip often includes a visit to an uninhabited island. If you wish there will also be many opportunities to visit local residential islands. A cruise in the Maldives involves a lot to experience.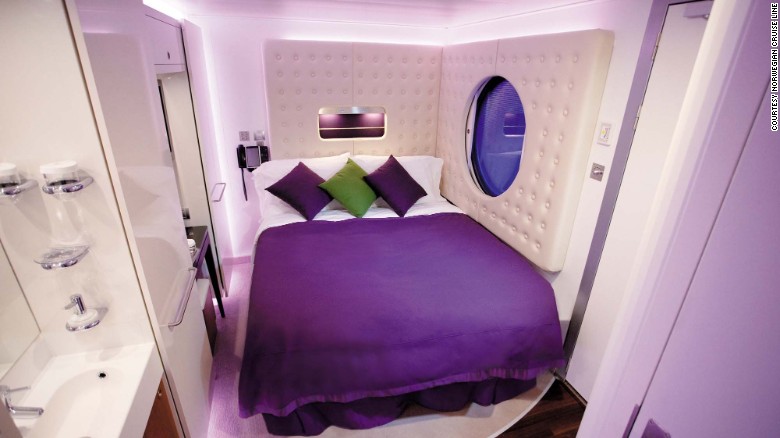 The recently published cruise
bucket list on CNN
features passenger lines that travel in Europe, Caribbean and other regions. One of the photos show cabin with glass window to the ocean. It may be interesting to fish through this but to do that you cabin must be just below the surface. Sea gets dark as it gets deeper. Other than this its nothing but a giant floating hotel equipped with cinema, pool, restaurants and fun.
When you are aboard a cruise in the Maldives you get to experience natural beauty of the underworld world, while enjoying visits to different islands.
Spend 6 Nights Aboard A Cruise In The Maldives. #Maldives #Malediven #safari #cruise #urlaub #trip