Villa Air Introduces New Seaplane Model
2 May 2014: Villa Air, a local company, has brought a brand new 7-seater seaplane last Monday. Even though the Maldives is home to world's largest seaplane operation its only one model that is being used - the Twin Otter. Its great safety records may be the reason for being so popular in the Maldives. Followed by the success in Maldives the Srilankan Airlines now used Twin Otter for photo flights in Srilanka.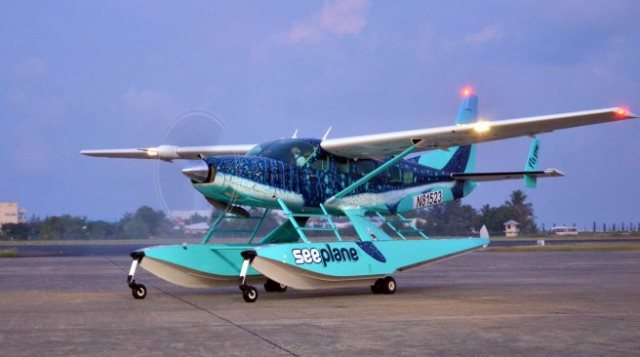 Villa Air has not revealed model and make of the aircraft, but said it came from America and it was brand new. The chairman, Mr.Gasim Ibrahim, was present at airport to welcome his first seaplane and said it was mainly targeted for low-cost photo flights and excursions.
This new model to the Maldives is driven by a single propeller on the nose of the aircraft. It could land in water and land.
The popular Twin Otters also had wheel when it first came to Maldives. It may be for operational convenience that the company removed whose wheels.
Maldives is comprised of 99% sea and 1% land. The seaplanes are said to be able to land safely even if both engines fail all together, but that never happened in the past 21 years.
Seaplane was first introduced by Lars Erik Neilsen, a Danish investor, in 1993. A decade later another company started with same type of aircrafts and operated competitively till Blackstone, a New York Stock Exchange listed investment company, bought both the companies last year.
Seaplane business in Maldives is now a monopoly. Many speculate the prices have gone credibly high and quality of service has plunged drastically. Amid this speculation, the government owned Maldivian fleet is getting prepared to start its seaplane operations in a near future.