This May Be The Best Dolphin Spot In Maldives
A holiday of a life time in an exotic beach destination such as Maldives may not be complete without a dolphin watching trip. Many resorts in the Maldives offer dolphin watching trips and it is one of the most popular excursions among the tourists. But, there is a problem. Resorts can't guarantee that you will see dolphins. It is a matter of chance, it may also depend on weather conditions and seasons. In that case you may want to find out which resort gives the best chance of seeing dolphins.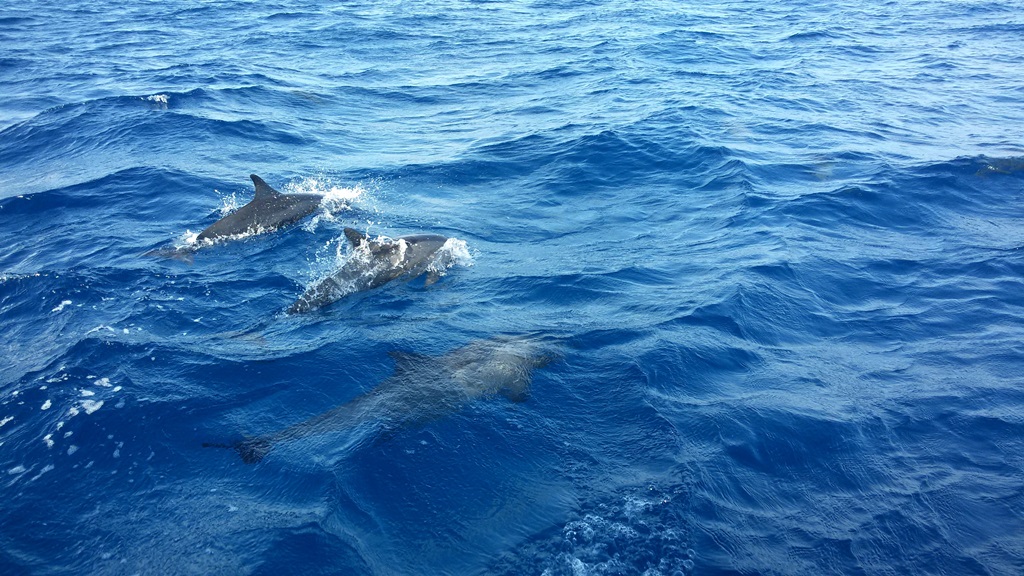 Photo of dolphins at Muli Channel in Meemu Atoll Maldives
Muli Channel in the Meemu Atoll is rarely known and talked about. But, it is definitely one of the best dolphin spots in the Maldives. There are only two resorts in Meemu Atoll, Medhufushi Island Resort and Hakuraa Hura. Fewer resorts in this atoll may be the reason it is not widely known in the travel community.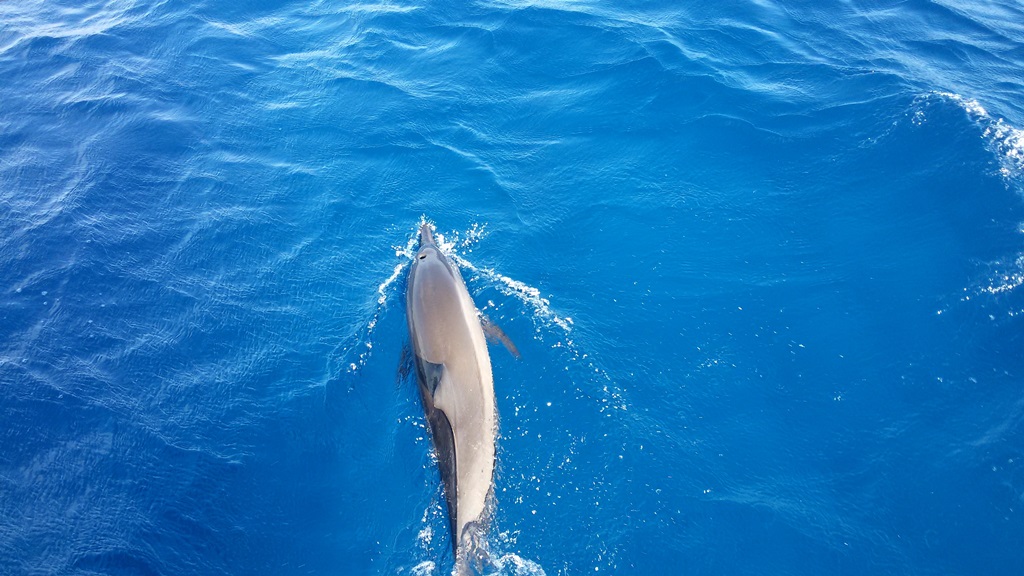 Photo of dolphins at Muli Channel, captured with Samsung Galaxy S3
Dolphin watching at Muli Channel gives a success rate of 85%, all year round. Better the weather is, better chance of seeing dolphins. In this point the dolphins are very friendly, usually follows the boat and perform high jumps if you clap and applause. Believe it or not, dolphins got a great sense of humour. They may not understand your language but they seem to understand you very well.
Have you noticed the water colour here is more vivid than other dolphin photos you have seen? That is because this place is not so deep, it is about 10 - 30 meters. At some points you can see the sea floor. Because of the shallow water the blue colour is more bright and vivid, just perfect for watching dolphins. But, the reef is also very popular dive site. Geographical makeup of Meemu Atoll is very unique, there is an outer reef that protects all the islands inside the atoll. To visit most islands in Meemu Atoll ships have to pass through this channel. There is strong current flowing in and out, at all times. That brings in clear water and make visibility in the water crystal clear.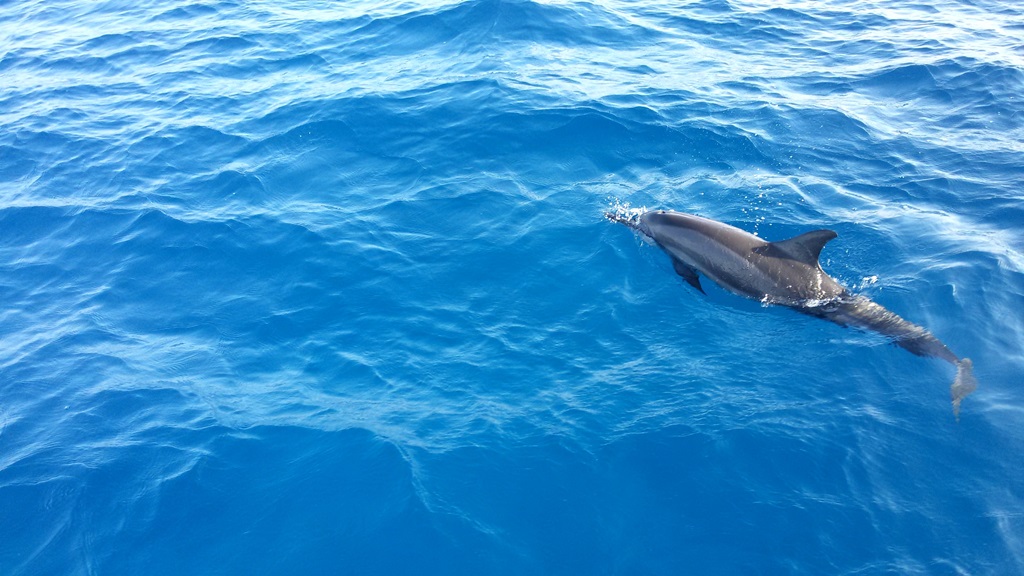 Photo of dolphins at Muli Channel, captured with Samsung Galaxy S3
Best times to see dolphins are between 9.00hrs and 10.30hrs in morning, and from 15.30hrs till 17.00hrs in the afternoon. There is more chance in afternoon than morning and the amount of dolphins are much more. In the morning you often see few and they go down when boat goes close. But, in the afternoon they follow the boat and reacts friendly.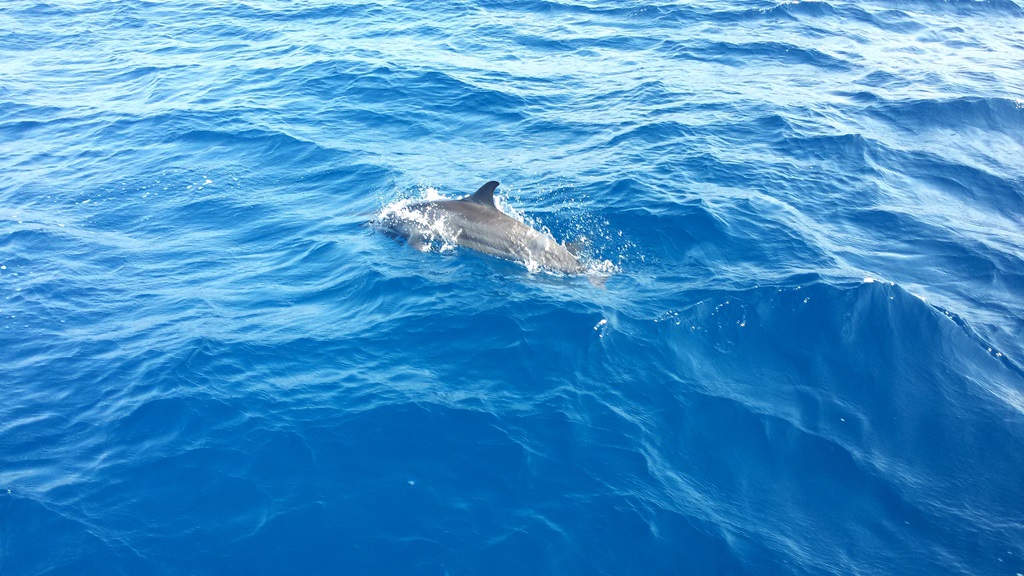 Photo of dolphins at Muli Channel, captured with Samsung Galaxy S3
You don't have to feed or do anything to watch dolphins, the boat needs to slow down and they would follow the boat. Giving applause is a great way to get them perform really good.
If you are thinking of snorkeling or diving with dolphins I did diving here in Muli Channel and did not see any dolphin, just heard them making noises at a distance. I did not try snorkeling as it was not offered by any resort, some people suggested it could even be unsafe if there is a baby dolphin as mothers attempt to protect babies. Diving was amazing. Absolute clarity in water makes you literally forget you are in water.
This may be the best dolphin spot in Maldives. #dolphin #dolphins #maldives #malediven #urlaub #samsung #reise NOT #galaxys7 OR #galaxys8