Perfect Family Holiday Villas At Anantara Dhigu
One of Maldives' best family resorts, Anantara Dhigu offers you a variety of family-friendly villas, specially designed for your ultimate comfort and enjoyment. A mere 30-minute speedboat ride away from Velana International Airport, Anantara Dhigu is based on an exquisite island surrounded by natural turquoise waters and splendid ocean views – perfect for a luxurious family vacation. The resort has a 4.5-star review rating on TripAdvisor and has won numerous accolades, including the World Travel Awards for Maldives' Leading Family Resort in 2018 and Maldives' Leading Water Villa Resort in 2017.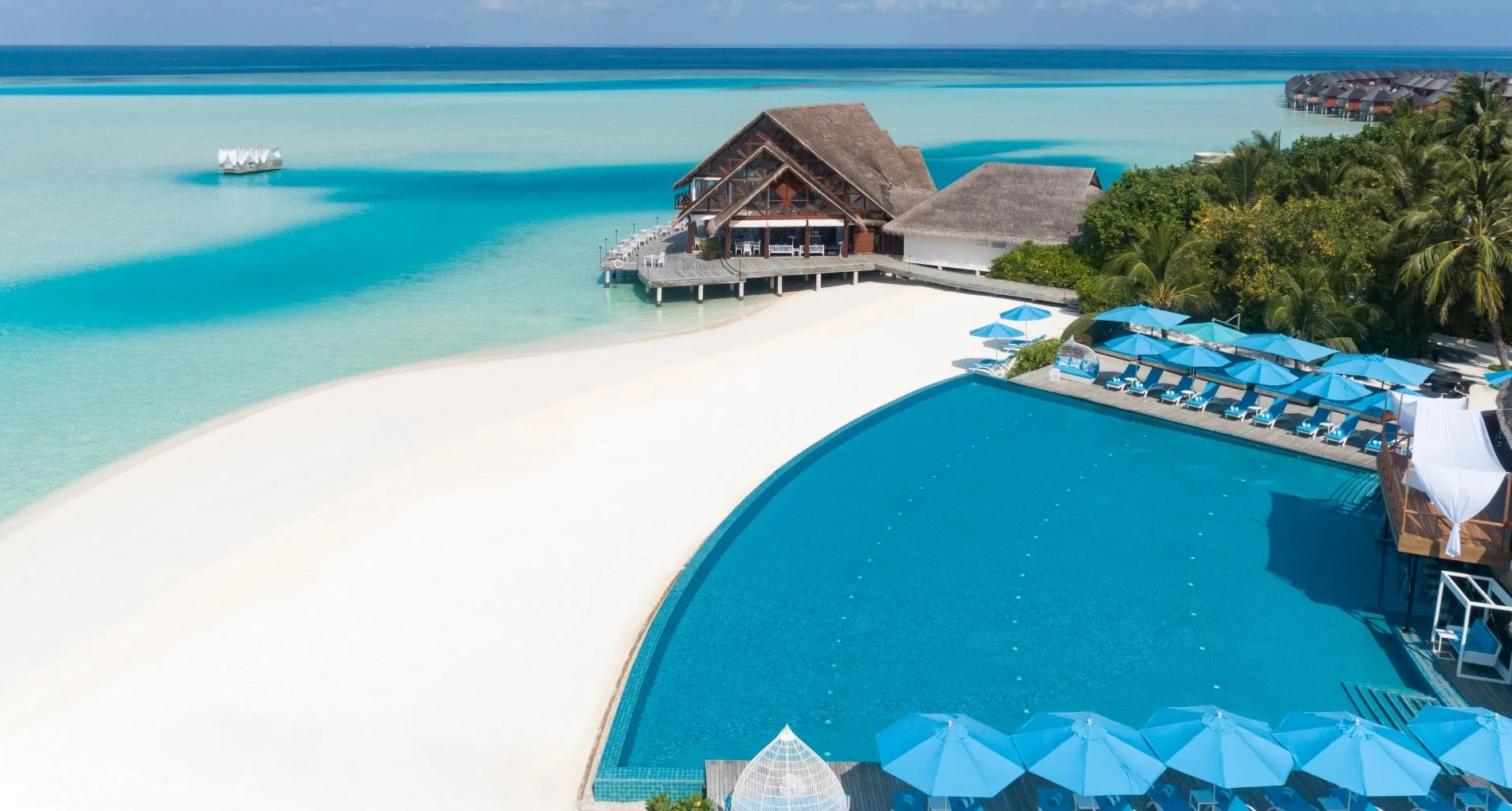 Anantara Dhigu has over 110 beach villas and over water suites; there are nine different options to choose from, each with its own distinctive style and interior. The resort also has three international restaurants, a top-notch spa facility, a wide-ranging library, a fully-equipped fitness centre and a marvelous infinity pool overlooking the Indian Ocean. There is also a special area for children – the Dhoni Club – with additional special dispensations made for their young guests both in-villa and in the restaurants.
Guests are welcome to access the facilities at their sister resort, Anantara Veli – located just across the lagoon, provided they are 18 years old and above. However, do note that families with children are can also dine at the Anantara Veli restaurants, with reservations made ahead.
Beach Villas
The beach villas at Anantara Dhigu are the epitome of island luxury; thatched roof bungalows surrounded by lush greenery which opens directly onto the glittering white beach with an uninterrupted view of the Indian Ocean.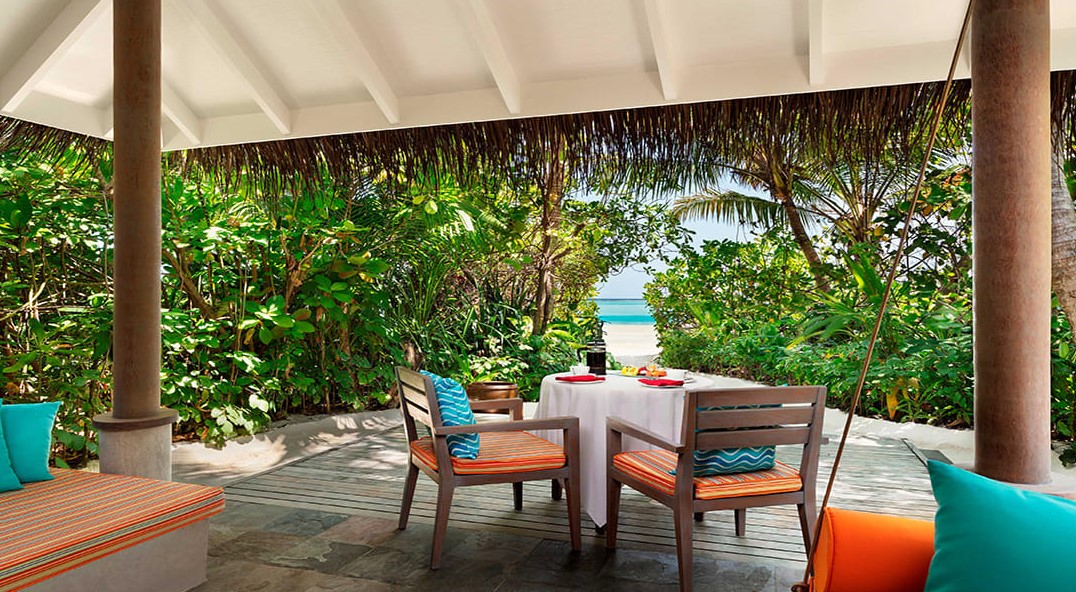 For these villas, depending on your preference, you can choose from either the Sunrise Beach Villa – with sunrise ocean views – or the Sunset Beach Villa – with sunset ocean views.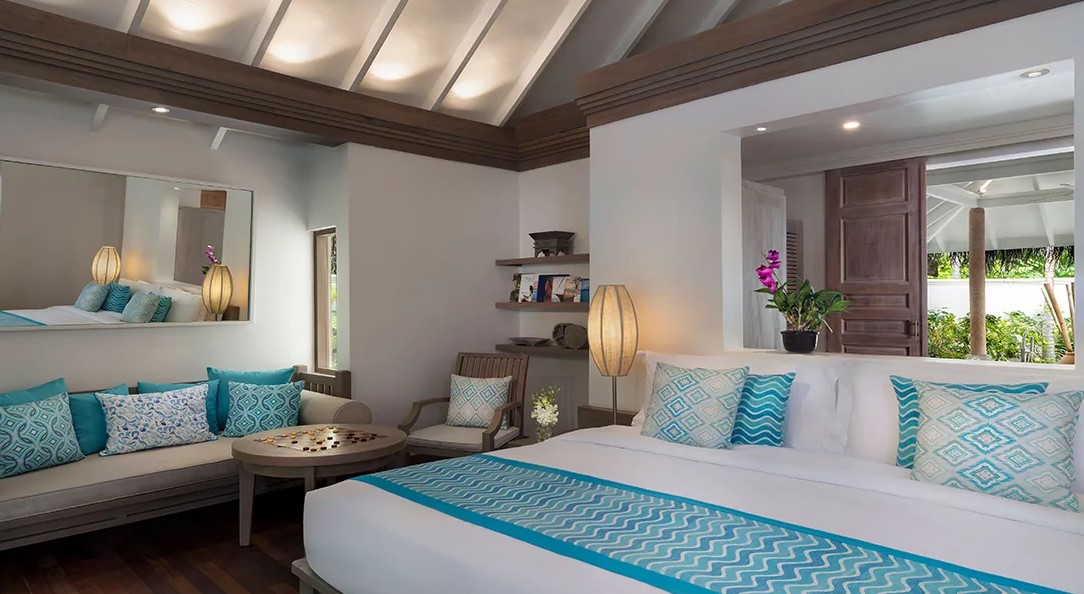 Each villa consists of a spacious bedroom, an open-air bathroom and an outdoor terrace. The bedroom consists of a king-sized bed, a daybed and a minibar with a private wine selection. The open-air bathroom is opulent; two separate vanities, a standalone terrazzo tub and a rainfall shower, all encircled by soft green fronds. There is also a separate dressing area, adjacent to the bathroom. The outdoor terrace is complete with a daybed and a sofa swing as well as a dining area for your in-villa dining needs.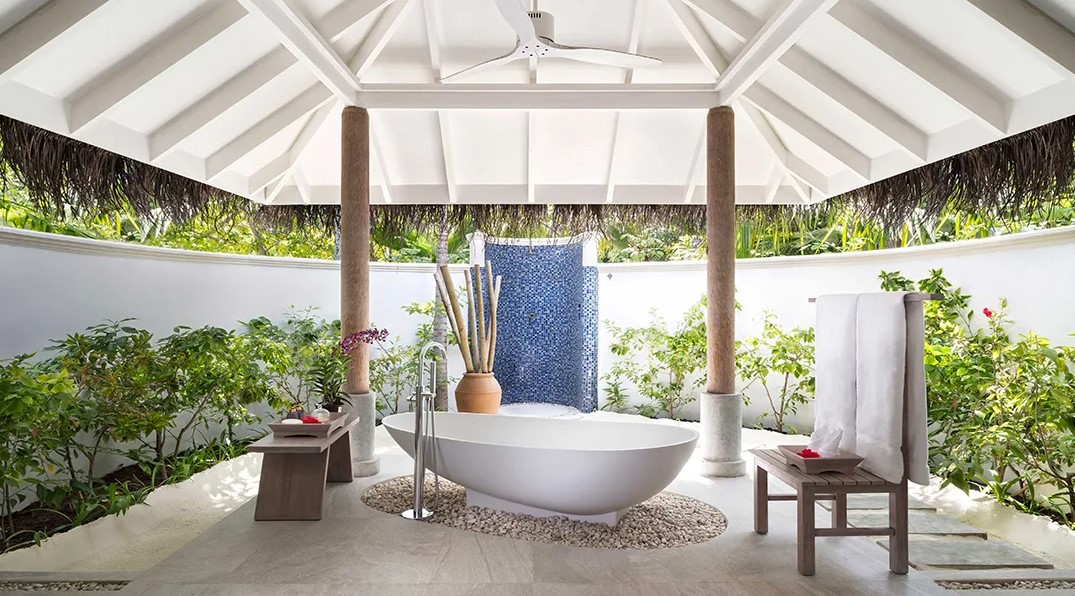 Over Water Suites
For the ultimate Maldivian resort experience, opt for the over water suites at Anantara Dhigu; perched over the turquoise lagoon, with direct access to the sparkling waters below, these water villas come complete with splendid views and all your creature comforts.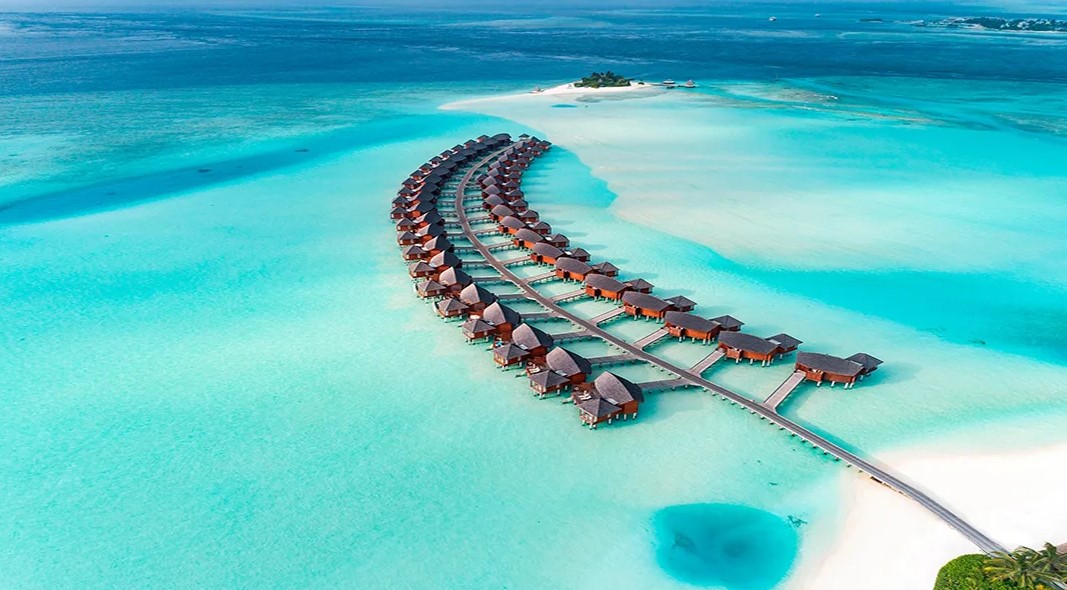 The bedroom has a king-sized bed, a daybed, a private wine selection with the minibar as well as an espresso machine. The bathroom consists of a double vanity, a rain shower and a free-standing bathtub from which you can enjoy an exquisite framed view of the lagoon. The vast outdoor deck – in addition to sun loungers and a seating area – has ample space for children to play on. Enjoy the warm sunny weather with your family or go for a refreshing swim in the lagoon where you might even see some colourful fishes!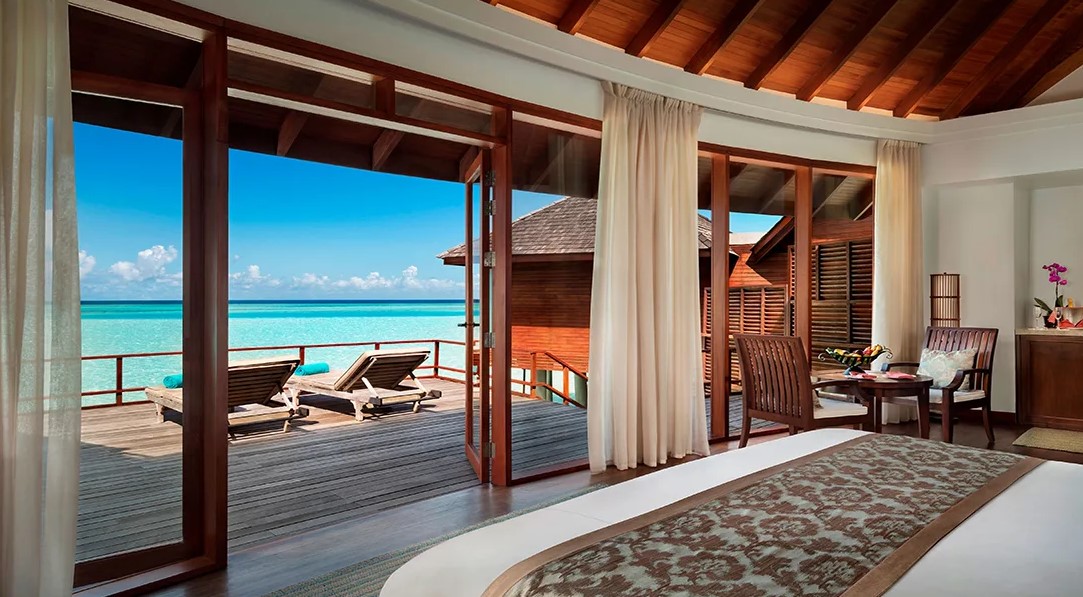 To see a brilliant sight of the sun rising over the Indian Ocean, opt for the Sunrise Over Water Suite while the Sunset Over Water Suite comes with vivid views of the sunset over the seascape. Either way, you will be subject to the amazing oceanic views of the Maldives, in a luxurious over the water villa.
Sunset Pool Villa
The Sunset Pool Villa is the perfect haven for those who want a more private time with their families. The villa comes with a roomy bedroom with the usual king-sized bed, a daybed, a minibar and a private wine selection with an adjacent dressing area.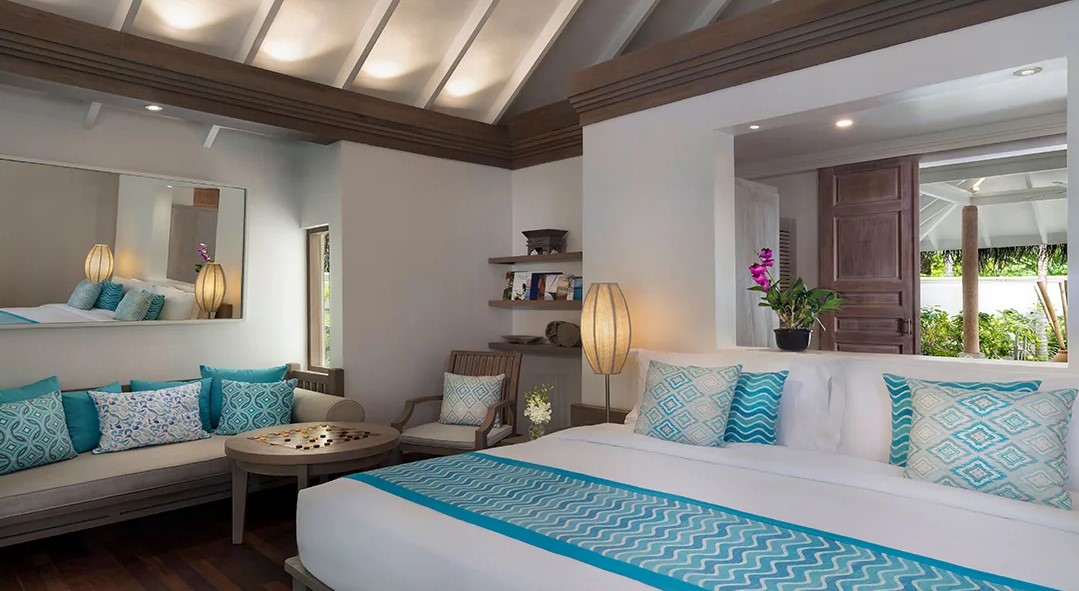 The veranda has an outdoor daybed and a sofa swing along with a dining area for in-villa dining. The expanded open-air bathroom features two separate vanities, a rainfall shower and a standalone terrazzo tub, along with your very own private plunge pool with a water wall – the jewel of this villa.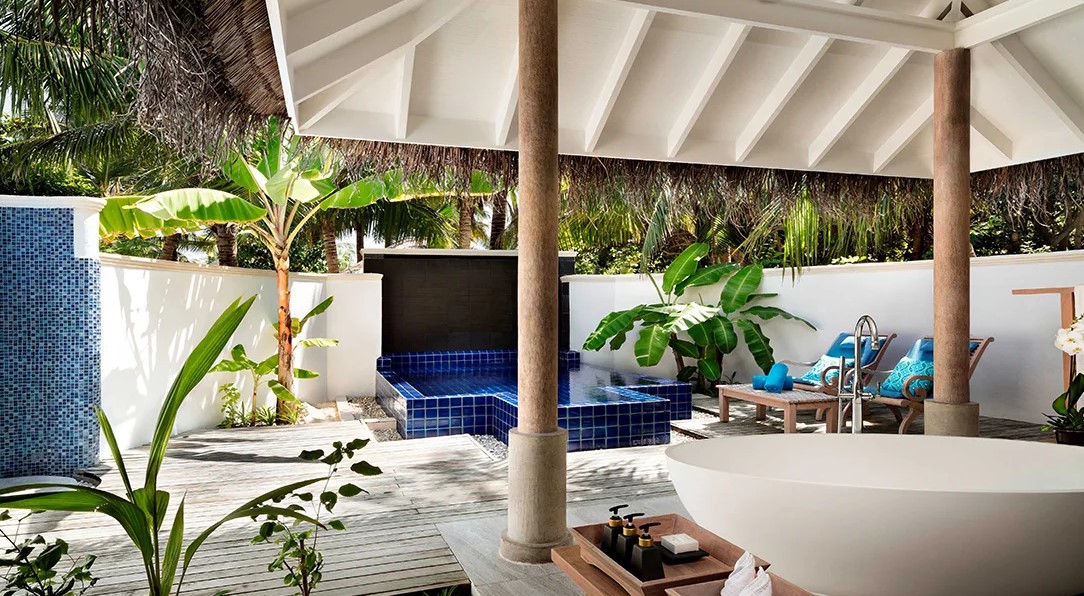 Laze your day away on the sun loungers by the pool while your children splash away in the plunge pool. Enjoy the utmost comfort Anantara Dhigu has to offer with your own Villa Host as well.
Anantara Pool Villa
The Anantara Pool Villa is the embodiment of luxury island vacation; a beautiful island-style villa with pool surrounded with the natural greenery of the island. The bedroom features a king-sized bed, a daybed, and a minibar with a private wine collection.
The outdoor veranda has a daybed, a sofa swing as well as a dining area for in-villa dining. At one end of the villa is a spacious open-air bathroom – with a standalone terrazzo tub as well as a rain shower, while the other end features your private swimming pool on the beachfront! Have your own private pool time with the family, reclining on the sun loungers while your Villa Host serves you snacks and drinks.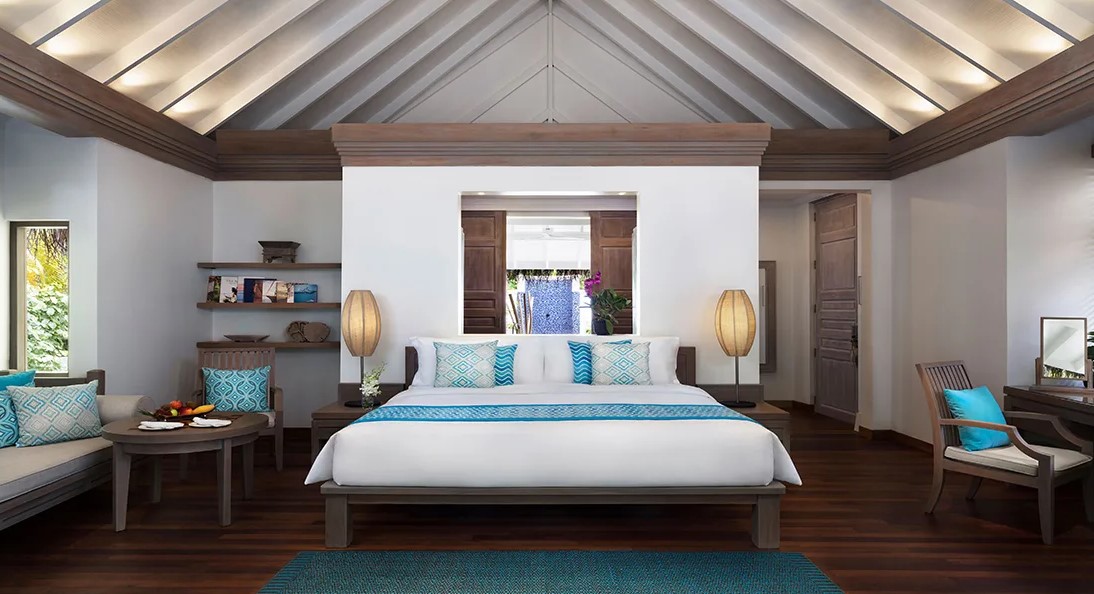 Anantara Over Water Pool Suite
Enjoy the best of both worlds at the Anantara Over Water Pool Suite; situated over the island's beautiful lagoon, this villa comes with its very own private pool overlooking the ocean. Jump from the pool to the lagoon below and back, at your leisure!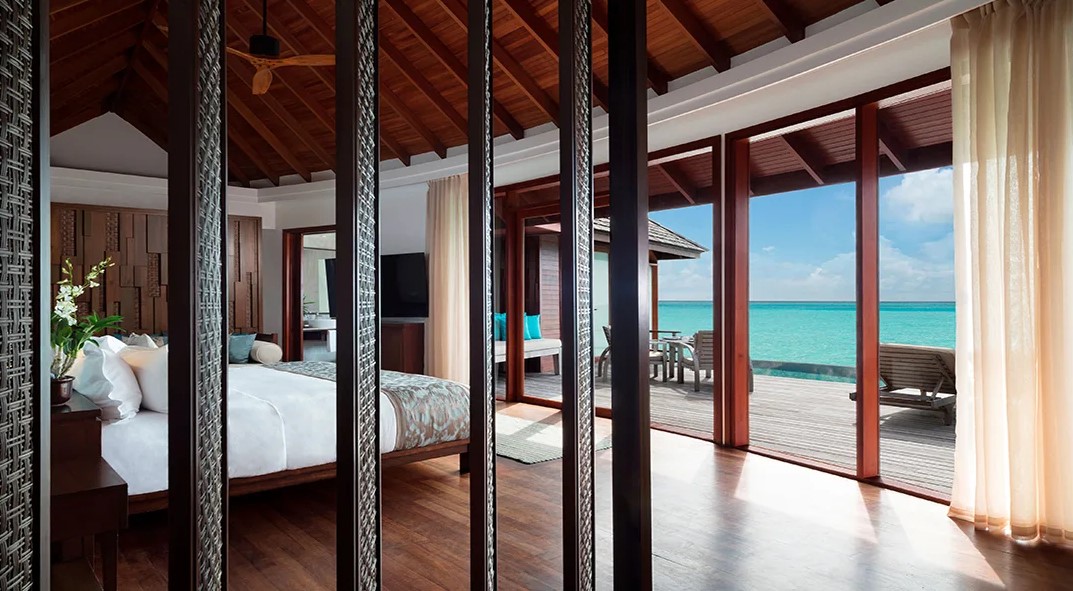 The bedroom consists of the trademark king-sized bed, a daybed and a minibar with private wine selection. The bathroom has a marvelous framed view of the lagoon from a standalone tub, along with a separate shower area. The outdoor sundeck – which features the famed private plunge pool – comes complete with sun loungers as well as a dining area. The sundeck also has direct steps down to the lagoon with a rinse shower for your ease.
Spend your day lounging in the pool or in the lagoon with your family and dine together under the stars, all at the comfort of your own water villa. This villa also comes with its very own Villa Host for your ultimate comfort.
Two Bedroom Family Villa
This two-bedroom villa is the perfect option for those looking for a roomier accommodation or for those vacationing with friends. The villa has one master bedroom with a king-sized bed, a separate dressing area and an open-air bathroom with two separate vanities, a standalone bathtub as well as both indoor and outdoor shower areas.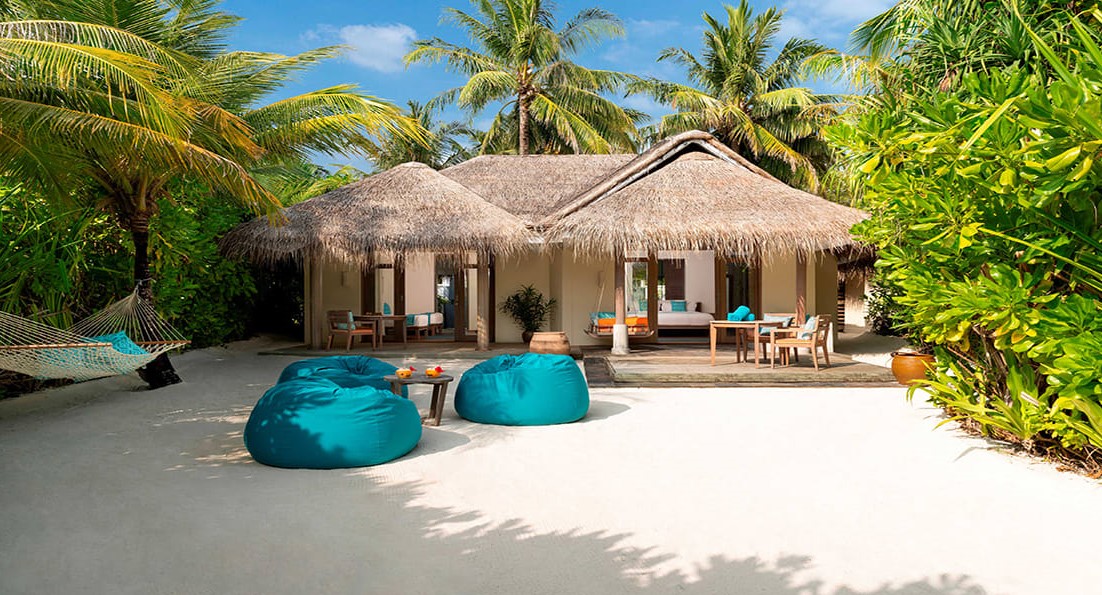 The second bedroom is slightly smaller, featuring two twin beds and an open-air bathroom with indoor and outdoor showers. The veranda has a daybed and a sofa swing along with seating and dining areas. With this villa, you will also have your own beachfront, white-sanded courtyard with a hammock and beanbags; perfect for kids to play in or even for you and your partner to lounge on! Enjoy the ultimate luxury vacation at this expansive villa with its own Villa Host as well.
Two Bedroom Anantara Pool Villa
For those looking for an extended family vacation or a tropical getaway with friends, this two-bedroom villa is the perfect choice! Side-by-side, these semi-connected villas ensure that you have your own privacy while also enjoying some quality time together with your family and friends. Each villa has its own master bedroom with a king-sized bed, an open-air bathroom with a standalone terrazzo tub and adjacent dressing area and veranda with a daybed, a sofa swing and a dining area. You will be connected by the outdoor sundeck area which features your own in-villa pool with sun loungers. Additionally, you will also have your own Villa Host to cater to all your needs.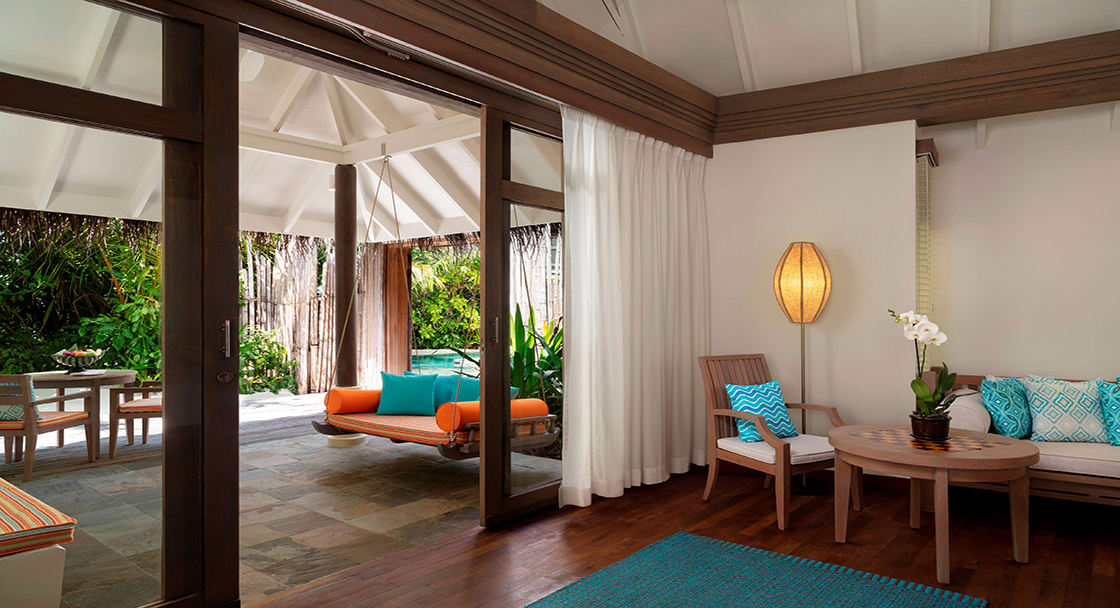 Surrounded by the beautiful greenery of the island, this villa opens on to the soft white sands of the beach with direct access to the turquoise waters of the lagoon. Make the most of your time with your loved ones at Anantara Dhigu in this expansive villa, with every luxury at your fingertips!
Dining
There are three restaurants on the island, each offering you a variety of delightful dishes along with an assortment of specially chosen wines and alcoholic beverages. At Anantara Dhigu, every single dish served promises you an unparalleled culinary experience.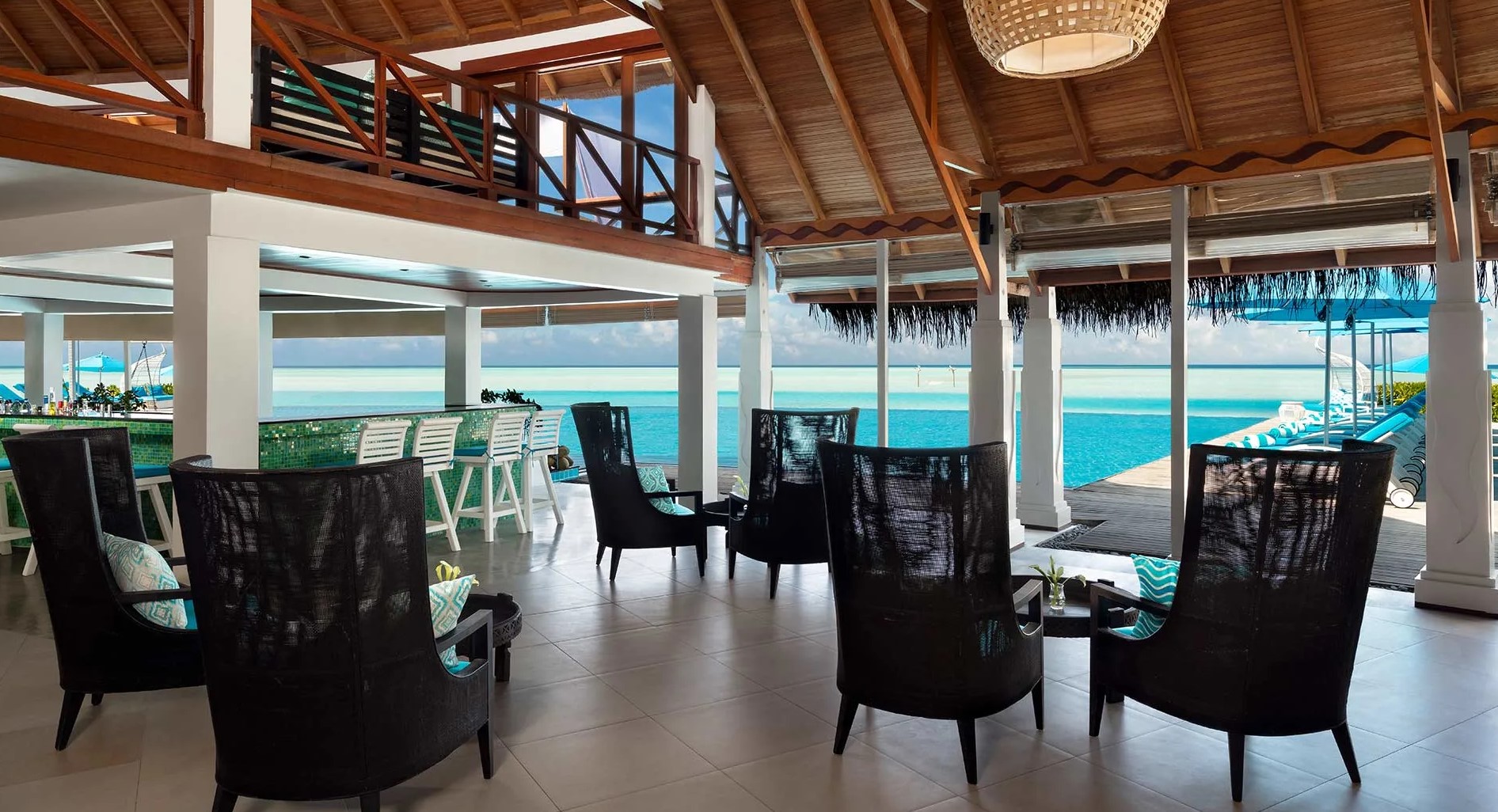 Fushi Café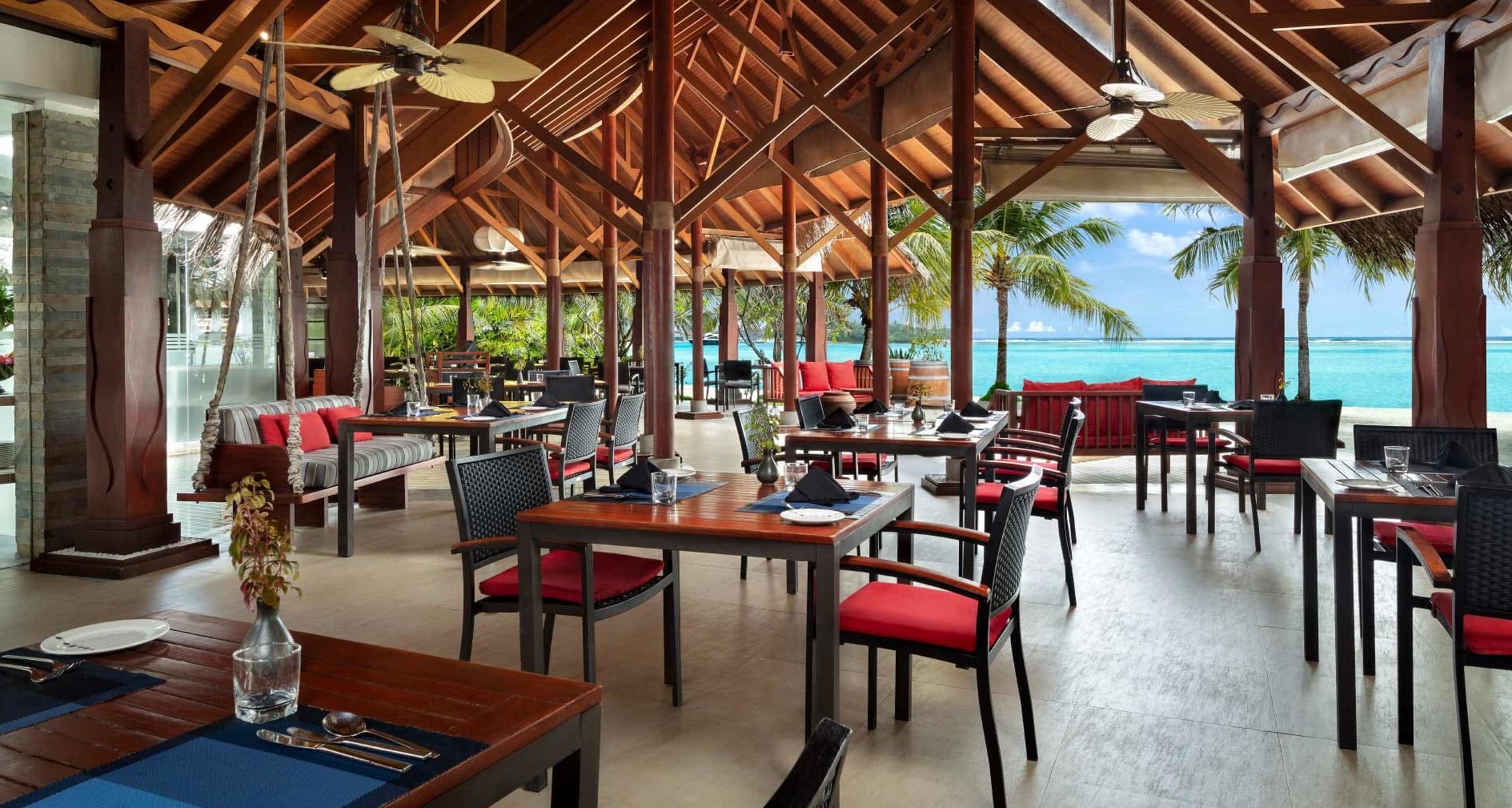 This beautiful restaurant, with its distinct wooden interior, offers you a vast choice of dishes from all over the world. Start your morning with a gourmet breakfast buffet featuring breakfast favourites and Maldivian specialties along with freshly-baked pastries and an array of exotic fruits. For dinner, you will be able to enjoy a variety of dishes from around the world – a different theme every night!
Sea. Fire. Salt
Overlooking the ocean, Sea.Fire.Salt. offers you the option of dining both indoors and outdoors. This restaurant offers extensive lunch and dinner menus with freshly-caught seafood from the Maldives and premium quality meat imported from Australia. Savour delicacies such as grilled live lobster and steak cooked on Himalayan salt bricks, finishing off with specially crafted, decadent desserts! For those dining at night, the perfect wine pairing for your dishes will be suggested by the resident Wine Guru.
Terrazzo
This restaurant, open exclusively at night, offers you a wide array of authentic Italian dishes. Start from traditional antipasti and soups and work your way through different types of pasta and risotto as well as various meat and fish dishes, ending with delightful Italian desserts such as tiramisu and panna cotta. You will also be able to pair your dishes with the most suitable wine with the help of the resident Wine Guru.
Aqua Bar
Enjoy your pool time with the family by treating yourself to an array of enticing snacks and drinks from Anantara Dhigu's exotic poolside bar, Aqua, which also serves to sun loungers and those on the resort's popular ocean hammock.
Dining by Design – Private Dining Experiences
For a private dining experience, the resort offers you a myriad of choices. Dinner on the edge of the beach or on a picturesque sandbank, with the waves lapping gently around you, or even in the middle of the lagoon underneath a private canopy, Anantara Dhigu offers it all. Indulge yourself with exquisite dishes prepared specially by your own private chef; just remember to make a reservation ahead!
For more choices, guests are also welcome to dine across the lagoon at Anantara Veli, provided that reservations are made ahead in advance. The restaurants at Anantara Veli include 73 Degrees (buffet restaurant with international dishes), Baan Huraa (Thai cuisine), and Origami (Japanese cooking).
Leisure Activities
For your entertainment and leisure, Anantara Dhigu offers a variety of activities including water sports, diving and surfing programmes as well as various resort activities.
Guests can enjoy a number of water sports such as jet skiing, water skiing, flyboarding, windsurfing, catamaran sailing and kayaking. Snorkelling cruises to nearby reefs and half-day and full-day diving safaris are also available – must-do activities for guests who want to fully experience the beauty of the Maldives. Swim with sharks and manta rays alike, and prepare to be amazed by an experience like no other! Additionally, PADI diving certifications and snorkelling and diving lessons are also available for both adults and children on request.
For the more daring, Anantara Dhigu also offers luxury surfing options in collaboration with the 'Tropicsurf' company and its qualified resident surf gurus. A variety of programmes – from beginner to advanced – are available for guests. Although Tropicsurf operates year-round at Anantara Dhigu, do note that the surf season in Maldives is from April to October.
You can also choose from a variety of cruises such as the Sunset Cruise and Lucky Dolphin Cruise, as well as go on fishing expeditions and picnic trips to the nearby private island of Gulhifushi. Private excursions to uninhabited islands and nearby reefs and visits to nearby islands for tea with the locals are also available.
For those looking for a new experience, Anantara Dhigu offers the 'Spice Spoons' hands-on cooking classes with the executive chef of the resort. Here, you will learn how to prepare flavourful Maldivian and Thai classics such as creamy tuna coconut curry and Thai papaya salad. A variety of in-resort activities are also available for you to enjoy with your family, such as movie nights on the beach and a daily sundown ceremony with traditional 'boduberu' music and festive lights. On the other hand, you are also welcome to explore the island either by foot or on bicycles with the family. Cruise along the specially designed sand paths and delve into the lush greenery of the island at your own leisure.
Dhoni Club for Children
In tune with the resort's family-friendly policies, Anantara Dhigu offers the Dhoni Club for children – an exciting indoor and outdoor play area with a climbing wall, a treehouse and two 'dhoni' or boats, where children can enjoy a variety of fun activities. The Dhoni Club is open from 9:30 am to 6:00 pm for children aged 3-12 years. Babysitting services are also available – with 24-hour advance booking – for children aged above 3 months.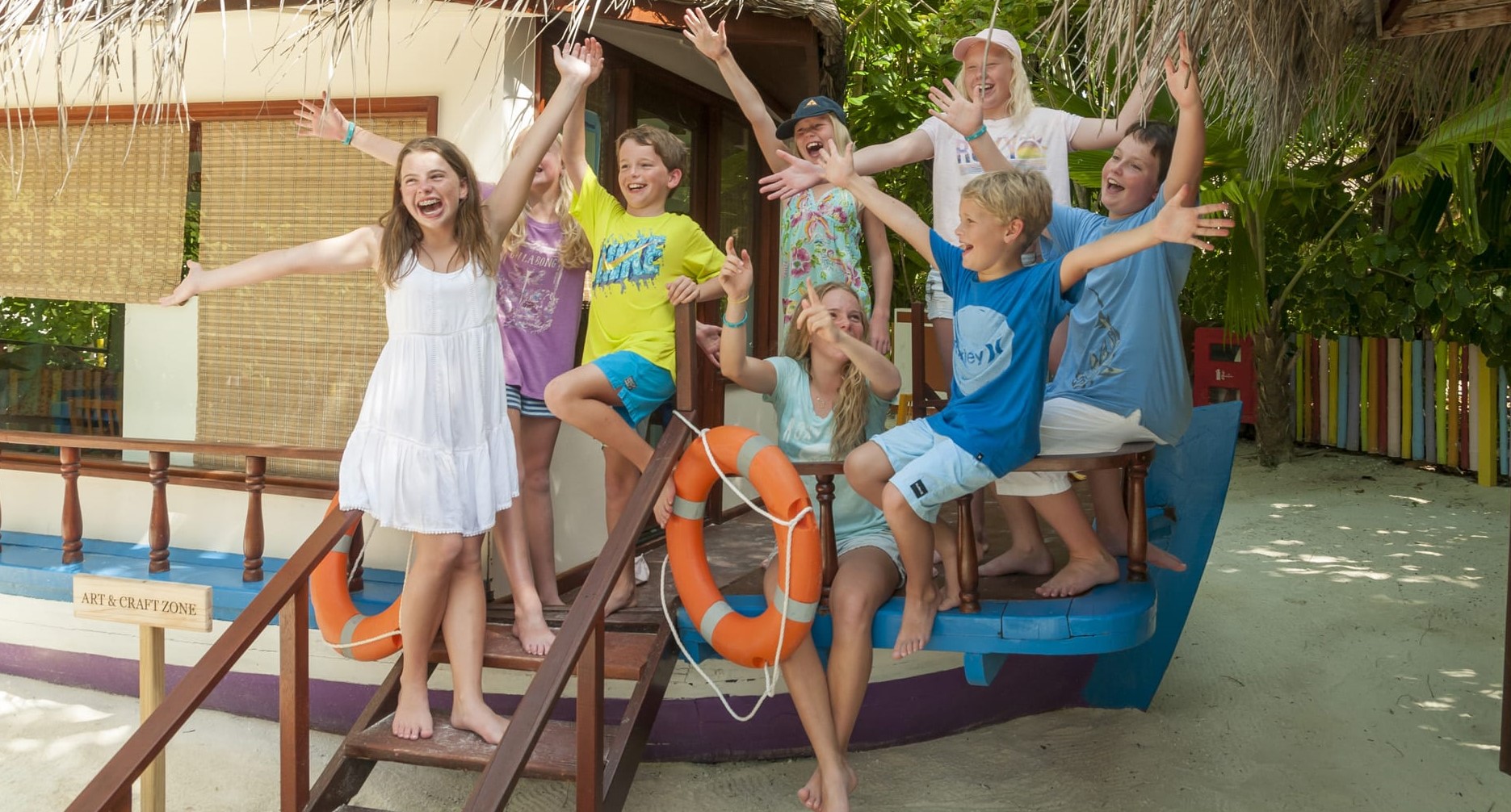 The resort is dedicated to making their young guests feel welcome with a welcome kit on arrival consisting of a Little Hermie beach bag, a sun hat and a colouring book and pencil kit. Additionally, child-sized bathrobes, flip flops and slippers and children's bath amenities are also available in-villa with kid-friendly dishes at all resident restaurants. Children are can also enrol in the 'Spice Spoons' cooking classes and learn how to make pizza and roll sushi!
Spa & Wellness
For ultimate rejuvenation of the mind and body, Anantara Dhigu offers you a state-of-the-art spa facility, consisting of six treatment suites, two open-air 'salas' for Thai massages and beauty and hair salons. Additionally, it also has a steam room and sauna as well as a relaxation deck with hot and cold plunge pools. Situated over the beautiful natural lagoon of the island with panoramic oceanic views on all sides for you to enjoy, this spa offers you a myriad of treatments, all designed to detoxify and revitalise your body and soul. Additionally, guests can also take part in the wellness journeys offered at Balance Wellness by Anantara across the lagoon at Anantara Veli. Indulge yourself in innovative aesthetic treatments at the Cocoon Medical spa as well as age-old Ayurvedic therapies and various types of yoga classes, all aimed at reinvigoration of the self. You can also participate in wellness programmes such as Sleep Optimisation, Movement Therapy and Modern Day Detox – all of which can be specially altered for your particular needs.
With its expansive choice of beach and water villas, as well as diverse activities for both adults and children, Anantara Dhigu is the perfect vacation spot. For a luxury family getaway like no other, choose Anantara Dhigu Maldives Resort – you will not regret it!
Perfect Family Holiday Villas At Anantara Dhigu #Maldives #Anantara #AnantaraDhigu #MaldivesResorts