Maldives Residential Island In 2030 Would Look Like This
Hulhumale' is the only planned city in the Maldives and people are flocking to the new dream island. Being close to the international airport there is no doubt that its a prime location. But, it also lacks many important features for the next generation, most import business opportunities. Currently there are more than 30 guesthouses on the island. But there is a problem. Most of the guests stay for overnight and to travel to the resort next day. People who arrive Maldives at night cannot fly to resort as seaplane flies only in day time. Why is it not popular for long stays? It is a city and most tourists are coming from city to experience island feel. Hulhumale' has a nice public beach and most of the guesthouses are located at the beach road. But, resorts and guesthouses in other islands still attract more long stay tourists.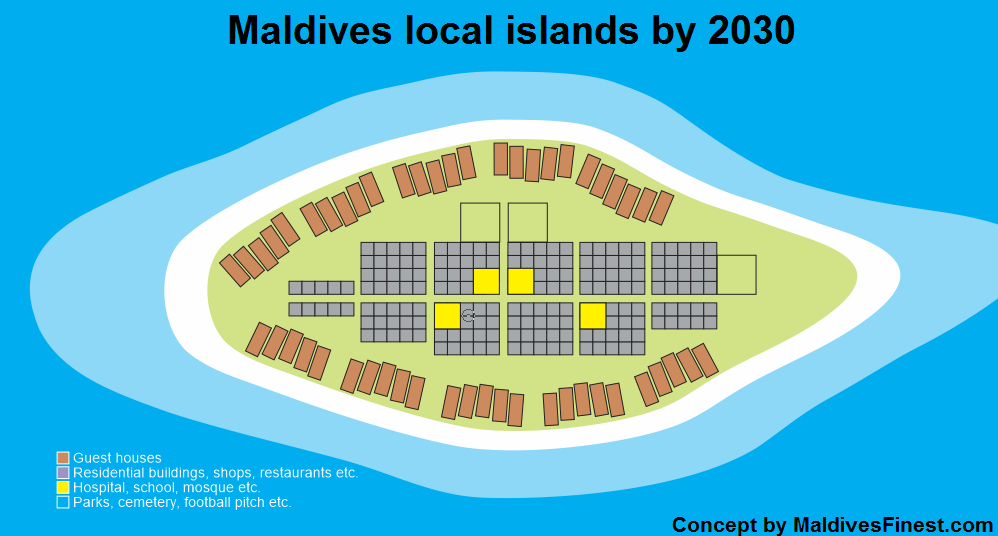 Having about 800 still untouched in the Maldives, the future generations would seek to utilize those unused resources as means of income sources for the citizens. The future residential islands will have guesthouses at the beach and locals would live in their accommodation units in the centre of the island. This way they could live, work and do business in the same island. There will be private beach areas for tourists to sun-bathe. Bigger islands would have space for agriculture while islands with bigger lagoon would come with aquaculture to feed the large tourism population. There will be lot of employment opportunities, Maldivians would be leadership positions with many expatriate workers under them.