5 Beach Villas At Baglioni Resort Maldives
Baglioni Resort Maldives invites you to come to find yourself in one of many fantastic beach villas on this tropical island. Located on the island of Maagau in the elusive Dhaalu Atoll, this private island is accessible via a 40-minute seaplane ride from Velana International Airport that gives you an outstanding view of the tropical islands of varying size and shapes, scattered throughout the Indian Ocean. Baglioni is a top luxury resort with easy-going beach vibes and designed in an Italian Style.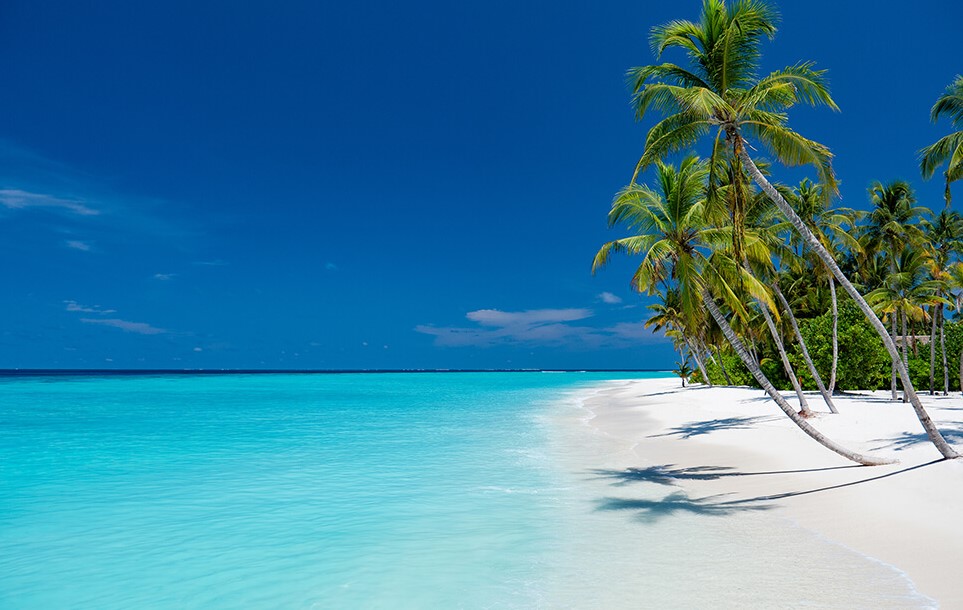 The villas are built with Italian attention to detail, using materials and design techniques to optimize sustainability. These villas are surrounded by turquoise waters, white sandy beaches, and tropical foliage. They perfectly blend into the tropical island environment that the Maldives is famous for.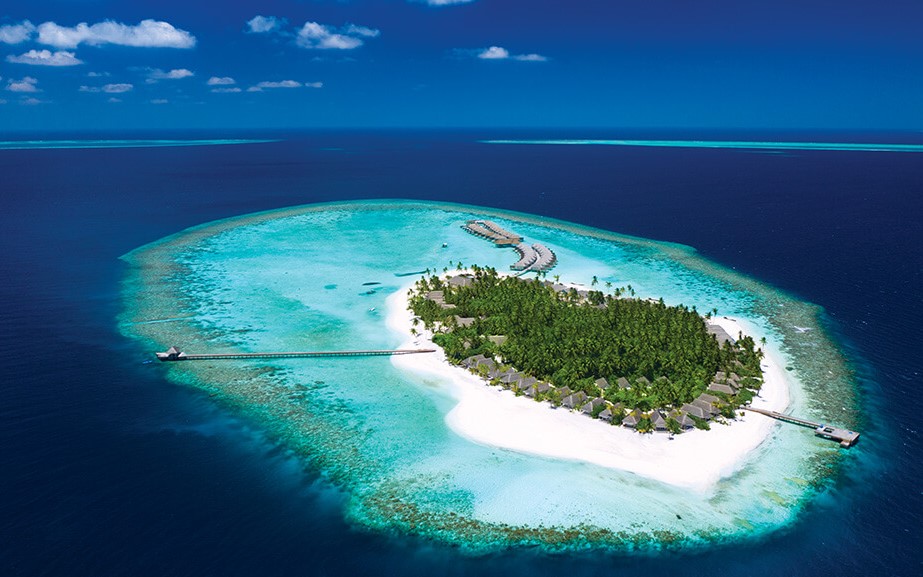 Luxury Villas surrounded by tropical nature, turquoise waters, and velvet-smooth white sands. Accommodations created with typically Italian attention to detail using materials and design techniques for optimum sustainability while making the most of the natural setting and its all-embracing beauty. The 96 villas on this island mainly consist of exotic beach villas that will give you an experience of true island life. The villas come with standard amenities plus the added luxury of 24-hour in-room dining, spa-treatments, wake up service, and turn-down service. Let's have a more in-depth look at the villas on this gorgeous tropical island.
Beach Villa
This 87 sqm villa is perfect for a couple traveling together or a small family with children. Placed right on the sandy beach, this villa gives you an outstanding view of the waves gently crashing onto the white sandy beach.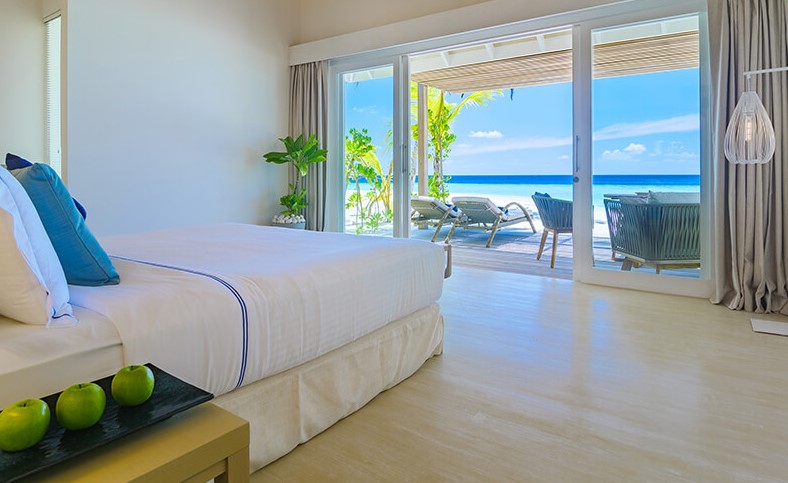 These villas do not come with a pool, however, it comes with its private beach for you to enjoy. The bathroom has a separate rain shower and bathtub. An additional open rain shower is also included in this beautiful villa. The private terrace comes with sun loungers for you to soak the tropical sun as your loved ones play on the velvet beach.
Garden Villa
This 87 sqm villa with a maximum occupancy of 3+1 guests is placed perfectly within the lush tropical foliage of this island. The king-sized bed is facing the garden providing you a feeling of tropical island life.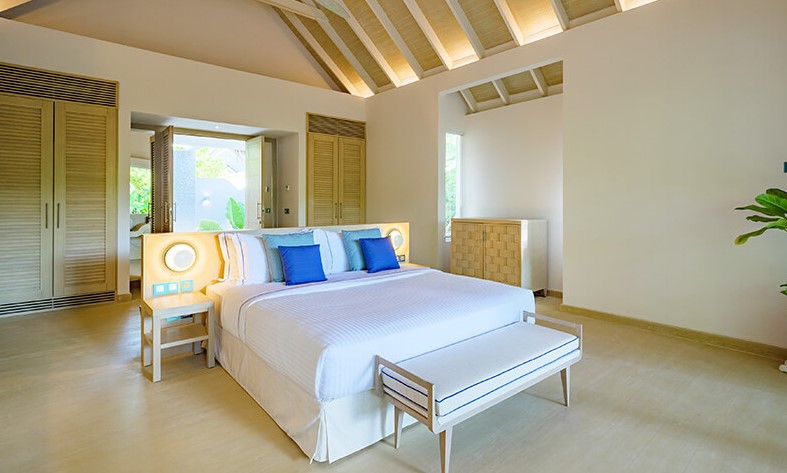 The bathroom of this villa is beautiful with a partially open rain shower and separate bathtub. Lush foliage is visible inside the bathroom giving you a feeling of being one with nature. The private deck comes with sun loungers for you to soak in the tropical sun in complete privacy.
Pool Grand Beach Villa
This 150 sqm villa, capable of accommodating up to 4 guests is perfectly set on the white sandy shores of this private island. The King-sized bed is facing your private beach and the room comes with a comfortable living space and a sofa bed as well.
This comes with a private freshwater pool, an outdoor terrace, and an outdoor veranda with an ocean view. The bathroom comes with a separate rain shower and bathtub. An additional outdoor shower is also included in this villa. If you are a small family or a small group of friends this villa would be a good choice. The private terrace comes with sun loungers as well. You will get amazing views of the garden and the Indian Ocean from this villa.
Pool Suite Beach Villa
This 230 square meter villa capable of accommodating up to 4 guests, comes with a private plunge pool and private beach area. This villa offers you views of your private garden and the azure lagoon of this private island. You can either take a swim in the complete privacy of your pool or take a dip in the salty crystal waters of the lagoon.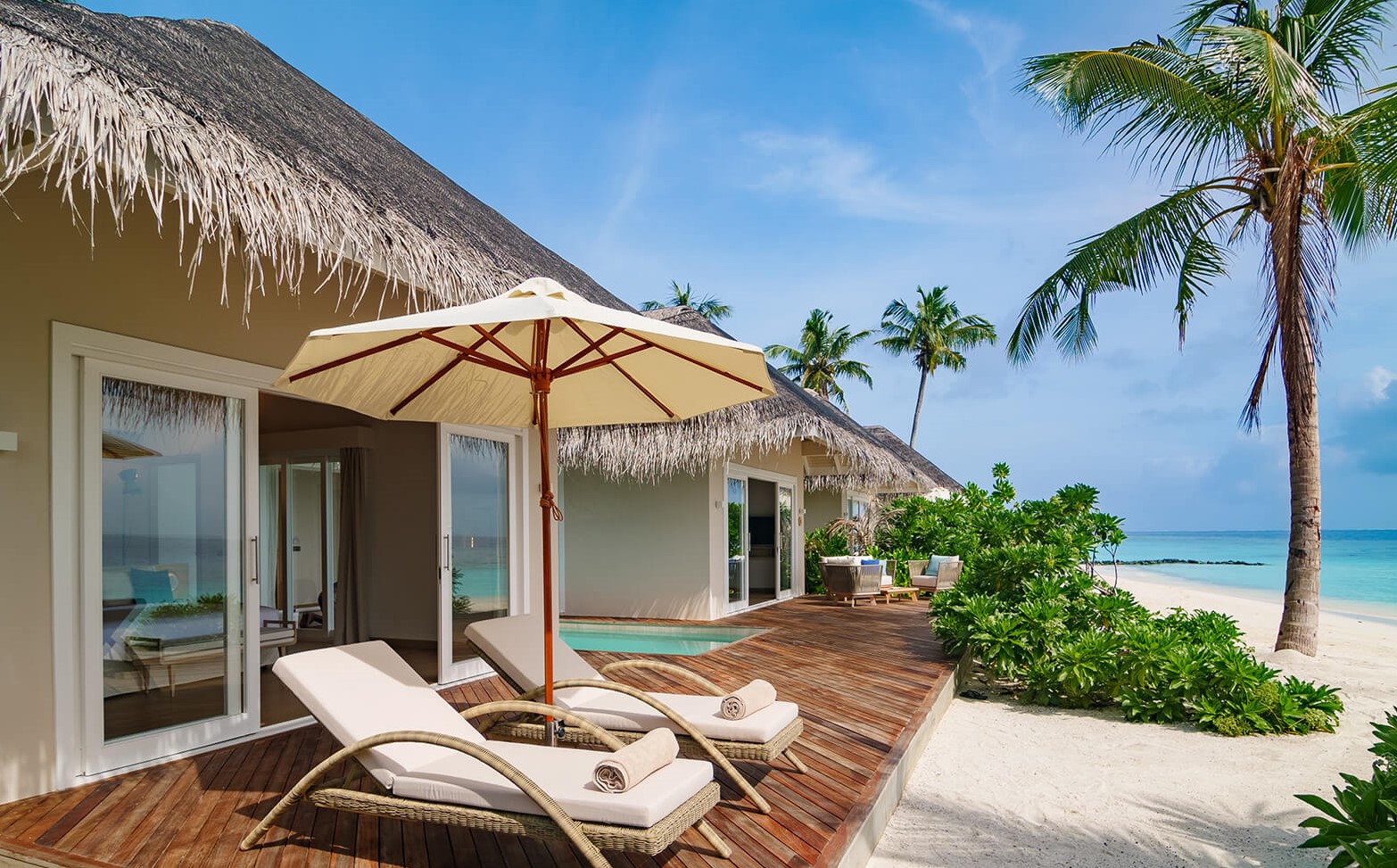 The villa has a 60 square meter terrace that comes with sun loungers. Inside the room, you have a king-sized bed facing the beach and lagoon and a day bed. The living area comes with a plush sofa and TV for you to relax and have a social time after a long day. The furniture perfectly complements the white walls of this villa. The color palette matches the white beach and azure lagoon. The thatched roof provides shade during the day from the tropical sun. This villa would be perfect for a couple or group of friends to stay in as it offers you ample space for your entertainment.
Family Beach Villa with 2 Bedrooms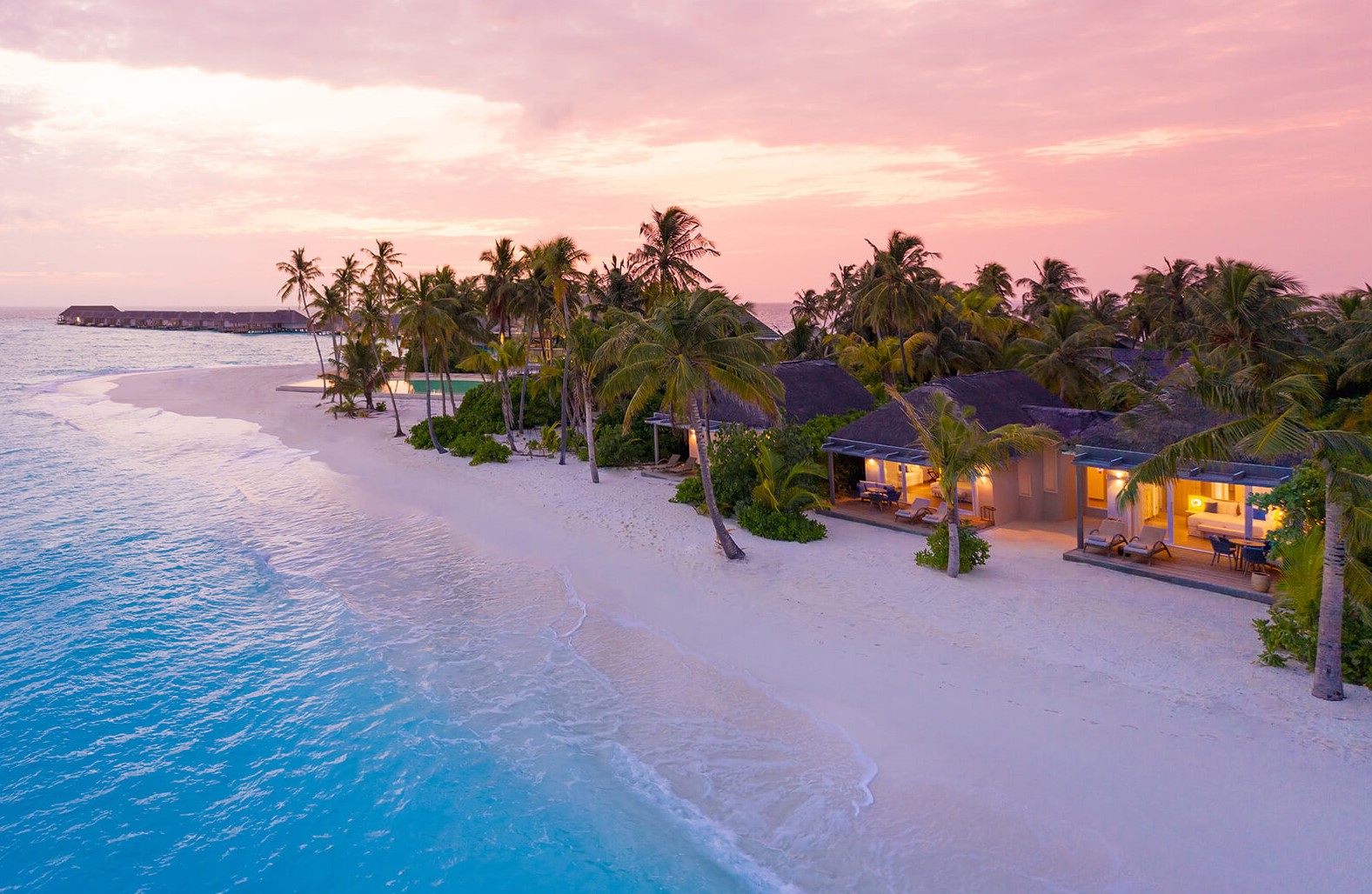 This 180 square meter villa with a maximum occupancy of 6+2 guests is the perfect option for a medium-sized family or group. This villa comes with two spacious bedrooms. You will get a view of the lush tropical foliage and hues of blue of the Indian Ocean from this villa. The bathrooms are similar in design to other villas with separate rain shower, bathtub, and outdoor rain shower. The color palate compliments the surrounding nature perfectly. The airy open spaces provide a relaxing environment for social gatherings and family time.
Other Accommodations
Other than beach villas you can also choose to stay at one of the beautiful water villas on this private island. From a 105 square meter, simple yet at the same time grand Water Villa, or a 105 square meter Water Villa with Pool, or the mesmerizing 105 square meter Sunset Water Villa that gives your outstanding views of the tropical sun setting across the horizon. Each villa is perched elegantly on the lagoon, giving you outstanding views of the majestic Indian Ocean. The Presidential Water Villa takes the crown for being the ultimate luxury villa with its grand 3 bedrooms. Perched on the azure lagoon, each bedroom in this grand villa comes with a private bathroom. This villa comes with a veranda with a dining area and a large Jacuzzi. From the terrace, you can catch the tropical sun bidding farewell to the magnificent lagoons and beaches beside you. Whichever you may choose, the resort will make sure they arrange everything to accommodate all your needs. You will not regret the decision to stay on this private fairy-tale like island.
Dining
Apart from luxury accommodation, you can enjoy fine luxury dining on this private island. From 'Gusto Restaurant' that offers authentic Italian cuisine whilst you gaze across the ocean. This is the ideal place for a romantic dinner under the stars. If you are in the mood for Japanese food, you can visit 'Umami Restaurant' that combines the gourmet culture of Japan and the Baglioni Hotel & Resorts style to serve you a variety of dishes rich in flavor and texture. For international cuisine, you can visit 'Taste Restaurant' that serves its own blend of international dishes for breakfast and dinner.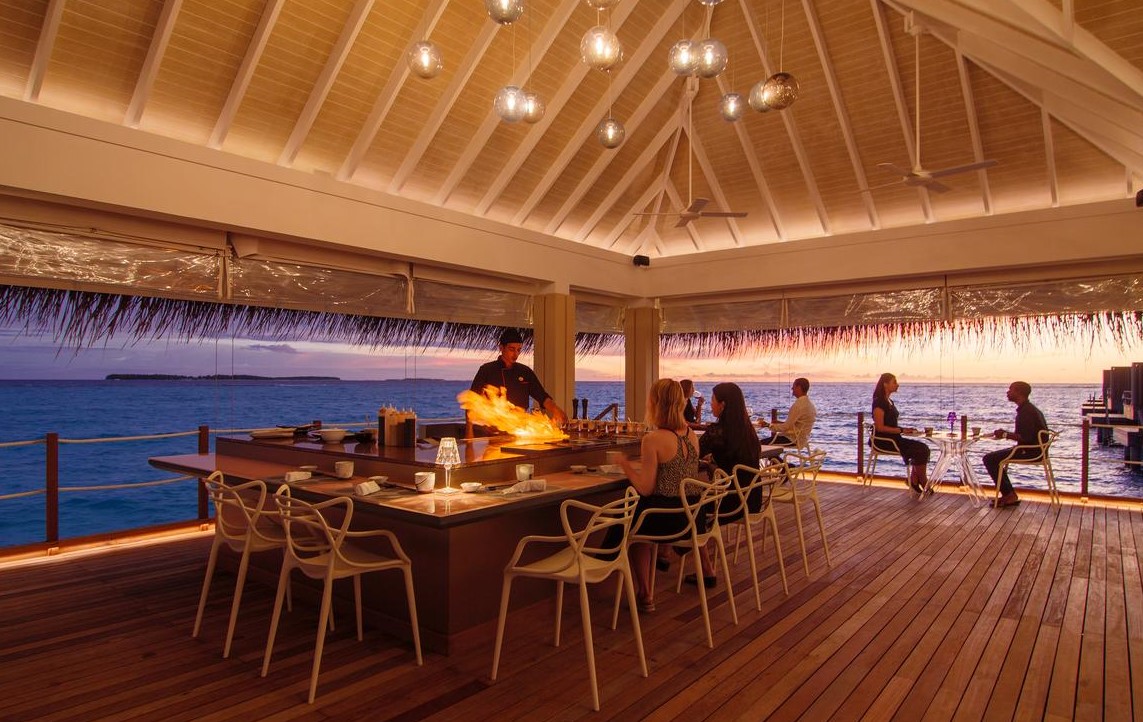 For relaxing you can visit the 'Pool Bar' that provides an outstanding view of the ocean whilst you eat dishes such as pasta, pizza, salad, dishes from the grill or anything from a la carte menu. It is worth noting that this bar comes with an infinity pool that offers unmatched views of the sun setting across the horizon. What better way to big the sun farewell, than to soak in an infinity pool whilst you are being served the perfect drink you compliment the mood it sets. This resort comes with a wine cellar of fine Italian wines. If you want to make your loved one feel special, you can request an intimate ocean-view dinner with an elegant tasting menu and utmost privacy.
Activities
The Maldives is mostly known for the beautiful ocean and the activities that come with it. On this island resort, you will be able to dive into stunning coral reefs of this island that houses exotic marine life such as the manta ray, small sharks, dolphins, and sea turtles. You can snorkel or dive at sunset, or take a cruise under the stars, book a romantic boat trip or simply have a movie night while you relax under the shimmering stars.
The Dive Centre on this island offers personalized programs for all levels, giving you fantastic individual dives and educational programs for children as well. If you are a beginner, a diving instructor will take you 5 to 6 meters to show you the underworld beauty of the Maldives. If you would rather snorkel the dive center will provide the opportunity to snorkel even if it's your first time. Each day they host two excursions from 0930 in the morning to 1230 in the afternoon. You will be whisked away on a Maldivian traditional boat to visit 2 reefs that are known to be home for turtles, morays, and butterflyfish. The sunset snorkel is something not to miss and most of the elusive marine life comes out at this time. You will be provided a torch to light up the beautiful coral reefs and the creatures that inhabit them. For children between 8 – 10 years they have a 'PADI Bubble Maker' program that allows your children to safely discover shallow waters of 1 or 2 meters with an experienced instructor and equipment. While your children are enjoying their time you can go enjoy a Catamaran ride, paddle boat, canoe, or kayak. For kids, they also offer an evening of entertainment under the stars. They can choose a wide range of movies or cartoons to watch on the beach whilst they are served a buffet of mini pizzas, hamburgers, and popcorn.
One of the special activities is the Dolphin Tour where you will take a 2-hour boat trip to meet dolphins with the company of experienced marine biologists. You can also take a memorable Sunset Cruise on the traditional Maldivian boat whilst the sun sets across the horizon. For the lovers, they offer a romantic cruise under the stars sipping on your favorite wine and Italian appetizers. You can also take an excursion to a sandbank that is not far from the resort island which is one of the rare things people experience in this world. Why not take a romantic cruise with a barbeque to make your significant another feel special? You can spend a romance filled day with your loved one cruising on the Indian Ocean, snorkel and have a sizzling barbeque on board while you get lost in each other. After a long day of fun-filled activities, you can wind down at the Baglioni Spa, where the experienced therapist will give you luxury treatment to relax and rejuvenate your mind and body. In this Spa, they use high-quality products because you deserve the absolute best while you spend your precious time on this private island.
Weddings
Choose this island resort to start the new chapter of your life by looking over the never-ending horizon as the sun bids farewell, exploding in fiery colors that create the most magnificent work of art as your backdrop. You can enjoy a romantic dinner on the beach in the privacy of your villa and toast to the happiness of your special moment. Wedding ceremonies at Baglioni will guarantee that you and your significant other will feel twice as special as the special bond shared between you both. What better way to do a romantic hideaway than on a tropical island that provides you with luxurious accommodation, high-quality food, and a wide range of activities to fill your time on this tropical haven? So fly down to the Maldives for a romantic experience like no other.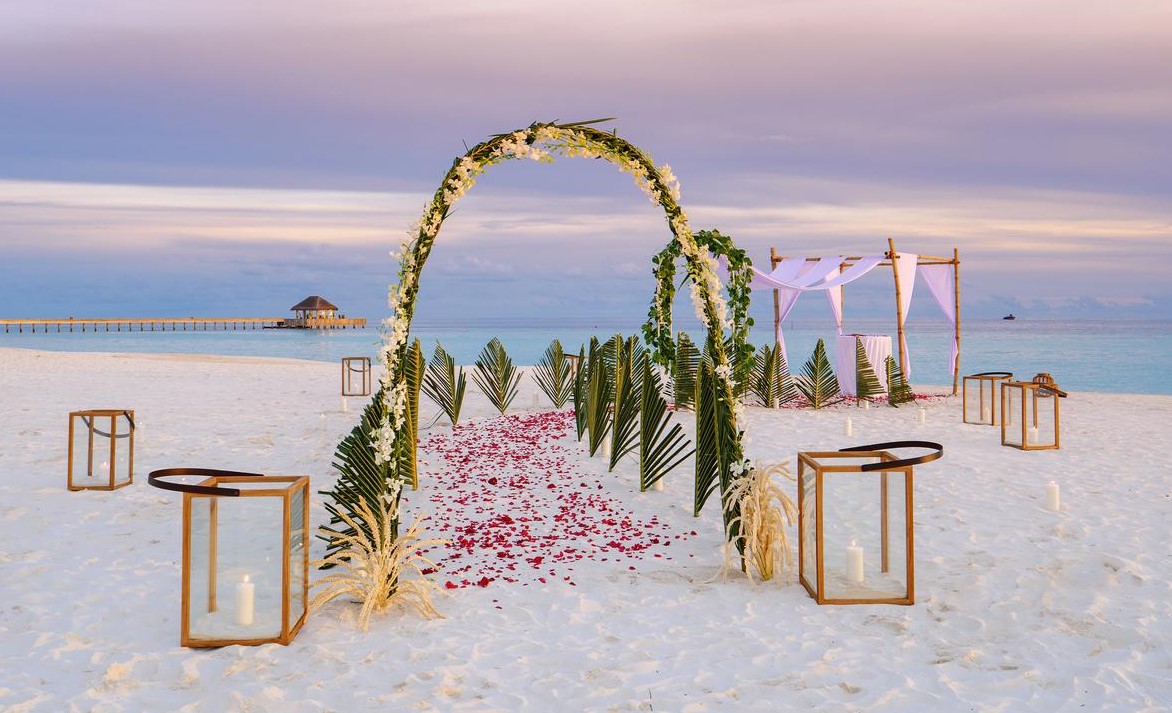 Baglioni Resort Maldives has a 5-star rating on Trip Advisor that is evidence of the excellent service provided by this resort. This resort offers babysitting service, is family-friendly, and the friendly staff that speaks a variety of languages will go out of their way to ensure that every minute you spend on this island is unforgettable and that you get the dream vacation that you deserve. Whether you stay in a simple beach villa, or the Presidential Water Villa; you will be treated like royalty and the staffs will dedicated their whole day to ensure that all your needs are well taken care off and that you enjoy each and every moment.
5 Beach Villas at Baglioni Resort Maldives. #Maldives #Baglioni #BaglioniMaldives #ItalianHotel #Italy #Italian #Italien #Hospitality #Hotels