Exquisite Over Water Bungalows At Anantara Veli Maldives Resort
Experience Maldives like you have never before with the amazing oceanic views at Anantara Veli Maldives Resort's over water bungalows. One of the few adults-only resorts in Maldives, Anantara Veli redefines the concept of 'romantic island vacation' with its serene beaches, sparkling turquoise lagoon and distinctive, island-style bungalows.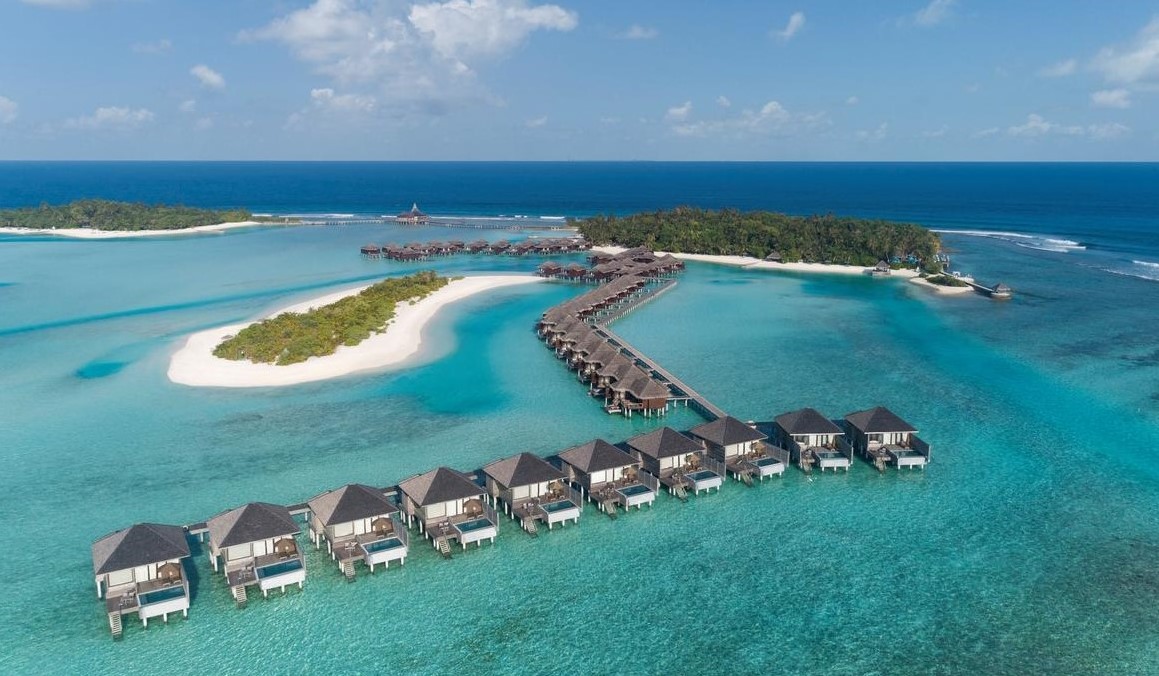 Located in South Male' Atoll, and just a 30-minute speedboat ride from Velana International Airport, Anantara Veli is the perfect spot for a luxurious tropical vacation. The resort has exclusive, 67 over water bungalows, with five different levels to choose from. There are also three world-class restaurants available to you, as well as in-villa dining services, an award-winning spa, a fitness centre with personal trainers at request and a massive infinity pool overlooking the brilliant ocean. Additionally, guests are welcome to access the facilities at their sister resort, Anantara Dhigu – located just 500 metres away by speedboat.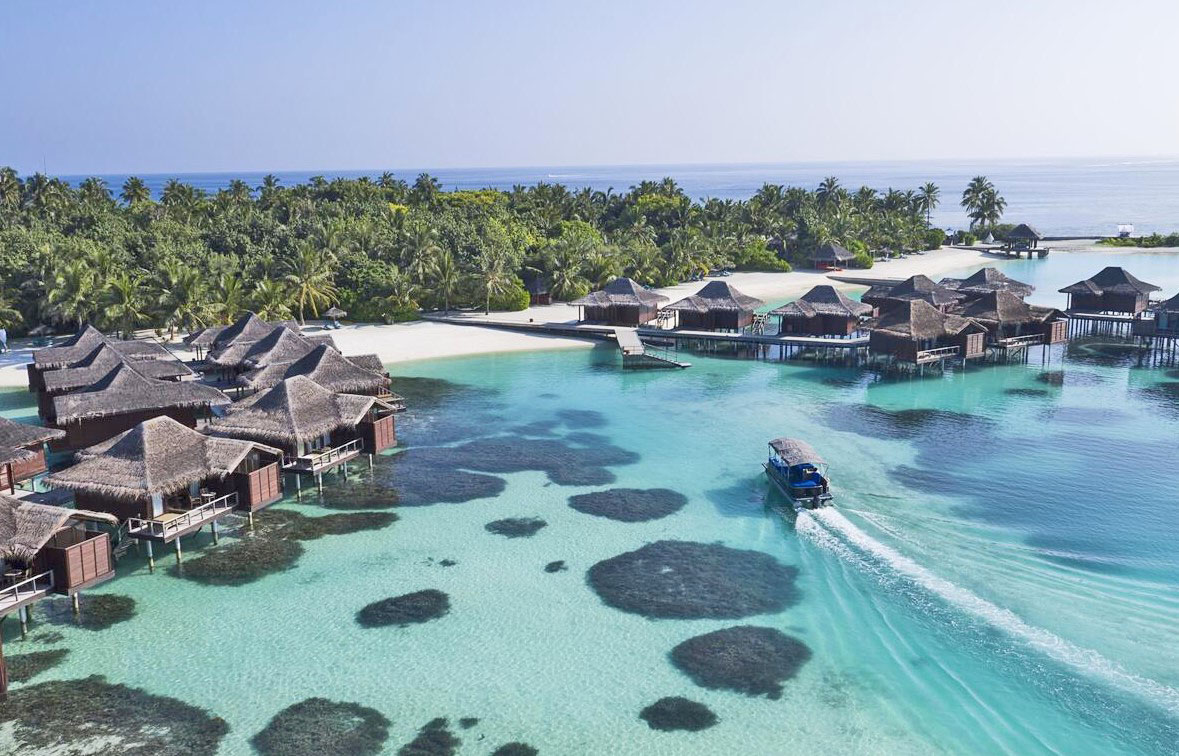 Anantara Veli also offers specially designed wedding services for up to 150 guests. Whether you are beginning the next chapter of your life or celebrating your journey together, Anantara Veli is the perfect spot for a relaxing and indulgent vacation with your partner.
Over Water Bungalow
With traditional thatched roofs, glossy parquet floors and direct access to the sparkling lagoon below, these 62 sqm bungalows are the embodiment of island luxury. Interspersed with rich Maldivian designs, the bedroom has a king-sized bed, a sofa, and a minibar while the bathroom features a double vanity, a free-standing bath and separate shower. The adjoined sundeck comes with an outdoor daybed and coffee table – perfect for lounging during the day – with steps down to the turquoise waters for a rejuvenating afternoon swim.
Superior Over Water Bungalow
For ultimate privacy, you can opt for Anantara Veli's Superior Over Water Bungalow, situated at the outermost edge of the island's lagoon. These bungalows are similar in size and interior to the Over Water Bungalow, with an expansive bedroom, bathroom, and outdoor sundeck with direct steps down to the lagoon.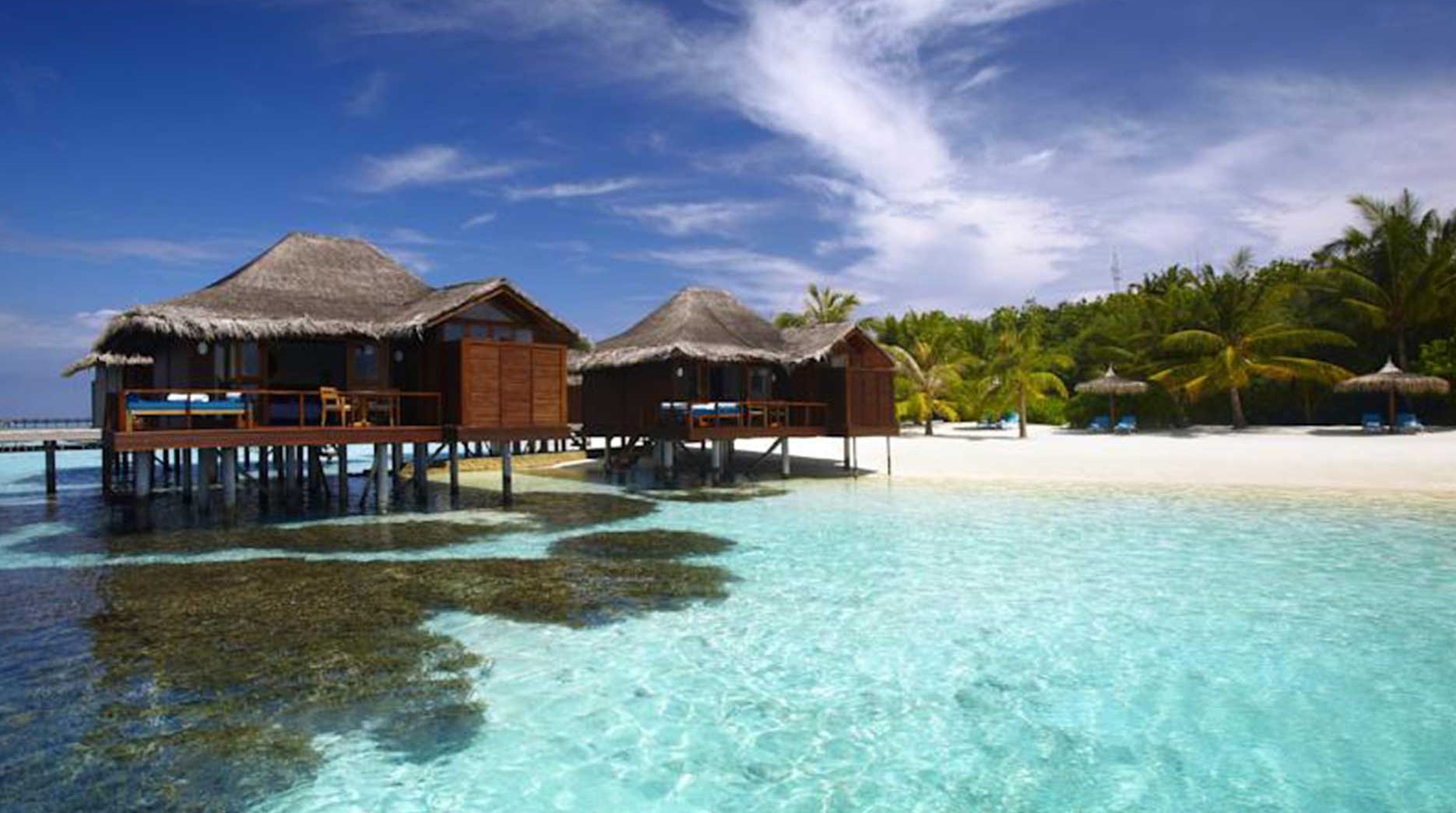 Start your mornings with the magnificent view of the sunrise over the ocean from the comfort of your king-sized bed and continue your day with a dive in the sparkling lagoon below you, teeming with colourful fishes in their natural coral beds. Alternatively, you could also spend your day relaxing on the outdoor daybed with the warm sunlight and cool ocean breeze on your face. Either way, you can enjoy all the perks of a tropical vacation with absolute privacy, at the comfort of these bungalows.
Deluxe Over Water Bungalow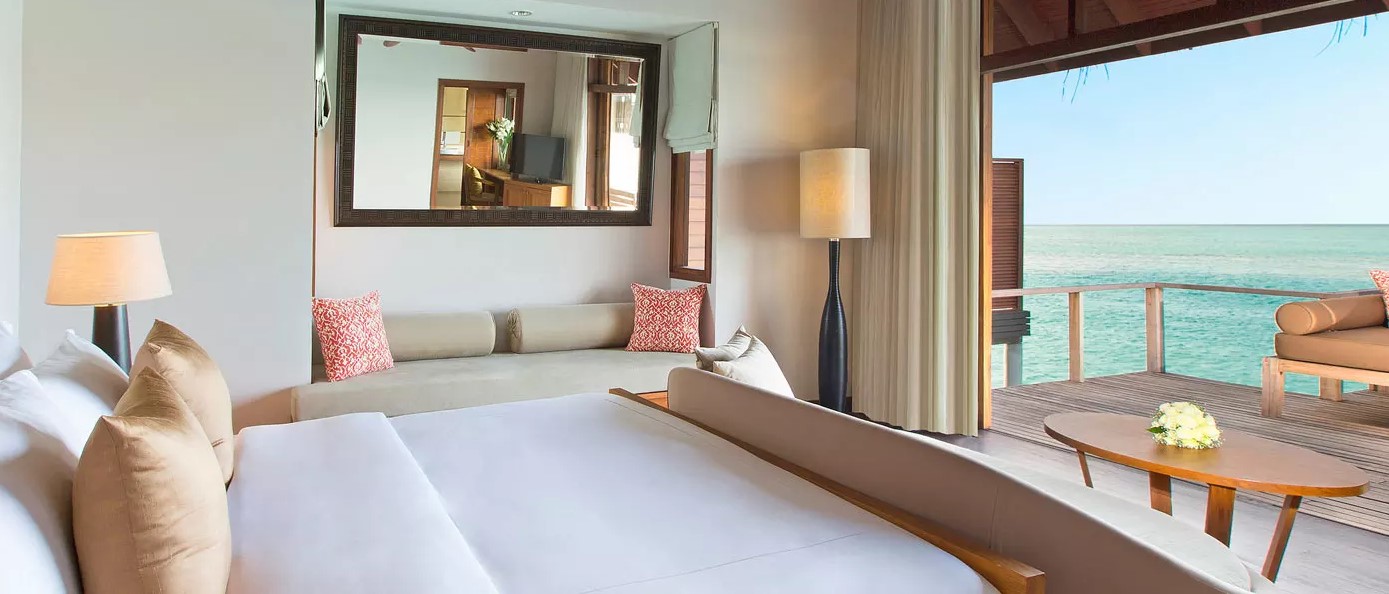 These 92 sqm bungalows are a significant upgrade from the Superior Over Water Bungalow, with an expanded bedroom and bathroom, and a split-level sundeck with steps straight down to the lagoon below. Along with a king-sized bed, a sofa and a minibar, the bedroom also has an alcoved daybed overlooking the lagoon – perfect for cosying up with a good novel. The bathroom comprises of a double vanity and a separate shower area as well as a terrazzo tub for two, with a magnificent view of the azure sea ahead. There is also a separate dressing area with wardrobe, adjacent to the bathroom. The first level of the two-tiered sundeck has an outdoor daybed with a coffee table while the second level features a double sun lounger and sun umbrella, ideal for enjoying the warm weather with a refreshing drink.
Deluxe Over Water Pool Bungalow
The Deluxe Over Water Pool Bungalows are a cool 125 sqm in size, and comes with a marvellous plunge pool overlooking the glittering waters of the lagoon. In addition to a king-sized bed and a sofa, the bedroom also features an upgraded minibar with a private wine selection for your indulgence. The bathroom consists of a double vanity, a free-standing tub and a separate shower and toilet area. The split-level sundeck – with steps down to the underneath lagoon – is fully equipped with sun loungers in front of your very own private pool, along with a seating area; perfect for a private lunch or dinner. This bungalow also comes with its own Villa Host to ensure that all your needs are taken care of, promptly and efficiently.
Ocean Pool Bungalow
In addition to the over water bungalows, Anantara Veli also offers you a luxurious Ocean Pool Bungalow, complete with a private plunge pool and amazing azure views. Perched above the shimmering lagoon, and bordered by lush greenery, the Ocean Pool Bungalows offers you the ultimate private luxury; perfect for honeymooners. The bedroom consists of a plush king-sized bed and a sofa, along with a private wine selection and minibar while the bathroom features two separate vanities, a standalone bathtub with a separate shower area, and an adjacent outdoor rainfall shower. The sun loungers on the outdoor sundeck are perfect to recline on after a blissful swim in the plunge pool, or just to enjoy the panoramic view of the Indian Ocean! For your utmost comfort, the Villa Host service is available for this bungalow as well.
Dining
The restaurants at Anantara Veli are exclusively tailored to provide you the ultimate dining experience; delectable dishes along with a carefully selected menu of wines and alcoholic beverages guarantees you a culinary adventure like no other at this luxurious resort.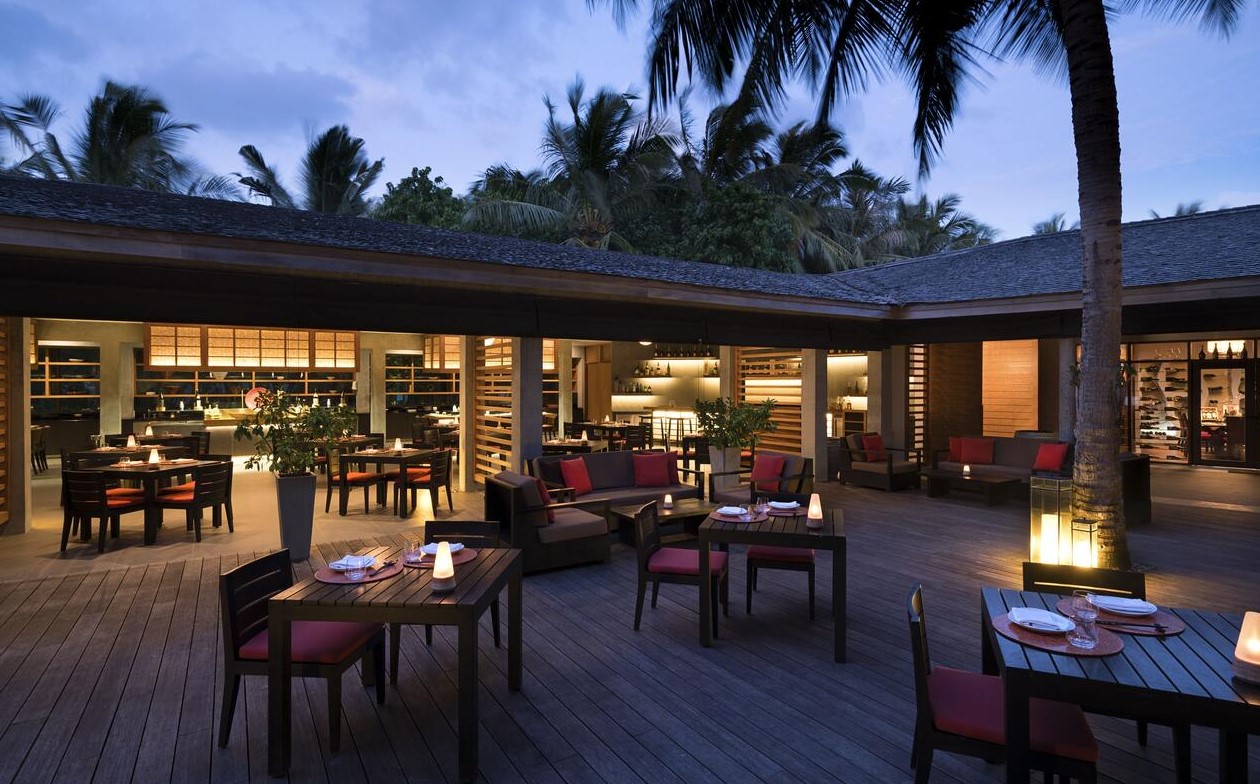 73 degrees
: Set on the beach and overlooking the ocean is 73 degrees, Anantara Veli's international buffet restaurant. Here, you will be offered a wide array of dishes to choose from; fresh pastries, tropical fruits and cold-pressed juices are available to you for breakfast, along with live cooking stations, while dinner is served with a variety of international dishes.
Baan Huraa
: For those seeking a more definitive cuisine, Anantara Veli has Baan Huraa, a splendid teak restaurant featuring exquisite Thai cuisine. Baan Huraa is derived from the Thai word for house ('baan') and the Dhivehi word for reef ('huraa'), essentially meaning 'House of Reef.' This restaurant offers you a dazzling variety of dishes from the four regions of Thailand, from fresh seafood dishes to creamy coconut curries and spicy salads as well as traditional Thai desserts.
Origami
: Another specialty cuisine available at Anantara Veli is Japanese cooking at Origami. The restaurant offers you Japanese delicacies such as fresh sashimi and sushi options along with fresh meat and seafood cooked to the 'teppanyaki' style, over a live grill before you. For an enhanced gastronomic experience, you can reserve the restaurant's wine cellar – The Vault. Here, you will be served a specially-crafted tasting menu, available for a table of two to eight guests.
In both Baan Huraa and Origami, the perfect wine pairing for your dishes will be recommended by the resident Wine Guru.
Dhoni Bar
: Next to the infinity pool and overlooking the sparkling lagoon, the Dhoni Bar offers you a myriad of delectable snacks, iced drinks and mocktails for you to enjoy throughout the day with a selection of tropical cocktails to choose from at night.
Dining by Design – Private Dining Experiences
For a more intimate experience, you can also opt for the resort's private dining services. Whether its dinner underneath the starry Maldivian skies, lunch at a deserted island with freshly caught fish, or a wine tasting session on the sandbank, Anantara Veli has it all to suit your needs. Just make a reservation in advance and prepared to be amazed; both by the charming setting and the delicious dishes.
In addition to these choices, guests can also opt to dine in the restaurants at Anantara Dhigu, just across the lagoon. These restaurants include Fushi Café (international dishes with Maldivian specialties), Sea.Fire.Salt. (surf and turf options), and Terrazzo (Italian cuisine). However, do note that reservations have to be made in advance.
Leisure Activities
Anantara Veli offers a wide range of activities for you to partake in during your stay, including various water sports, diving programmes and private excursions as well as a hands-on private cooking class.
Some of the water sports options available for you include jet skiing, water skiing, wakeboarding, windsurfing, parasailing and flyboarding, along with kayaking and catamaran sailing. For an experience like no other, go for snorkelling and explore the surrounding turquoise lagoon with its vibrant corals and colourful marine life. Anantara Veli offers a variety of snorkelling cruises, including nurse shark and whale shark snorkelling, turtle snorkelling and manta snorkelling. Private lessons are also available upon request. For the more adventurous, scuba diving is also an option, with dives to local reefs or even further with half-day and full-day safaris by speedboat. The resort also offers the chance for you to get your PADI diving certifications from beginner to advanced level courses including various specialities such as Photography and Drift courses.
A variety of cruises and private excursions are available for you as well aboard speedboats and luxury yachts. Cruises include the Lucky Dolphin cruise, where you can sail along and see the acrobatics of a large pod of local spinner dolphins, and a two-hour Sunset Cruise to see the splendid view of the sun setting over the ocean. Private excursions include overnight journeys on luxury motor yachts or day adventures by speedboat or yachts where you can explore uninhabited islands, snorkel in nearby reefs and even experience the hospitable Maldivian culture at nearby islands. Alternately, you can also take a trip to Gulhifushi, the nearby private picnic and snorkelling island, where you can swim in the crystal-clear lagoon and sunbathe, finishing off with a traditional island barbecue and cocktails by the beach. Additionally, you can also experience traditional Maldivian culture via fishing expeditions, and try your hand at different techniques such as line-fishing, jigging and casting.
For the culinary enthusiasts, Anantara Veli offers private cooking lessons, called 'Spice Spoons.' Under the step-by-step guidance of the resort's executive chef, you will learn how to hand-cook authentic Maldivian and Thai dishes such as Maldivian tuna curry – a creamy coconut concoction - and som tum thai – Thai green papaya salad. Follow this up with garnishing or table-setting classes, and you are sure to impress your friends and family back home with your newfound skills!
Balance Wellness by Anantara
In addition to providing the ultimate dining and excursion options for guests, Anantara Veli is also dedicated to the nourishment of your body and mind. As such, the resort's award-winning spa, Balance Wellness by Anantara, offers you the ultimate spa & wellness experience.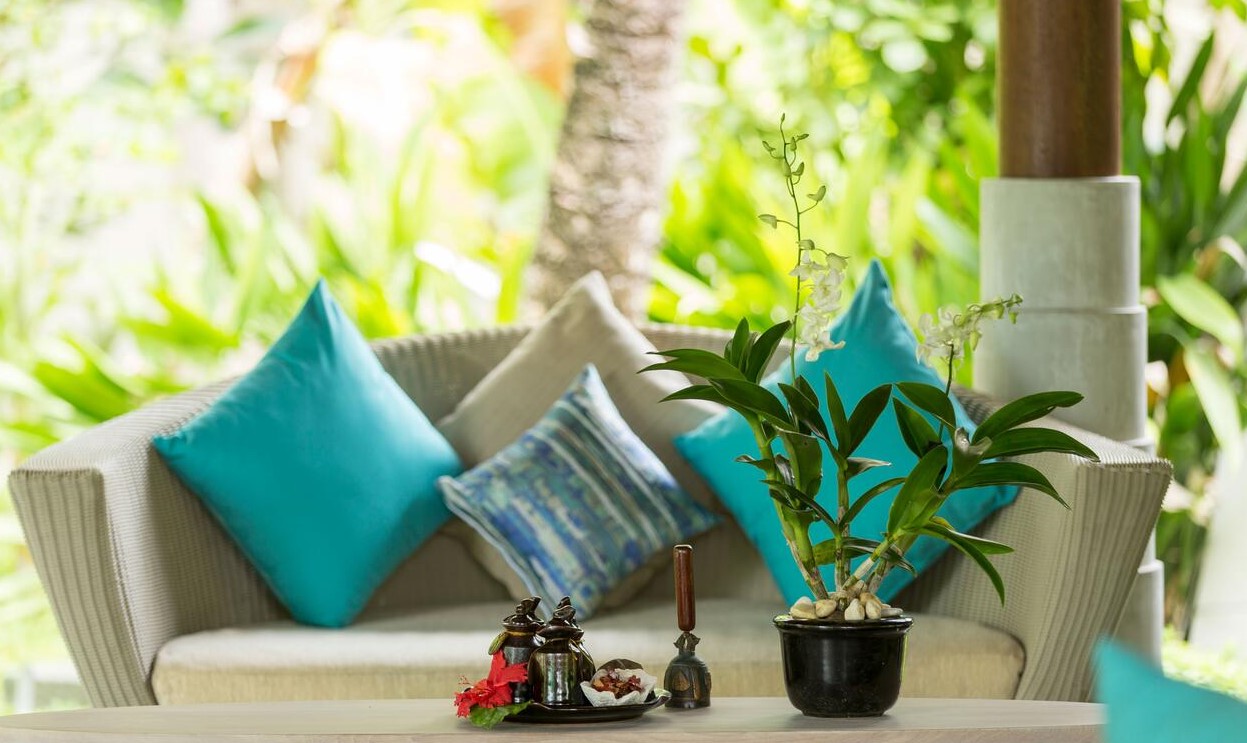 The spa facilities include a Cocoon Medical Spa, five treatment suites, a nail salon, a steam room and sauna as well as a relaxation garden with both hot and cold plunge pools. Pamper yourself with invigorating body massages and scrubs, various aesthetic treatments and healing Ayurvedic and holistic therapies, including various yoga and meditation classes. Additionally, programmes such as Sleep Optimisation, Cellular Rejuvenation and Movement Therapy are also available for you, each specifically tailored by the resident Masters of Wellness to suit your preferences and needs.
The Coral Adoption Programme
In order to protect the island's coral reefs and surrounding reef ecosystem, the Coral Adoption Programme was initiated by Anantara Veli in 2010. This programme – which is committed towards strengthening the reef – allows guests to sponsor a coral rope which is then planted in the reef nursery, before being moved to its permanent home. Guests can take part in the planting process with the help of the resident Marine Biologist and can also follow its growth with periodic photo updates or even return visits!
Anantara Veli offers you a variety of entertaining and therapeutic activities, coupled with exquisite dining and stay options to provide you the optimum luxury vacation. If you are looking for well-rounded vacation, surely there is no place better than this!
Exquisite Over Water Bungalows at Anantara Veli Maldives Resort. #Maldives #Anantara #AnantaraVeli #MaldivesResorts