Top Luxury Mansions In Maldives For Secret Escapes
These multi-bedroom mansions located in the top luxury Maldives resorts would be perfect for a secret escape with family or friends. You have all the facilities and services available in the privacy of the luxury mansion on the beach. For guests who prefer overwater living the option is available with limited bedrooms and overall size of the abode. Top class butler service, dining options, watersports and other leisure facilities are available in these islands. Maldives Finest customises the holidays further by providing extra enhacements in collaboration with the resorts.
3 Bedroom Mansion With Private Beach And Pool
A prime spot of the beach at a private island in Maldives is overtaken by a fascinating mansion with a private pool. The ground floor of the 2 storey building is mainly dedicated to enjoyment and fulfilment in privacy and comfort. There is a large living area adjacent to indoor dining room equipped with bar and kitchen. But, most guests prefer dinning outdoors by the pool. The master bedroom located on the ground floor makes it convenient to step to the pool or beach at ease. There is a tiny hallway leading to living area, or you can walk from the poolside as well. There are 4 large doors that open up the mansion towards pool and beach. Even if you are dining, having a chat in the living area or wrapped up in the comfort of bed there is the pool view that never leaves you. Family members or friends staying upstairs don't have to distract you for their access. There are sun loungers by the pool to bask in the sun, shades can be enjoyed in the swing beds located next to pool.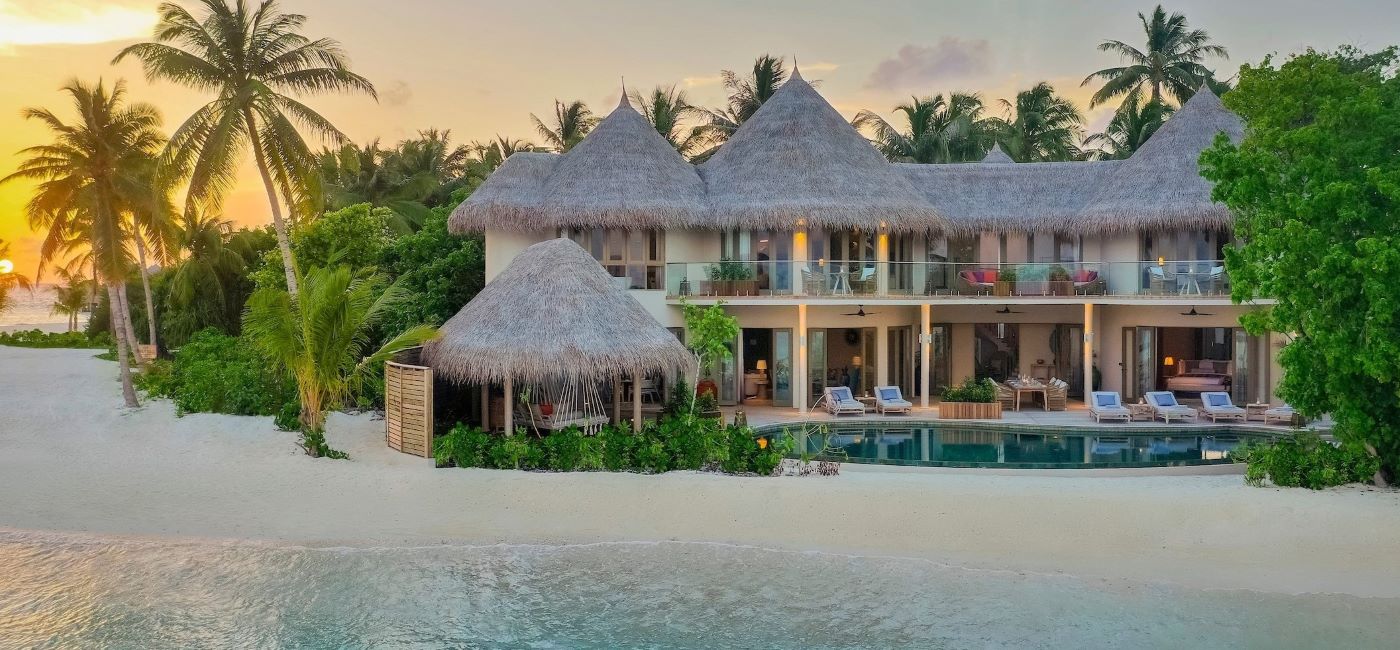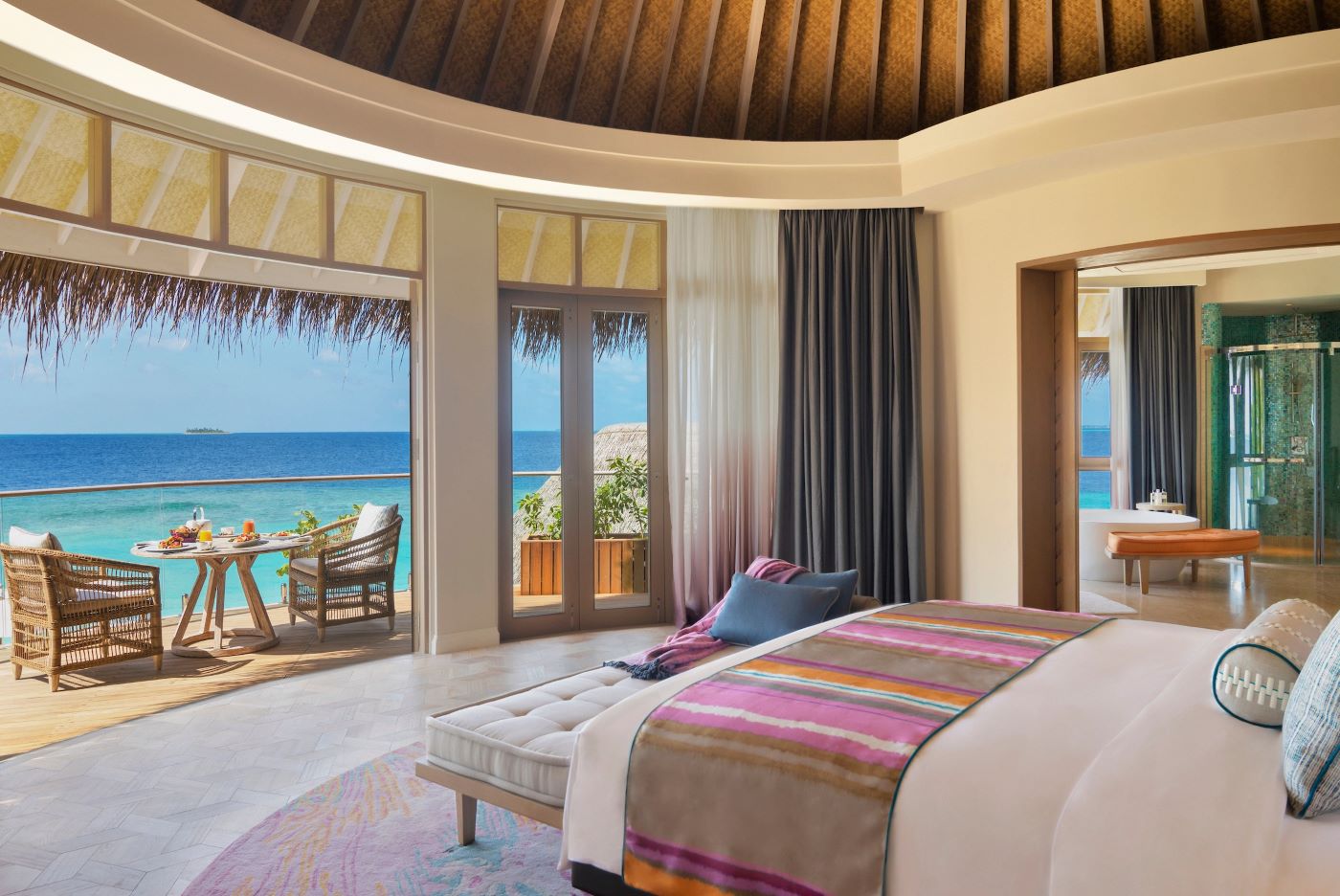 Master Bedroom 1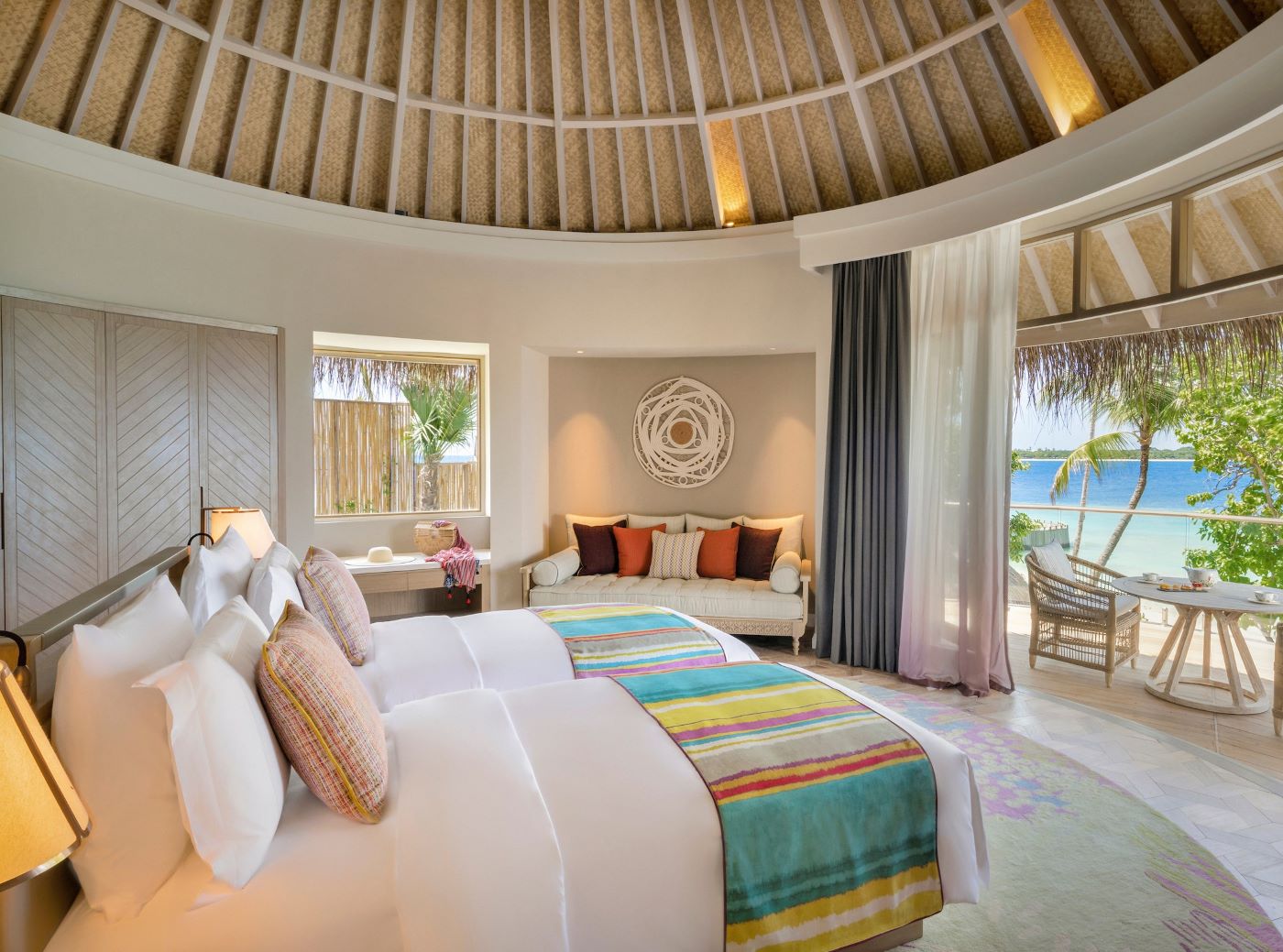 Twin Bedroom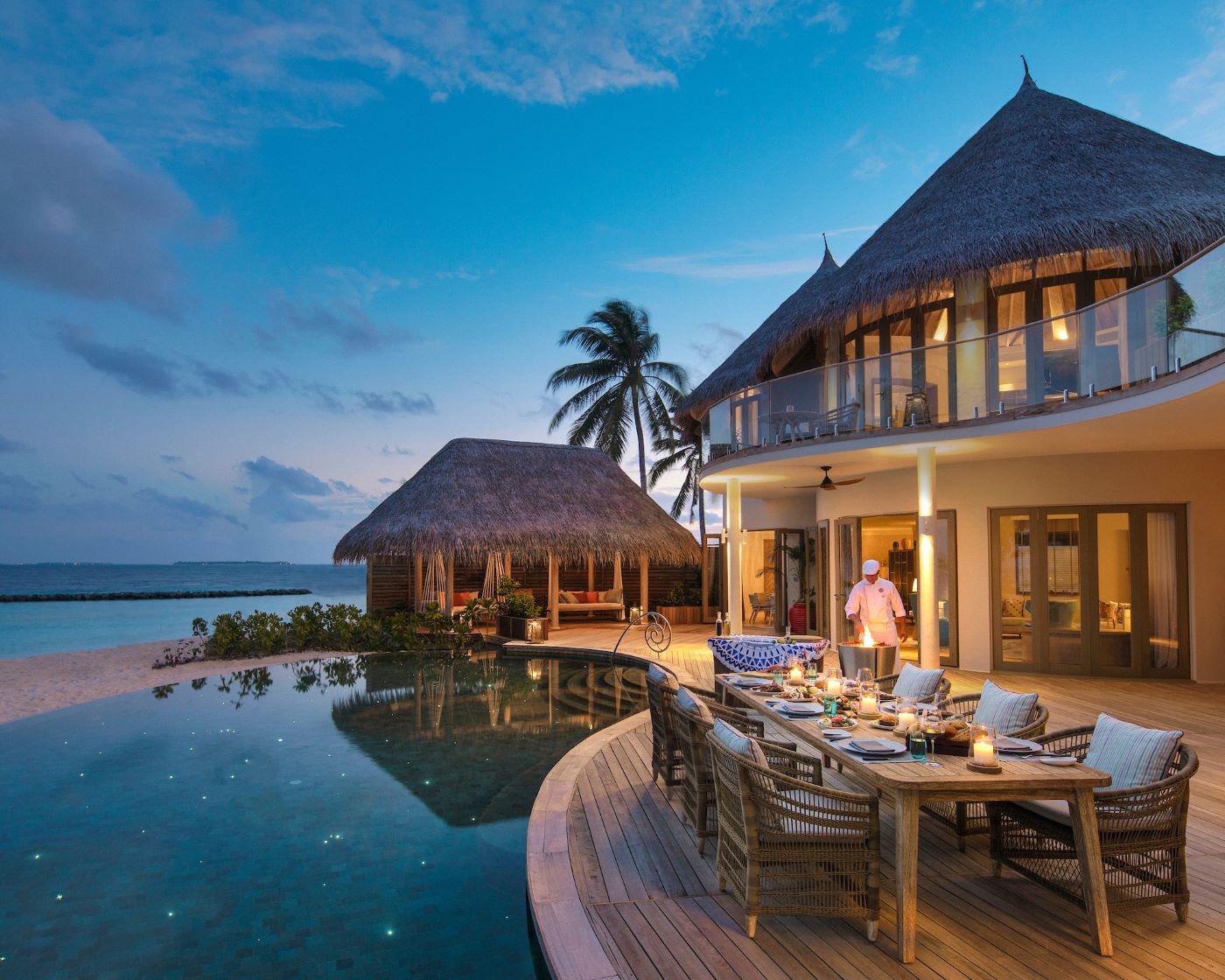 Private Pool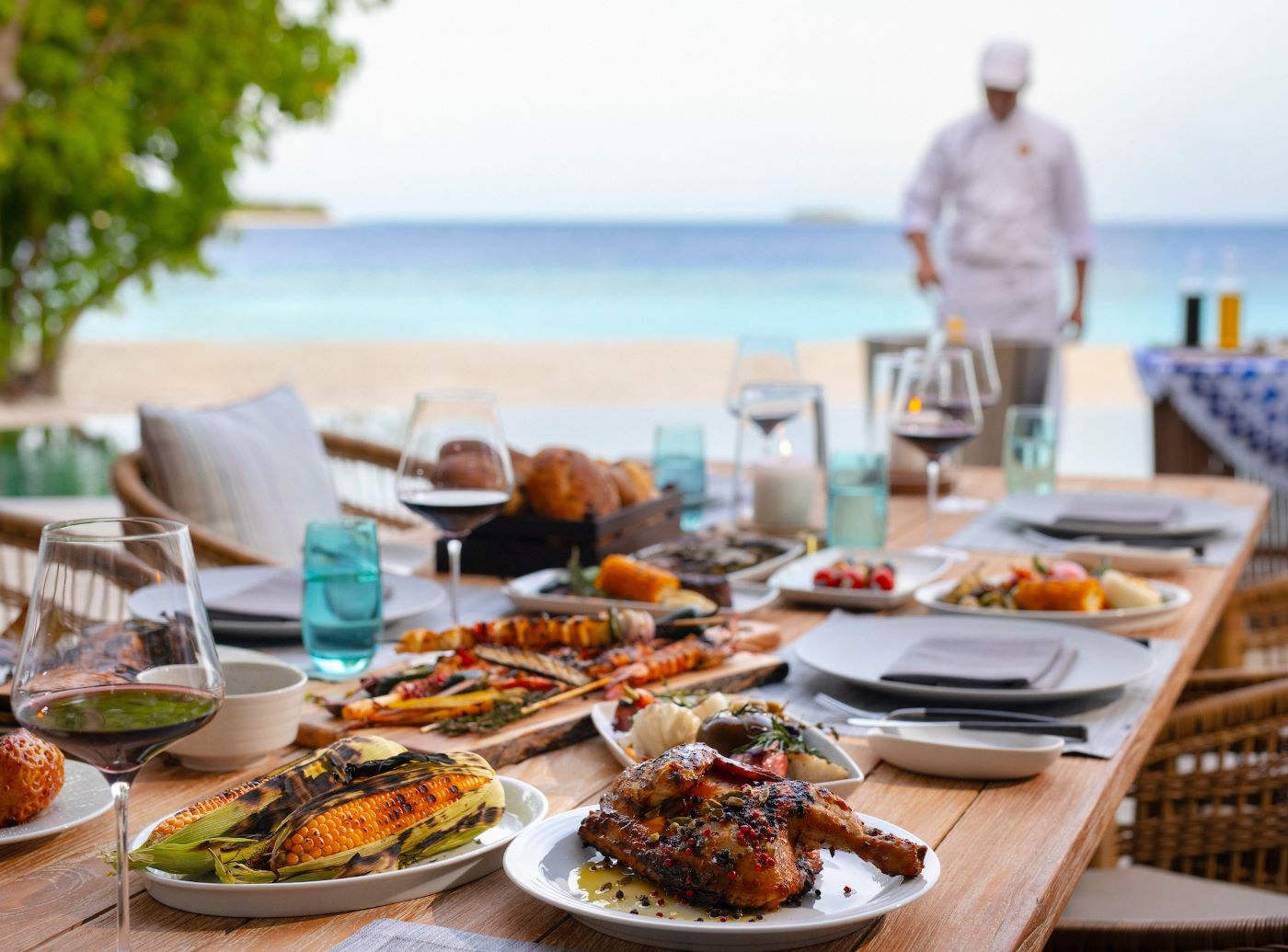 Outdoor Dining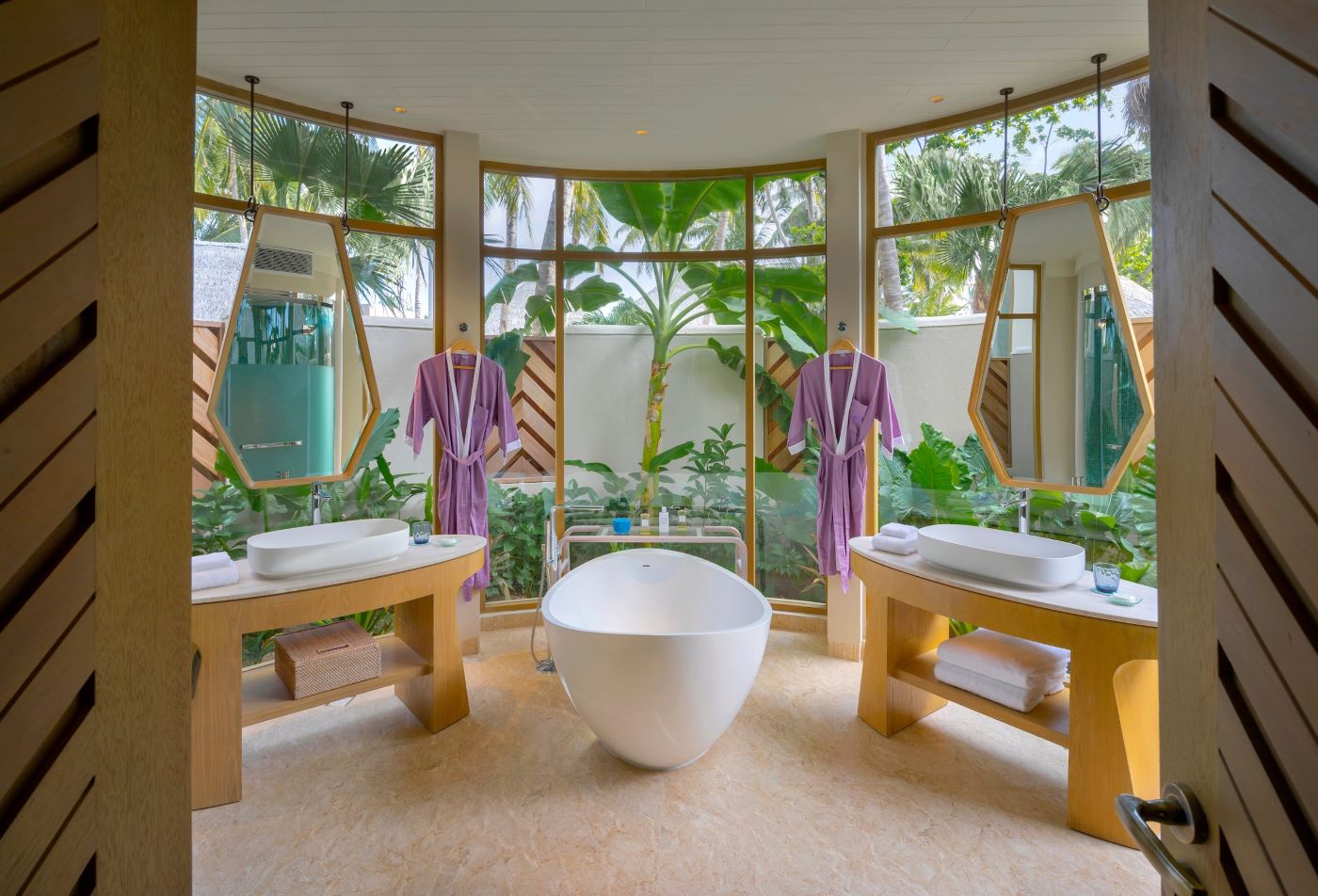 Bathroom
Private Beach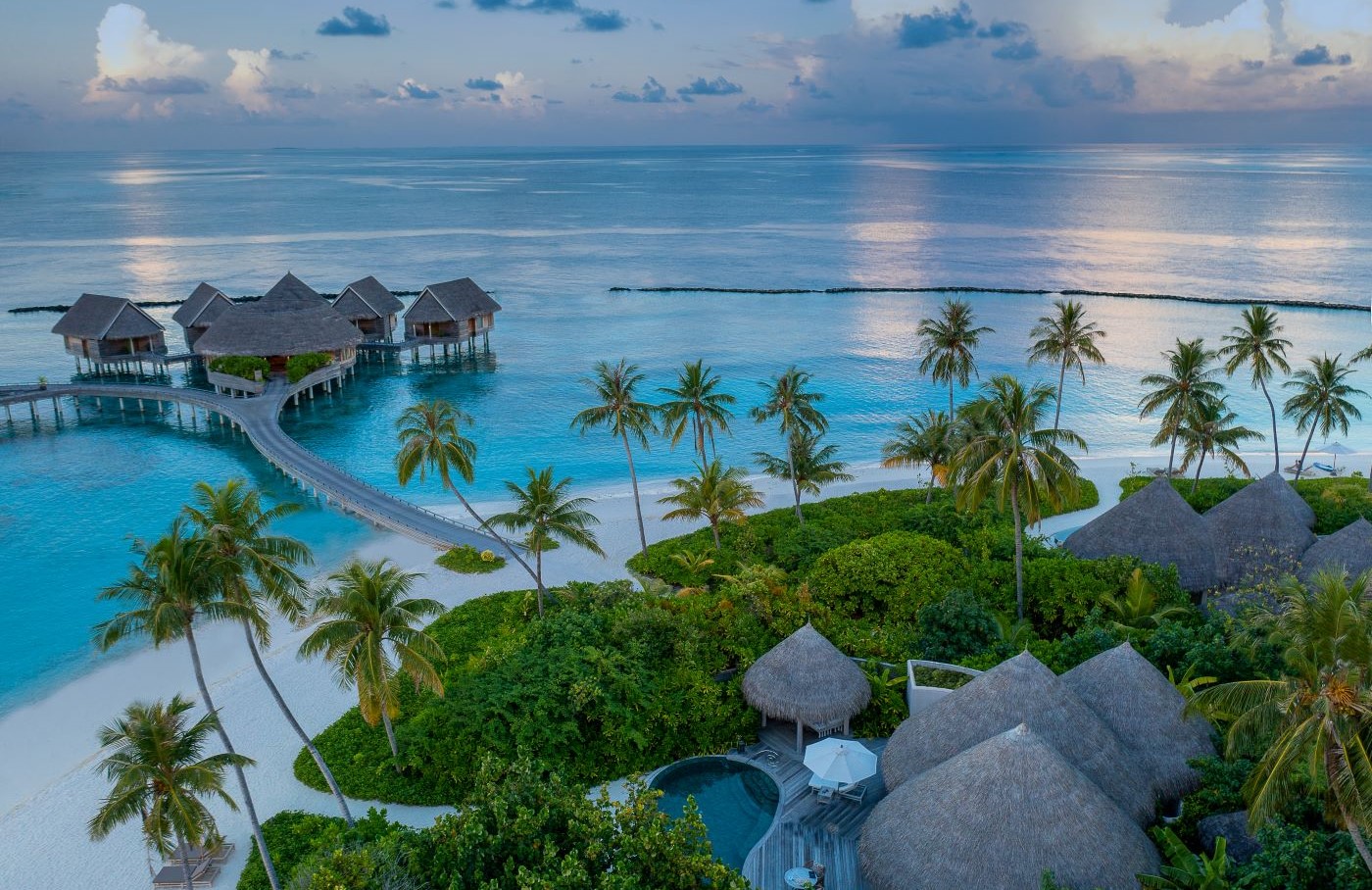 Island View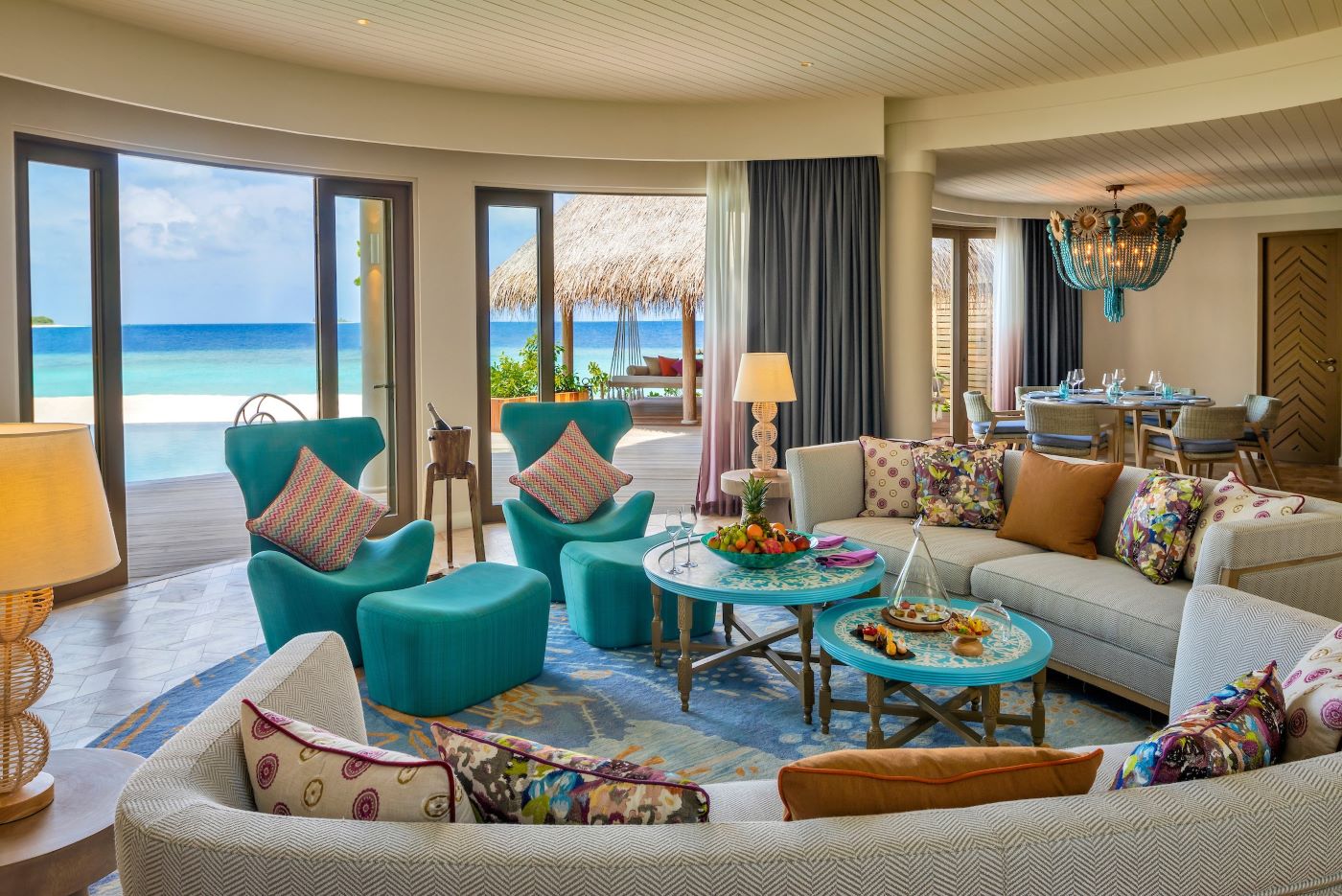 Living Area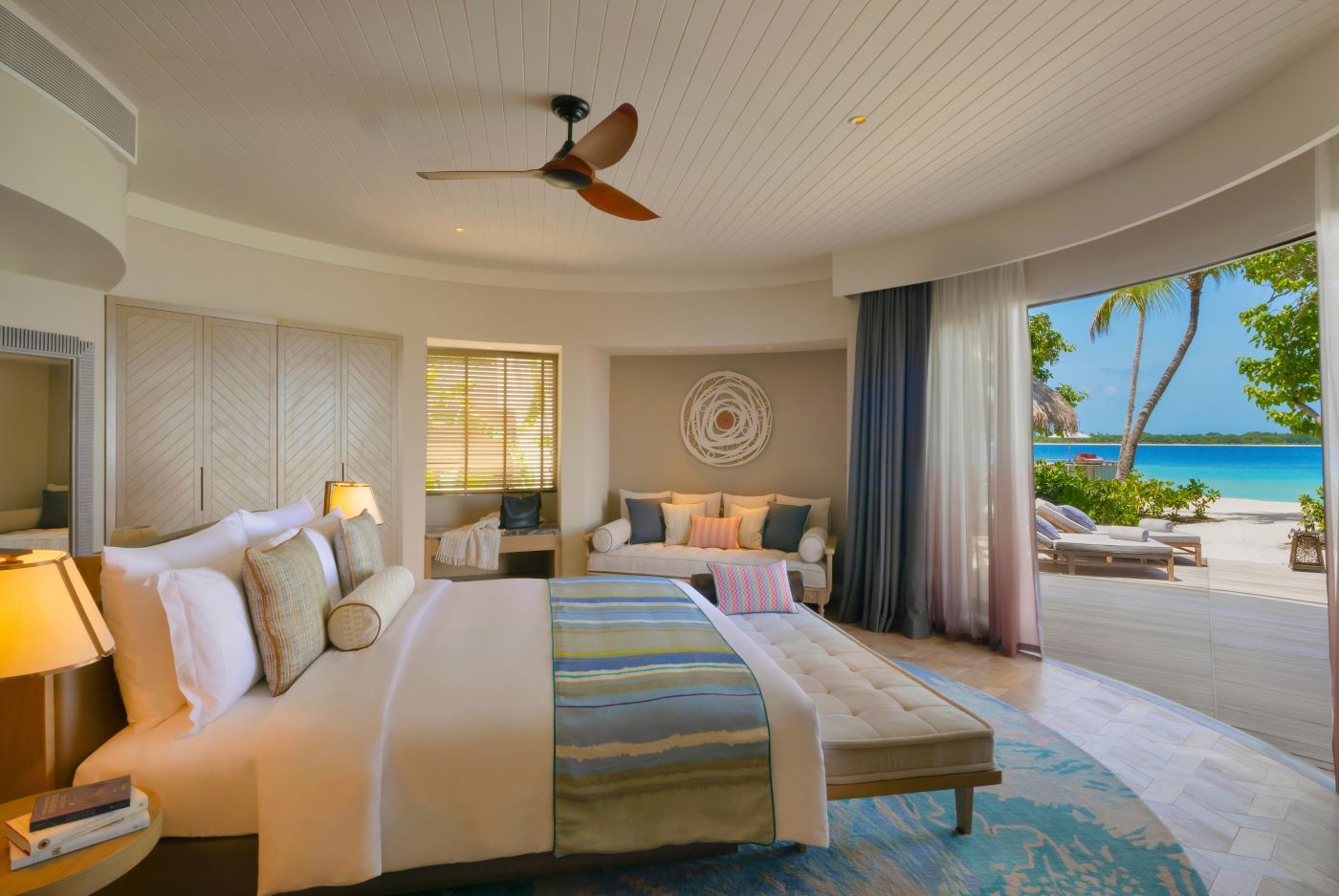 Master Bedroom 2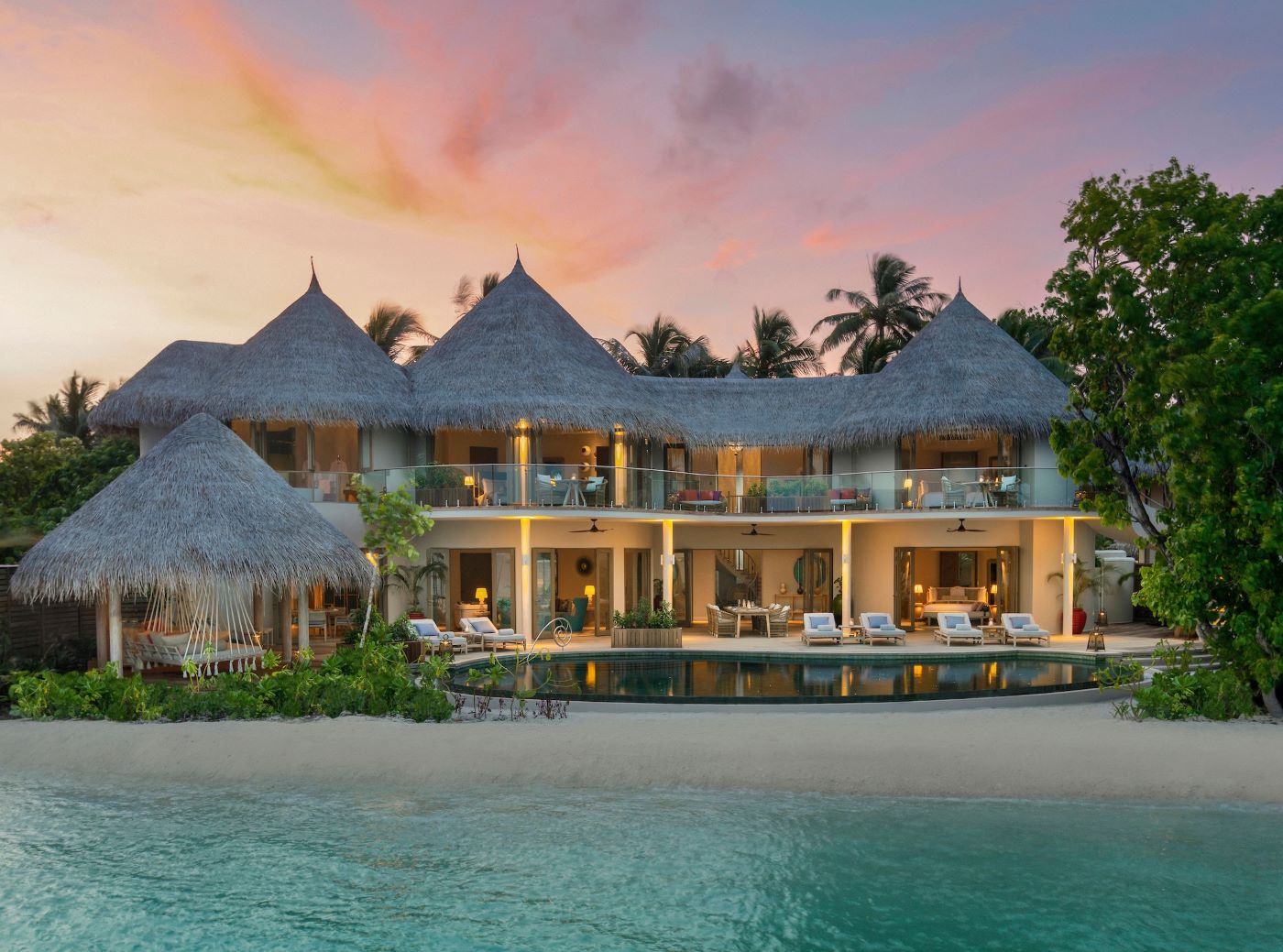 Exterior View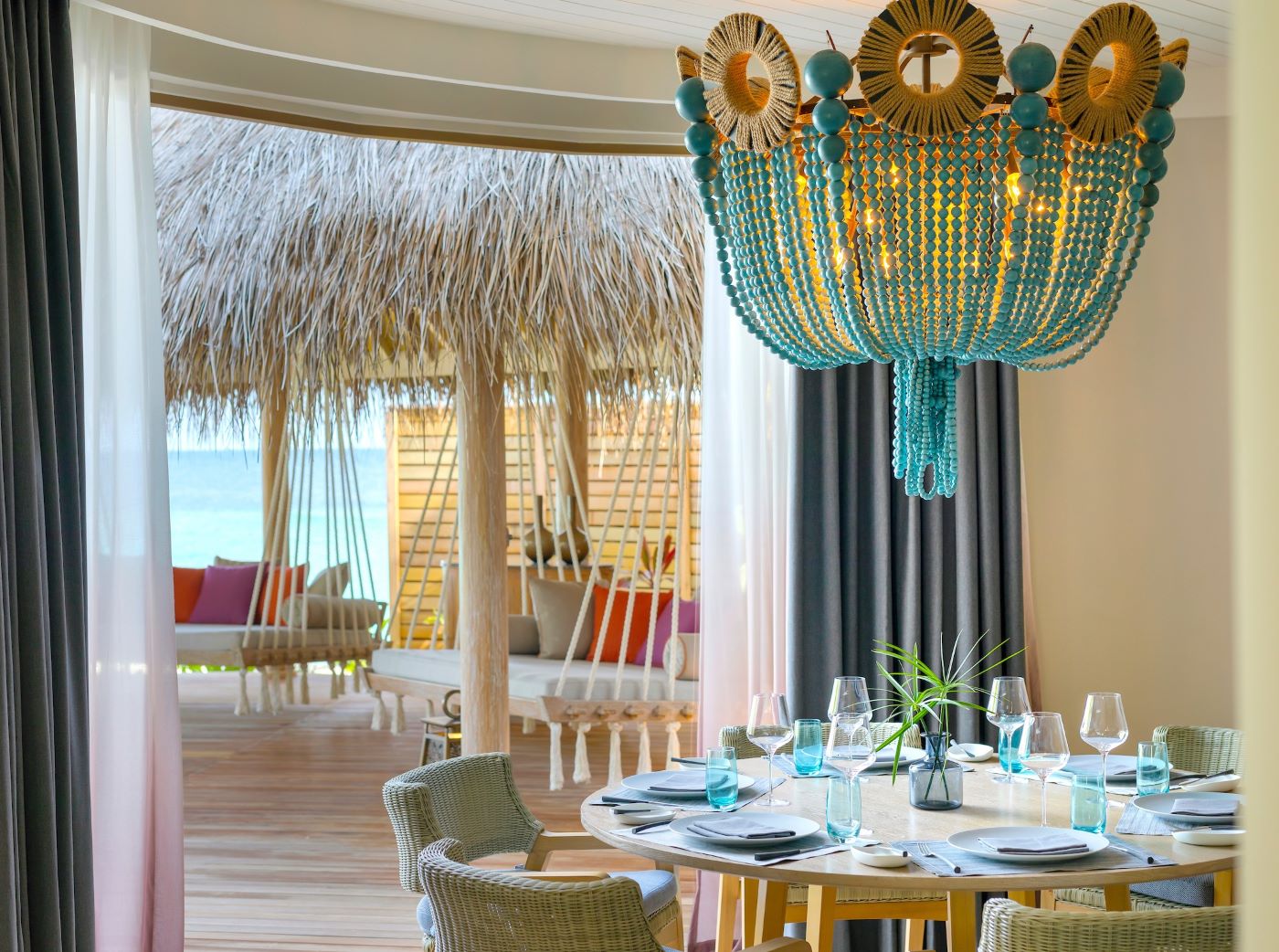 Nautilus Ocean Residence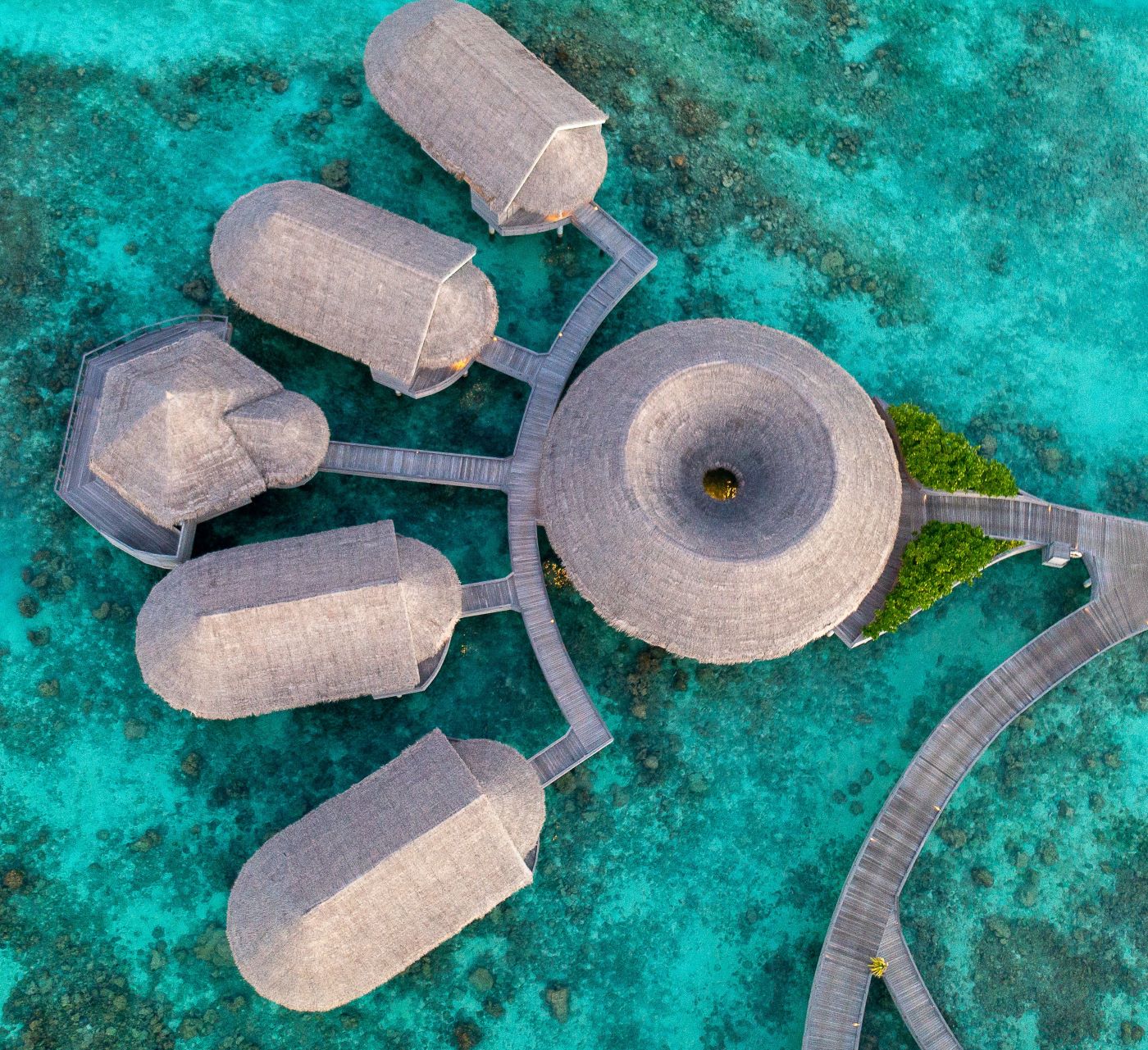 Overwater Spa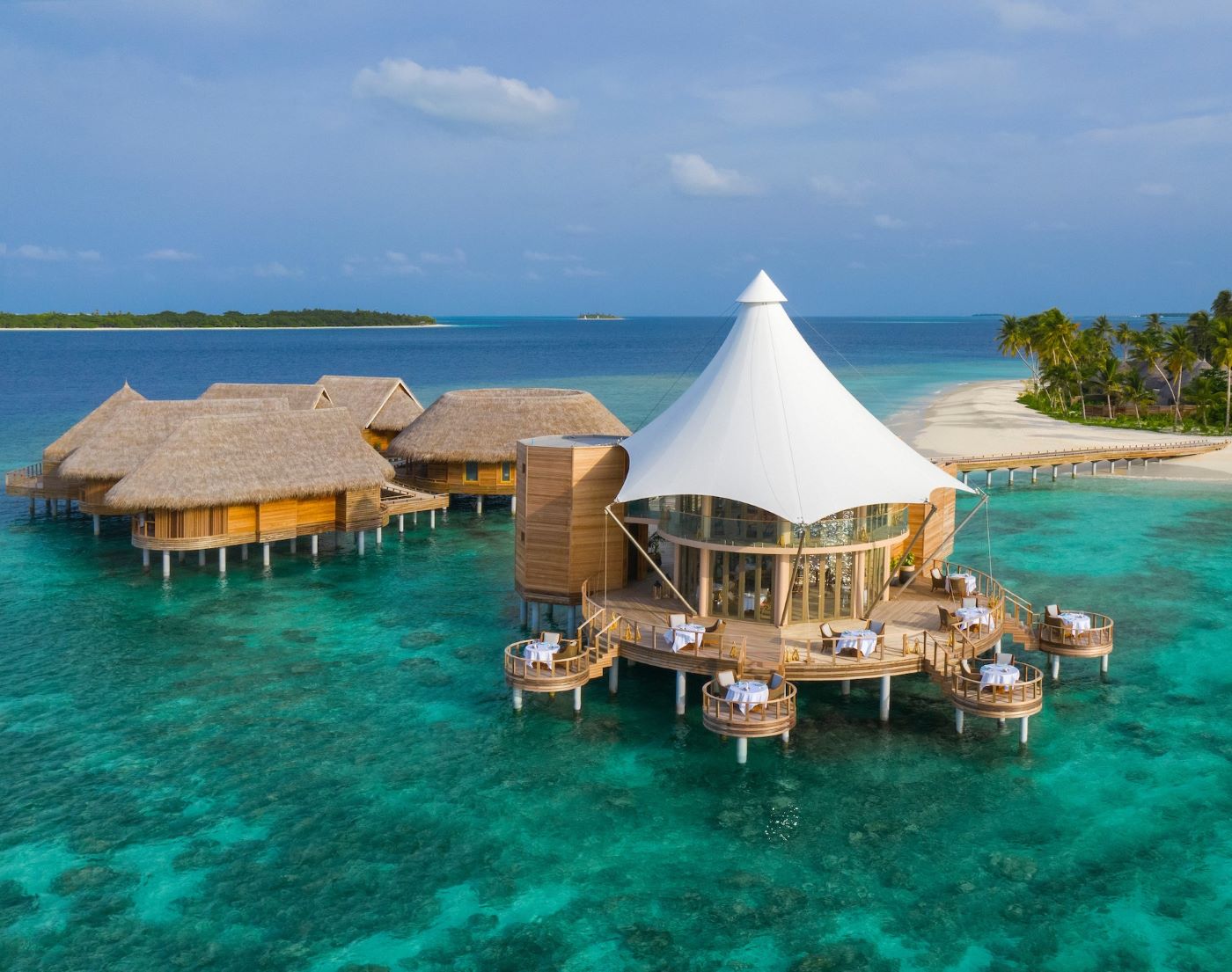 Dining Options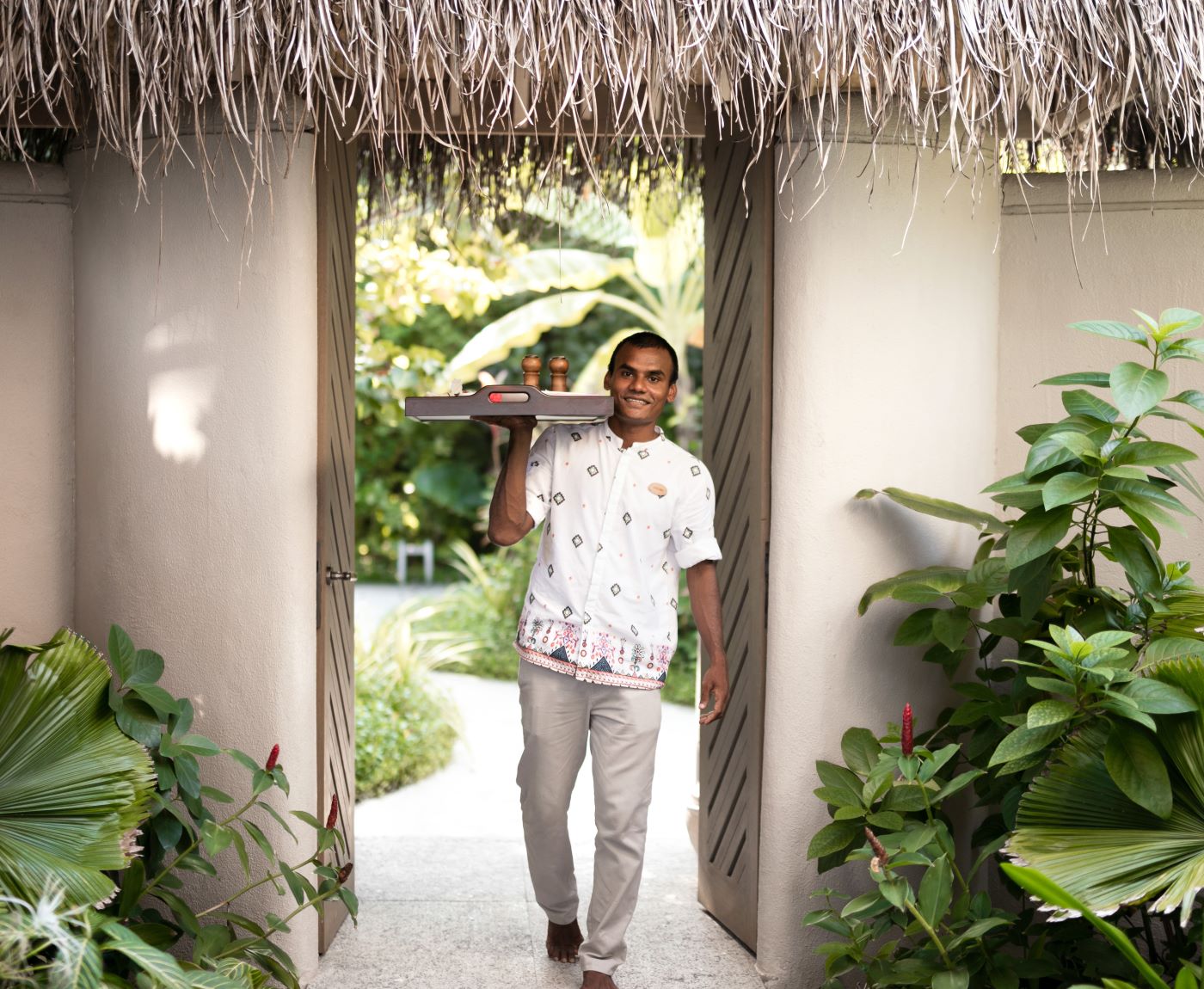 Personal Butler
Sunset & Dining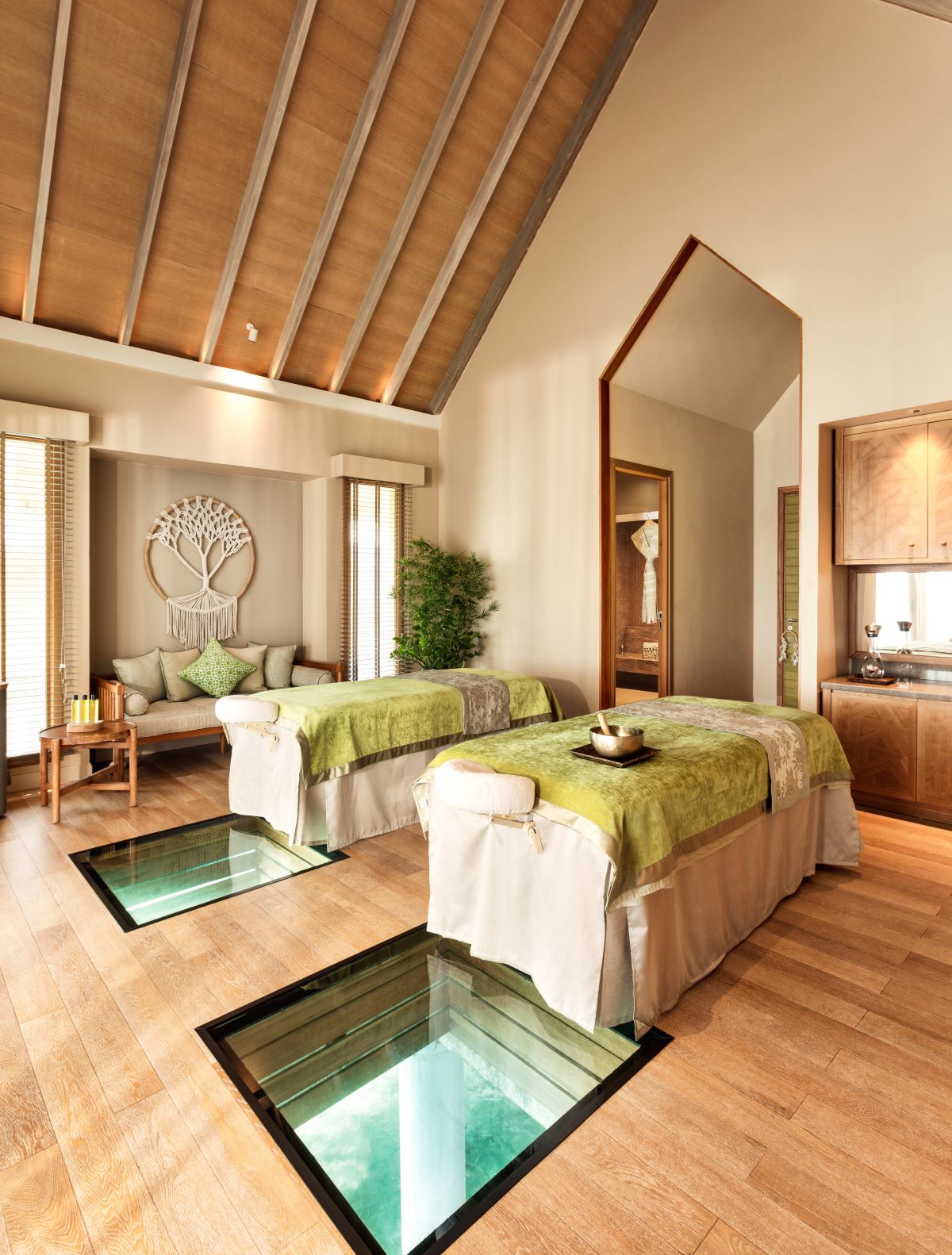 Spa Treatments
When you go upstairs there is a balcony with different styles of seating. Among the 2 bedrooms in upstairs one is a master bedroom and another a twin room that is perfect for children. The master bedroom on the ground floor has a bathroom with a mini garden while the top floor offers view of the ocean.
Spreading over an area of 922 sql this luxury beach mansion give you private beach while lounging under the sun or indulging in the pool. Most of the furnishings are custom-made to perfectly blend with the architecture and capture bohemian spirit of the island. Luxury facilities of the mansion are complemented with matching class of personalised services that include private butler, packing and unpacking, laundry service, replenishment of fruits and drinks. Unscripted dining is theme of this island and chefs are used to prepare delights from difficult cuisines. You may be vegan, vegetarian or gluten-free and you will be able to customise meals for your preferences.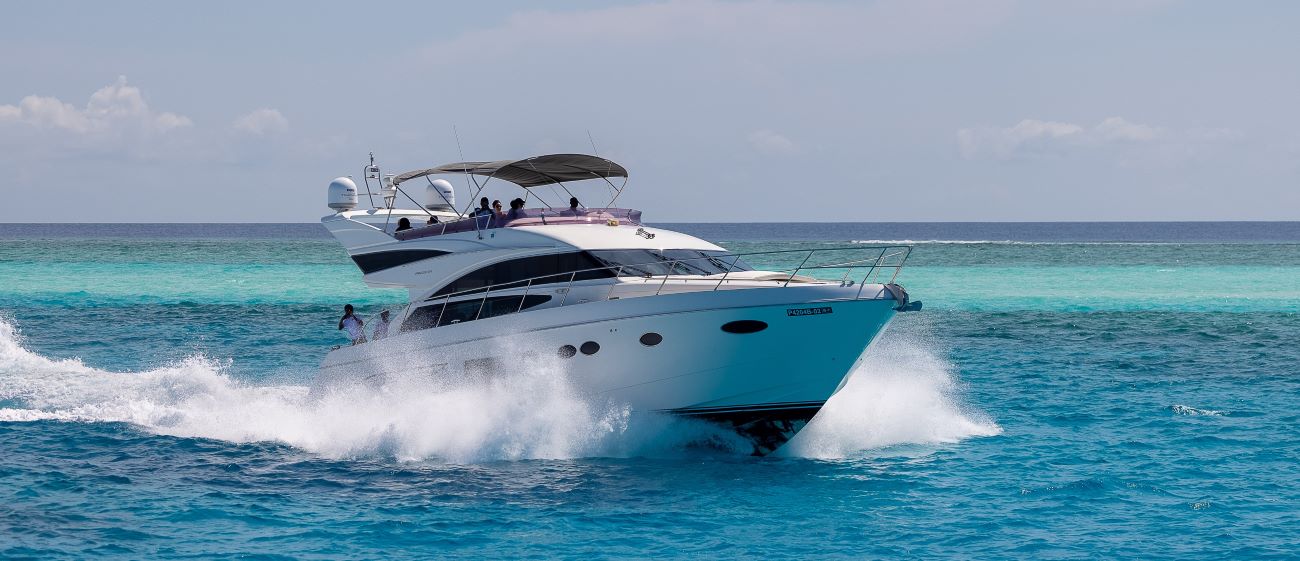 Maldives Finest offers a collection of luxury yachts at the resort to elevate your ultimate getaway experience even further. When you are in Baa Atoll there are sandbanks, local islands, uninhabited islands to explore. Snorkeling with manta rays is the most popular activity in Baa Atoll, it takes place at reef called Hanifaru Bay. Manta rays congregate there every year for feasting on planktons and spending time upclose with gentle giants becomes a lasting memory for many.
This is a very tiny private island located in the UNESCO World Biosphere Reserve in Baa Atoll which is about 35 minutes by seaplane. We offer luxury seaplane with long back leather seats and more leg space, this can be shared with other guests or as private charter just for you.
3 Bedrooms with 2 Pools at Waldorf Astoria
Guests who opt for the world's finest brands this mansion by the beach would be perfect. Waldorf Astoria Maldives is in Male' Atoll, to get there it takes a trip aboard luxury yacht that sails for about 40 minutes. While the regular trips are shared with other guests Maldives Finest can book a private trip for you if you prefer that way. Once at the island you have the expansive luxury above that spans to 1023 sqm. It comes with 3 bedrooms with ensuite bathroom in each, 2 private pools, living room and outdoor shower in each room. There is an extra room for your personal butler to stay with you. Two of the guest rooms come with king beds while the third has twin beds. This makes it perfect for a family escape without compromising privacy and freedom. When you step outside there is the private pool with natural vegetation beside to make it provide as you indulge. Dining can be done here in the outdoors or in the pavilion just next to the pool. Sun loungers and different types of seating in the mansion or outside by the pool making it perfect for an amazing Maldives holiday.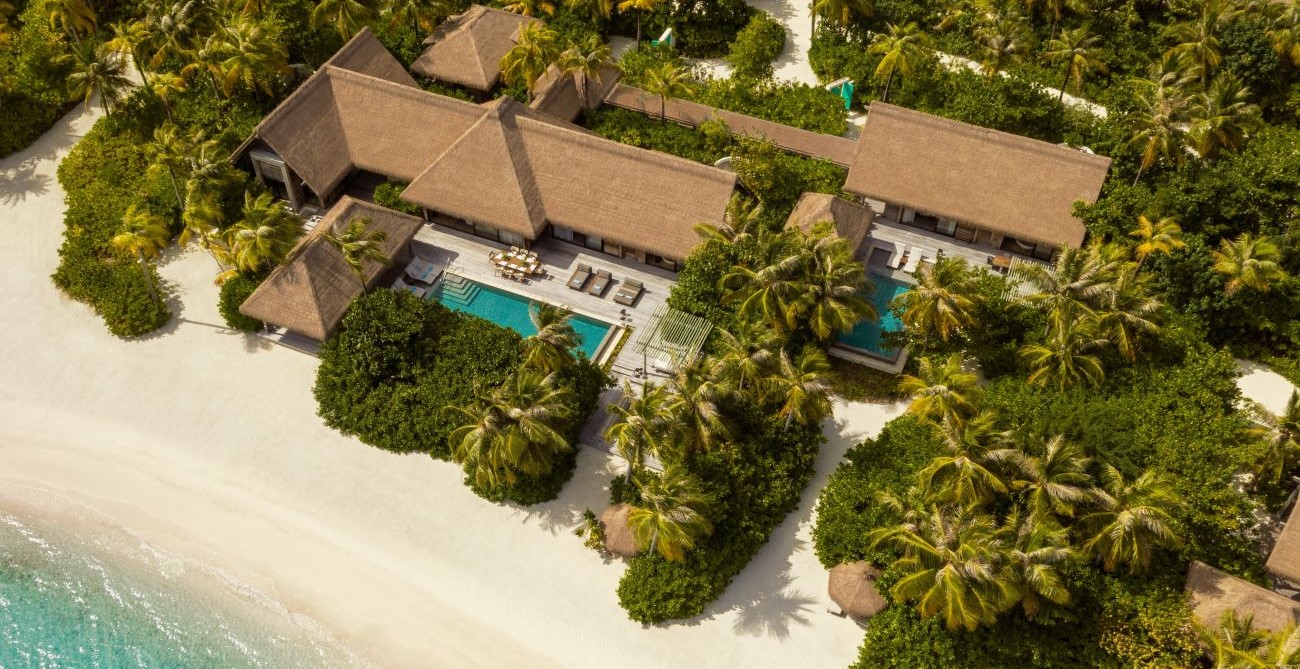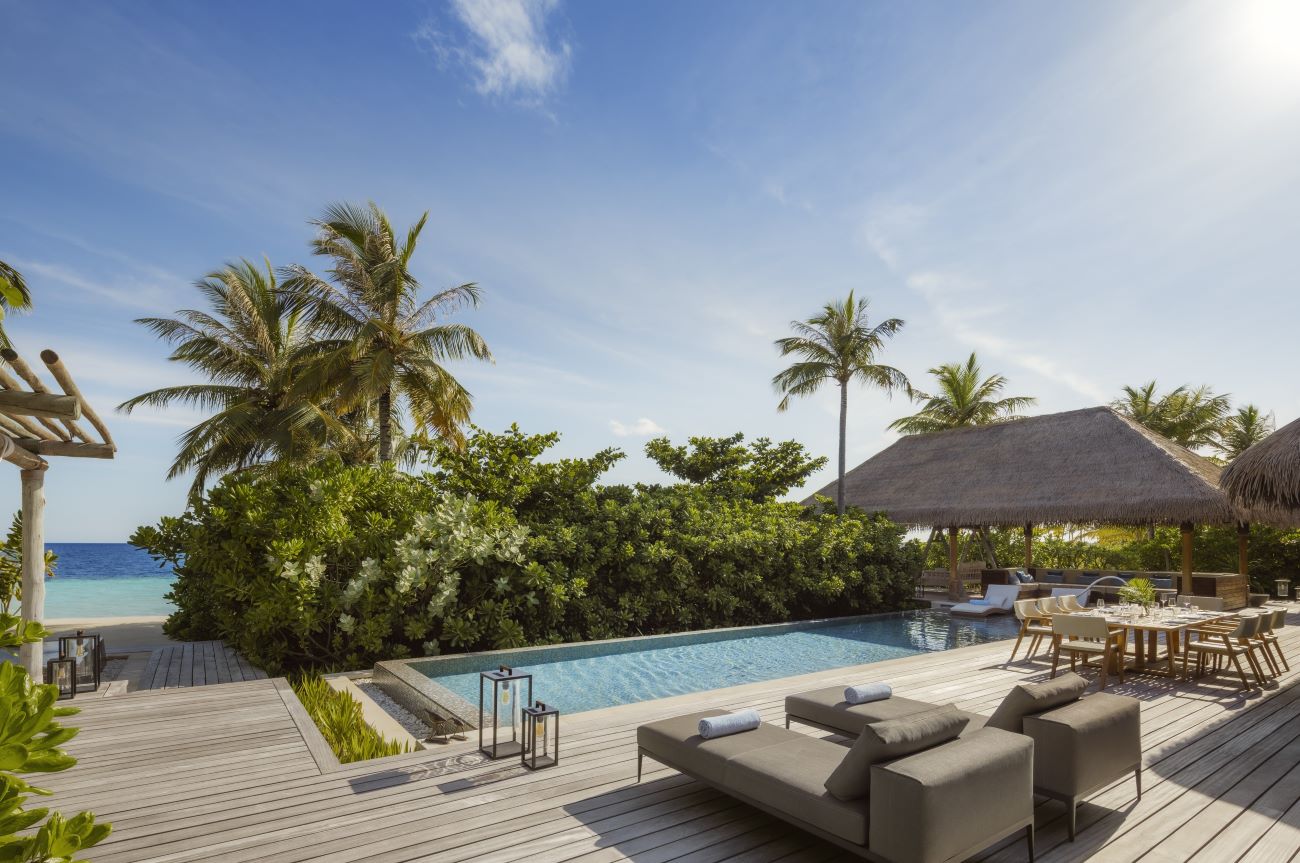 Private Pool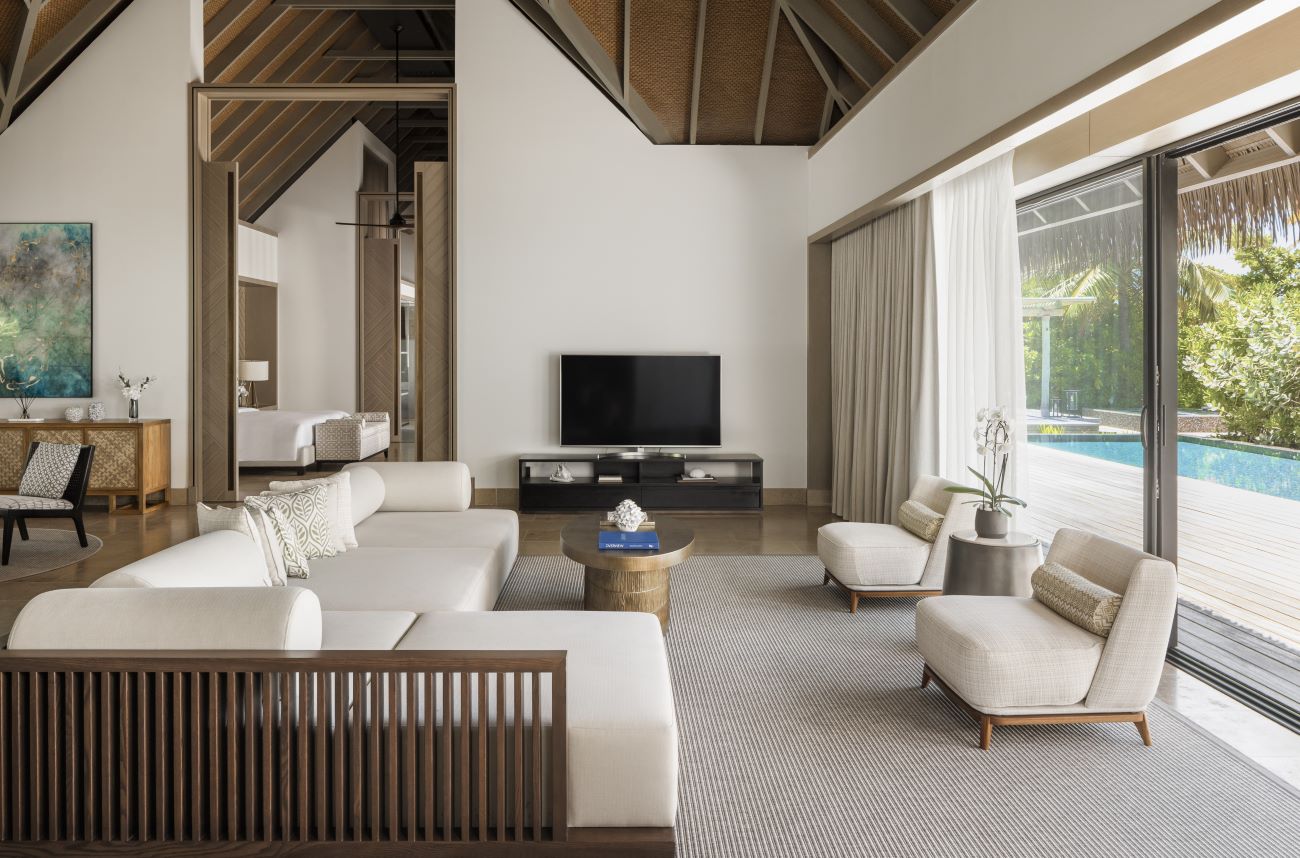 Living Room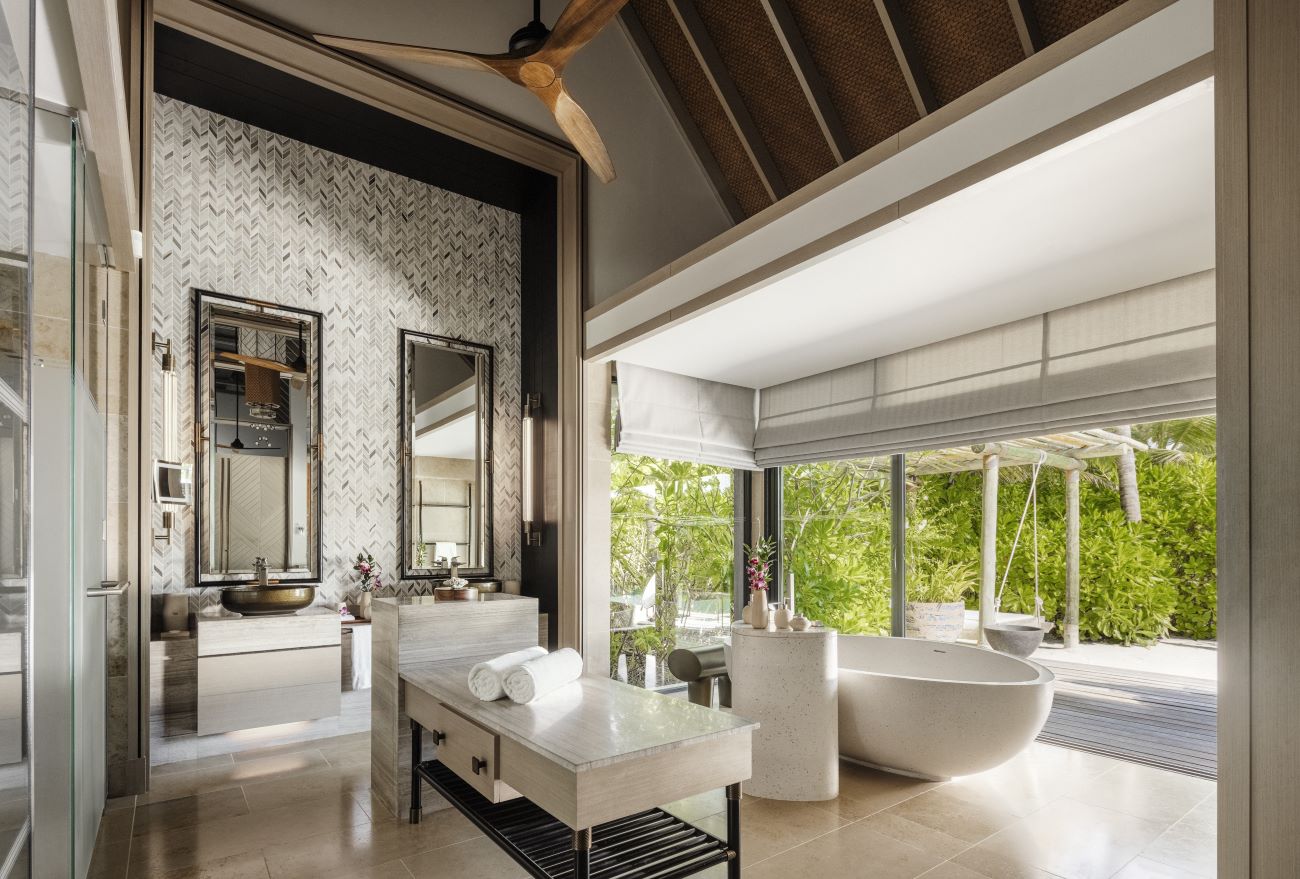 Bedroom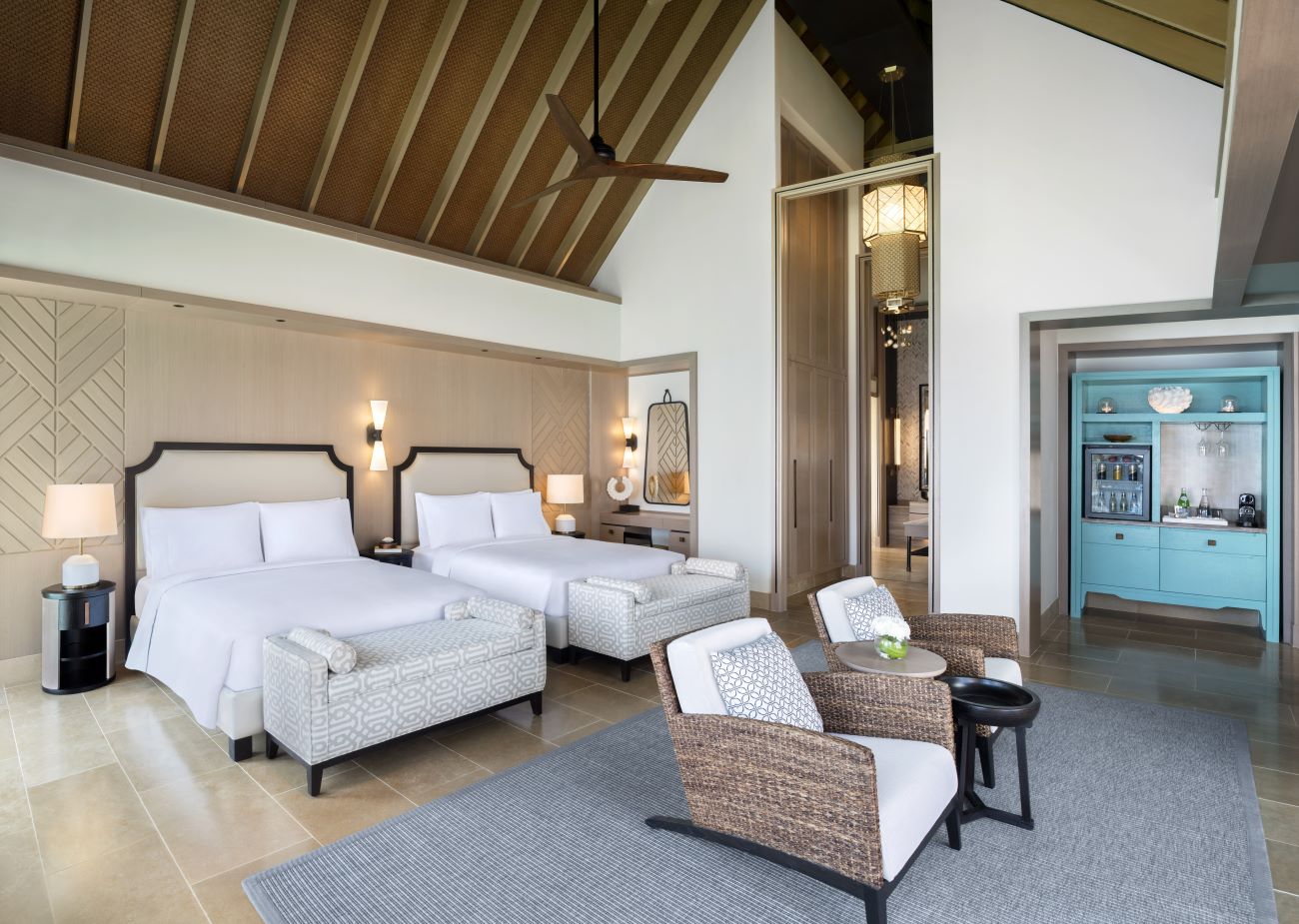 Twin Room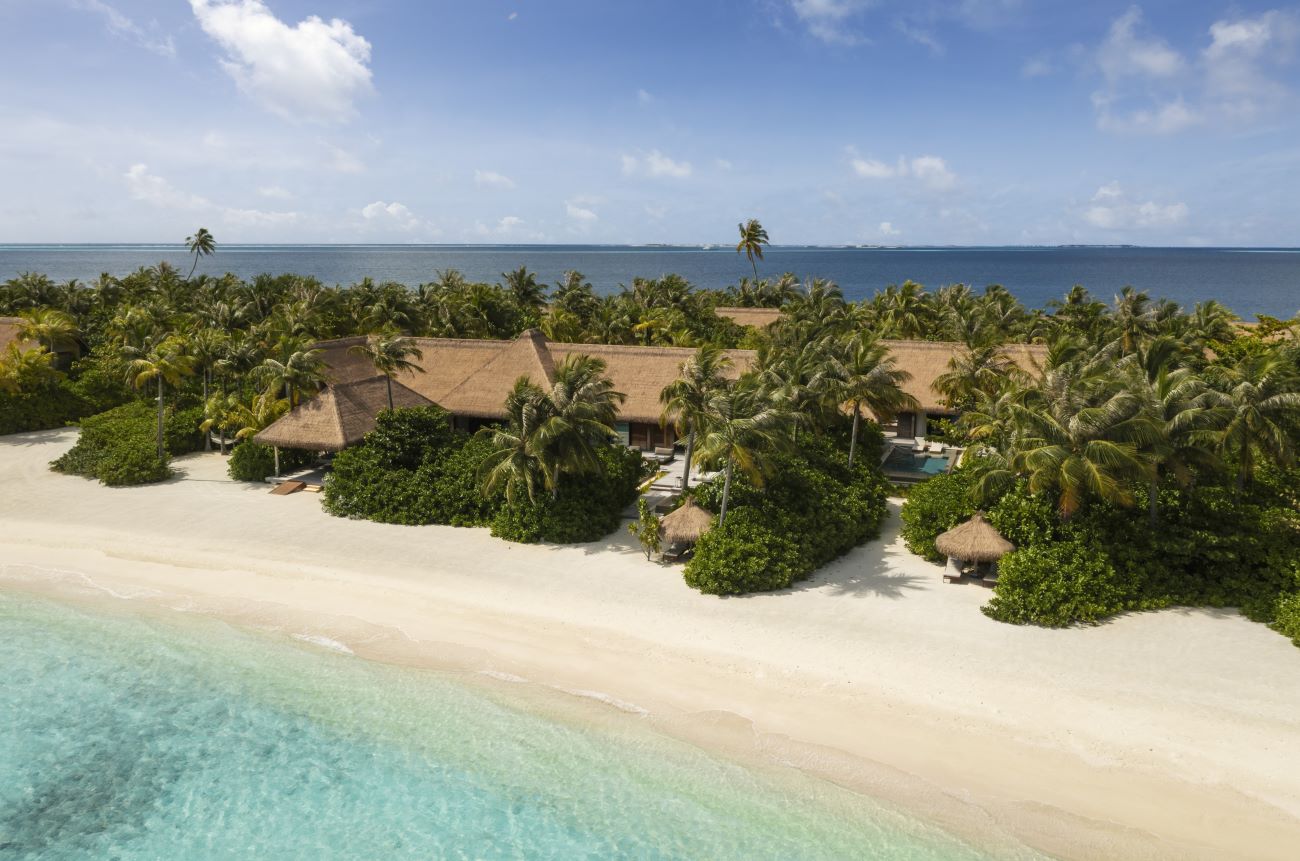 Beach Mansion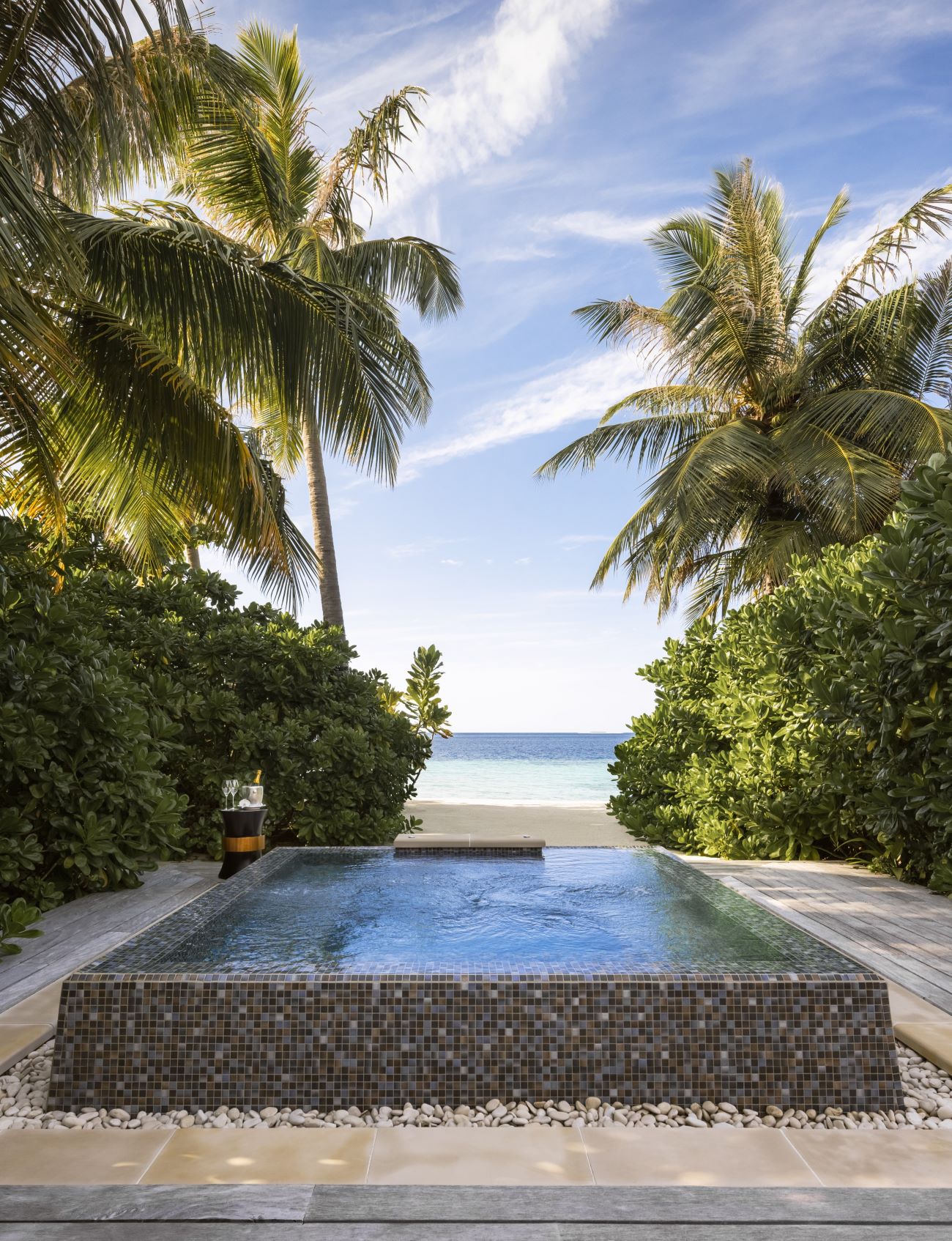 Second Pool
There are more than 10 different dining options available in the resort and your personal butler can arrange it in the privacy of your mansion or you can visit the outlet to experience a different ambiance. Tennis is the best in-land sports activities while most of the leisure activities take place in the clear waters of Maldives. House reef snorkeling is the all time favourite among the tourists but there are guided snorkeling sessions offered at other reefs and scuba diving can be experienced by first-timers as well as avid enthusiasts. Spending time enjoying activities make you tired at the end if you spend enough time, but there is a spa on the island relieve just that. A full body massage can rejuvenate the senses and set your mood for the next excitement to come.
Beach Mansion By Patricia Urquiola
Large 4 bedroom beach mansion reimagined by famous interior designer Patricia Urquiola can accommodate upto 10 guests. This masterpiece of luxury real estate expands to 1324 sqm and comes with a 17m private pool facing the private beach, the main building erects from behind, all 4 bedrooms and most of the facilities are located in this 2 storey abode. The main entrance in the middle opens up to a large living area with comfy seatings and hanging chandeliers, the floor is carpeted, there are various sizes of coffee tables around. The indoor dining area and kitchen are located here, but there is more scenic atmosphere when you dine in the poolside pavilion.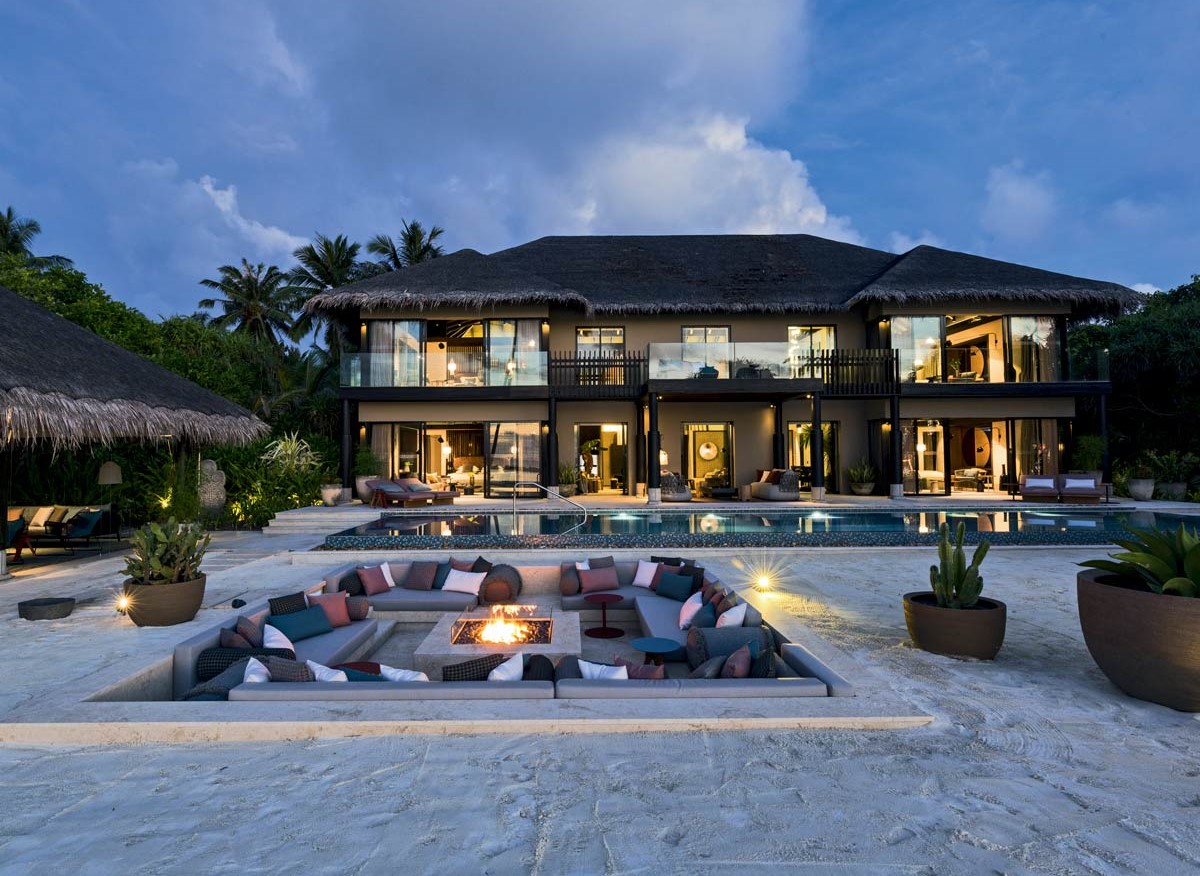 There are 2 rooms on the ground floor. The ensuite bathroom in each opens up to a second bathroom featuring private outdoors including loungers. There is a massage room and day bed on this floor. The 2 remaining rooms are located on the first floor, all features king size beds.
The sunken loungers on the beach with bonfire is a pleasant atmosphere to chill in the evenings. Personal butler will ensure your favourite drinks are served to your satisfaction while family members reflect on the good times and various happenings in the island including water-based activities and marine discoveries. There are more than 20 activities you can do on this island including facilities in the privacy of your luxury mansion. Unlike many Maldives resorts this private island mansion offers a pool with open view of the beach and lagoon, tall palm trees enrich the exotic and pleasing scenery.
Top Luxury Mansions In Maldives For Secret Escapes #Maldives #Maldivler #Maldivy #Мальдивы #PrivateRetreat #RetreatIsland #BeachRetreat #Mansion #PrivateMansion #MaldivesMansion #MansionMaldives