Injured Tourist Fights For Life In Maldives Capital
21 Sep 2014 - Chinese tourist Jiatai Ju, 50, got injured in fatal road accident that took place at the parliament building in the Maldives capital yesterday. Accidents of this scale are rare in Male', and this is the first known case involving a tourist. Reports say Mr Ju was taking pictures of the parliament building when he got hit by a speeding motor bike driven by 19 year old teenager Ibrahim Haffaf. The driver has been arrested and Maldives Police is investigating the case.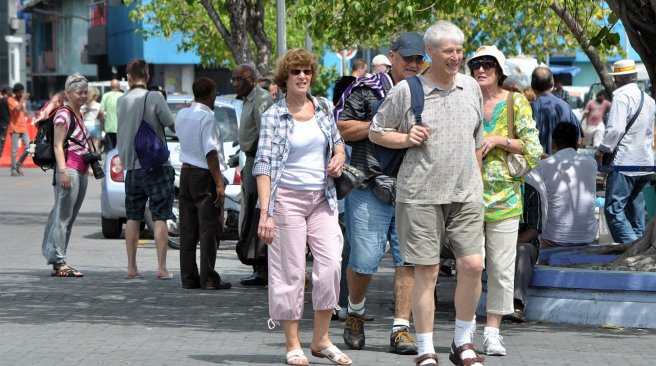 Photo by Haveeru News: a group of tourists enjoying a sightseeing tour in Male'
Injured tourists was admitted in ADK Hospital. Ahmed Afal the Manging Director of the hospital said the tourist got 2 fractures on the skull and have internal bleeding in the head. Critically injured tourist has now been sent to Sri Lanka for further treatment.
Tourists are very free and peaceful at resorts. But, the crowded capital of the Maldives is a different atmosphere, crime rate is high among the spoiled youth. Vehicles speeding through narrow and crowded streets are not uncommon. Not realising this drastic change tourists often do not pay much attention during sightseeing tours.
I used to take guests for sightseeing tours in Male'. The tourists do not pay much attention and I always took it as a personal responsibility to watch on them. It is not only the traffic that puts pedestrians at risk, there are also many buildings under construction and I used take guests away from those. When guests took photos I stood on the side watched the traffic. But, sometimes there are tourists without any Guide. It is a pity that they don't have anyone to ensure their safety.