Racism In Paradise And The Islanders Struggle
Blog: Maldives have a population of about 300,000 and 100,000 lives in the capital Male' where jobs, education and living are dramatically advanced than the rest of the islands. The actual descendants of Male' are less than 25,000 and the other 75,000 are islanders who have come from other islands, for a better living. Male' being the capital island, all the past governments, had given priority to develop the capital city.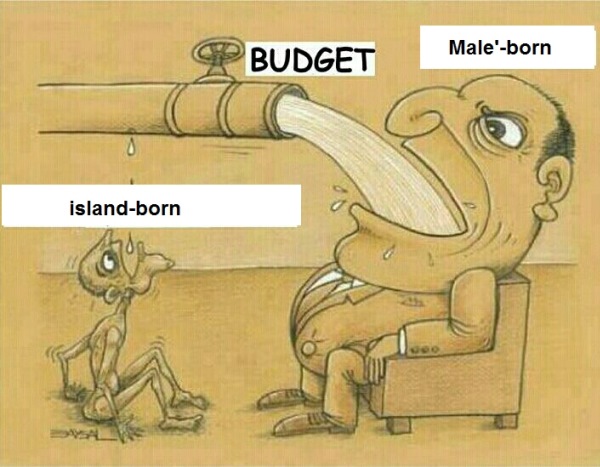 Maldives is not a rich country, despite its high-end world-class tourism.
But, the property value in the capital city is that of the same in London or New York City.
A small unfurnished 1-room apartment costs US$400 a month in average. How come a third world country complete world's most advance cities by property value? More surprising is that an average worker, such as a secretary, earns an income equivalent of US$400 a month, that is including bonuses and overtime pay.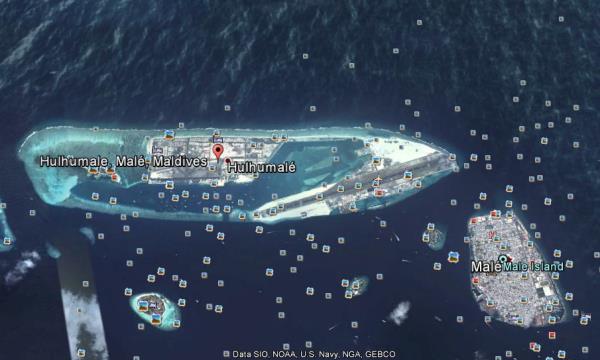 Islanders who dont not own property in Male' are forced to share accommodation with the relatives. Its common to find 6 people living in a single room apartment, sitting rooms are converted to a bedroom at night and floor gets covered with mattresses. Married couples often share a large apartment with all the relatives to reduce the proportional rent. More common is that wife stays in home island to lookafter their children while husband works in Male'. Many locals work at resorts and transfers are organised between Male' and the resort. Hence, husband cannot reach his wife for several months.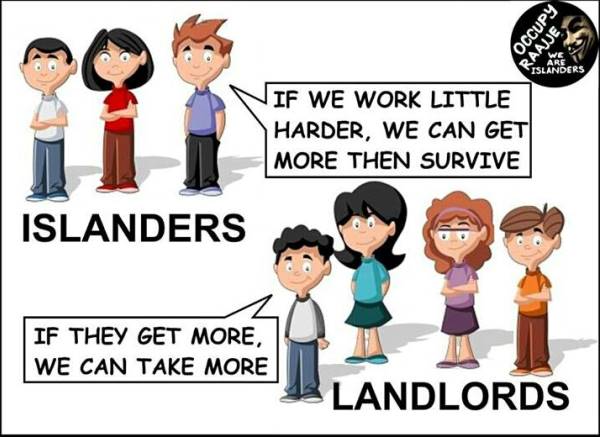 Hulhumale' is a man-made island near the capital Male'. The government built this island with a plan to provide adequate housing for the descendants of Male', not the residents.
This is where racism begins to take shape.
Racism is not only when it is between blacks and whites.
A clear majority of 75% of the residents from Male' are paying extremely high rent for the 25% landlords. The government seems to recognise the needs of these 25% of landlords, but not the rent-paying 75% islanders.
So far there has not been any single project carried out by the government to relieve the distress of 75,000 people living just to earn and pay the whole sum to the landlord. After almost 10 years since people inhabited in the island of Hulhumale' the house rents are only going up. Many of the Male' landlords have rented out whole house and moved out to countries such as Srilanka, India, Malaysia and Singapore. Government housing schemes only work for those landlords to update their life with more properties belonging to different members of one family. They could rent out all the houses and live a luxury life abroad, whole family together.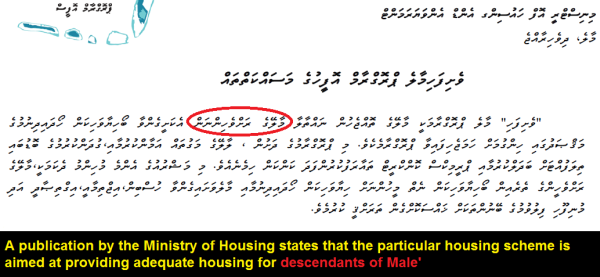 Hulhumale' development budget came from the government, not from the pockets of landlords.
It was the national income for which every citizen had equal rights. While a large proportion of government's budget being spent for the development of capital Male', discrimination by birthplace is nothing but racism in the 21st century. If you are born the family who is registered in Male' the government seems to be responsible to provide educate housing. If you are living in Male', no matter how long, you have no right for adequate housing and you will have to pay extremely high rents for your entire life. You get to pay London rent and your income is just 10% of that of London. The point here is not the expensive housing, but racial discrimination which is lifting the housing rents.
The most recent phase of housing scheme, 1300 housing units were built in Hulhumale', 1000 units were specially allocated for the descendants of Male', remaining 300 units for non-descent residents. This means 77% of housing gone to 25% landlords, and remaining 23% for 75% islanders. The government of Maldives has long been racist. No wonder the all presidents came from Male'-born families.
I changed my life to Male' in 1996. I completed my grade 7 studies in my home-island and that was the highest class in the school. I joined a private school in Male' and paid school fees. Best schools were allocated to the children of those landlords, being government schools they did not have to pay fees. I have been living in Male' for 17 years and I will most probably be paying London-rent for the rest of the my life. Its no problem for me, if there is no better option. But, racism is something that I refuse to accept, not in 21st century and not when we all know that it.
All the medias are owned by the landlords. Hence, this racial discrimination scandal has not gotten their attention. Please share this to support end racism in the Maldives.