India-Maldives Foreign Policy - Best Friend With Evil Desires
17 May 2014: Editor's blog: A video of TIMES NOW's News Hour Debate caught my attention, mainly because of the people involved in the debate. The moderator had four highly significant political figures of India including former secretary of Ministry of External Affairs and former High Commissioner to Pakistan. It is surprising that all four agreed that India had done mistakes in 2008 when former president of Maldives Mohamed Nasheed resigned as president to later claim he was forced at gun point and then to acknowledge that gun was not pointed because he refused to permit opening armory.
Statements by Nasheed, not only here, often contradicts his previous statements on the same. In this video the former High Commissioner openly admits that India does interfere Maldives political affairs. He says "the business of non-interference is theoretically fine and in practice it does not happen". This is very straight forward. India does, or tries to, or at least wants to, interfere Maldives. As a Maldivian I don't like it and I don't think the majority would even accept it. Maldives had remained a sovereign country with neutrality towards intern-conflicting countries such as India-Chinese politics.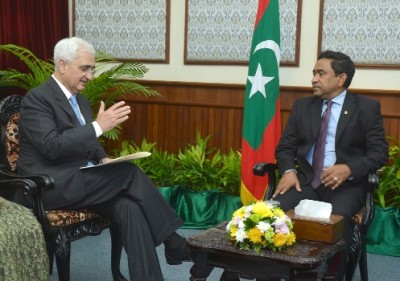 I have been regularly following Times of India on issues relating to Maldives. What I understood was that India has desires to control Maldives. This is interference that we dislike. As a Maldivian I don't wish my country to be controlled by another country. We are small, I admit that. But, we had been independent and sovereign just like any other country. Historically Maldives had a sound diplomacy too; a delegation went to Rome in 362 AD bearing gifts to the Emperor, we also sent gifts to China in 658 and 662 AD.
India news sources, on numerous occasions, had discussed the case of 1988 when Maldives requested India's military assistance to ouster a group of Tamil terrorists who attacked the country in the dawn of 3rd November 1988. It is said that Maldives contacted Unites States first, because of the great distance they advised to approach India. Anyway, India did help Maldives and the citizens of Maldives deeply appreciate that. Since this event the people seem thought of India as the best-friend of Maldives. But, the Indian news sources suggest the general political view of the relatively high profile people is that India should have taken a strong-hold of Maldives in 1988, as if they regret a lost opportunity. This is an alarm that Maldives' best friend has evil desires, to get over Maldives and to control Maldives. India is dreaming of it. I am not saying this, its the Indian news that do. If India wants to remain as best friend to Maldives it needs to get rid of the bad intentions and come clean, be a genuine best friend.
In 2012 the Male' International Airport was leased to India's GMR Group for 25 years with a possible extension of addition 10 years. After regime change, in the same year, the new government saw many questionable issues in the contract, including some illegal activities, and terminated the airport deal. The India news sources once again suggested the golden opportunity got lost. I have to say this. The best friend must stay within the limits. Best friend cannot replace wife or husband. If best friend crossed the line it would soon be pushed back towards the rightful place. And if India did not give up their evil desires the neutral mindset of the Maldives foreign policy may be forced to counter the threats by maneuvering to a safe harbour.
Watch video of TIMES NOW's News Hour Debate